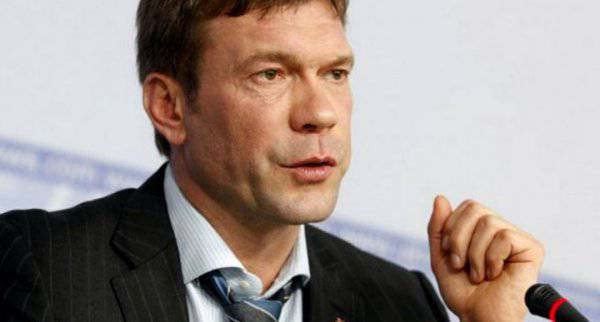 The speaker of the Novorossia parliament, Oleg Tsarev, met with our correspondent in the Moscow office of the unrecognized DNR and LNR, two steps from Red Square. Tsarev predicts the collapse of the current Ukrainian state by the spring, explaining that a peace agreement is in fact a complete victory for the militia, because the Kiev authorities in its current form without a war simply cannot exist.
- Oleg Anatolyevich, do you think that there are any chances for Russia's recognition of the DNI and the LC? Moscow calls the conflict in the southeast intra-Ukrainian and declares that it will not recognize their independence.
- Strategically, we want to be part of Russia, although we understand that for the Kremlin this is now for many reasons impossible. You can spend some time and independent, but we consider ourselves part of the Russian world. Although it is possible that soon all of Ukraine will become Novorossia.
- You speak as if you wish the collapse of Ukraine.
- I expect that by spring Ukraine will collapse on its own.
"Why should this happen?"
- Now the Ukrainian government is in an extremely disadvantageous situation. There is a truce. To justify with war the decline in the standard of living and lack of freedom of speech is impossible. In general, Ukraine hostile to Russia as a project is unpromising: it receives energy from Russia, Russia is a market for it.
- Now the market will be the European Union.
- Ukrainian goods are not needed there, they are not competitive there.
"Quality can always be improved, for example, Roshen products could well be exported to Europe." I like this chocolate.
- If you think so, then you do not have very good taste. Europeans do not think like you, so Roshen chocolate is not sold in Europe.
- Why are you not in New Russia? Doesn't it seem strange to you that the DPR and LPR have representative offices in the center of Moscow?
- I am constantly in the Donbass, and came here to solve certain problems. I have business in Moscow.
- How to explain the fact that some Russians, including people from the special services, directly supervised military operations in the Donbass?
- This indicates that Russia is one of those processes that occur in Novorossia, with understanding.
- Do you plan to return to Kiev?
- Not yet. They will kill me there. Over my head was appointed a reward of half a million dollars.
"You deny the military support of the militias from Russia, but then where did they get their diverse weapon?
- Yes, there is no support of this kind from Russia, and until the Ukrainian National Guard came to the Donbass, the militia did not even have machine guns. But then the Ukrainians sent us
Tanks
- and we got tanks.
- It is rumored that the militia regularly receive a salary. Who finances them?
- We do not have a unified salary payment system for the militia. Commanders decide the issue of finances on their own. Someone - at the expense of humanitarian aid, someone finds other sources.
"In Kiev, we are ready to sign bills on the special status of Donbass and, in fact, an amnesty for the militia. What else do you want?
- We have achieved this before. If the authorities in Ukraine were ready to go for the federalization of the country earlier, now there would be another conversation. Now it is no longer necessary.
- And what you need? Continue to destroy the infrastructure of the Donbass as a result of armed clashes?
- For us, a peace agreement is a real victory. The first goal was to stop the war. Then it will be necessary to defeat the Kiev authorities and free Ukraine from the fascists.
- When you talk about fascists, who do you mean?
- Maydanovtsev, who shouted "commies on Gilyaku", "Muscovites knives", "drown Moskalov in Yiddish blood."
- I myself was on the Maidan, but I did not see a single Bandera there and did not hear any calls to oppress the Russians ...
- I personally was not allowed to speak in Russian in the Verkhovna Rada. You probably do not know that in kindergartens children are taught only in Ukrainian, as well as universities. And the number of Russian schools throughout Ukraine — and even in the Crimea — has decreased dramatically from year to year. Or, for example, that all films were duplicated only by the Ukrainian translation.
- You do not think that the main part of Ukraine may have other views on the future? The militia controlled a small patch of its territory. So, to put it mildly, not all of Ukraine wants to join Russia.
- It is possible that if, at the same time as the Crimea, a referendum on joining Russia was held in all regions of Ukraine, then all of Ukraine would join Russia. Or at least most of its regions. The fact is that joining Russia is not only an opportunity to speak Russian, but also higher salaries and pensions.
- And what further steps are you going to take?
- Create a new project called Novorossia. There will be democracy. There will be a friendship of nations and a ban on Nazi ideology. Nor will the oligarchs be in power. Now all we need is peace in order to demonstrate that our government structure is more profitable and more attractive. That we can make the standard of living several times higher than in Ukraine, raise substantially pensions and wages to our citizens.
- Petro Poroshenko, too, do you think, a fascist? Or do you still consider him a legitimate president?
- Poroshenko's election was actually held with great violations. However, I prefer to proceed from the fact that we need to negotiate with him.
- Now preparing parliamentary elections in New Russia. Do you think that someone still recognizes this structure?
- We'll see. We hope that sooner or later not only Russia will recognize us.
- Russian citizens will be able to run for the deputies of New Russia?
- Only those who live in the territories that entered the DNR and the LC, for more than five years will be able to run.