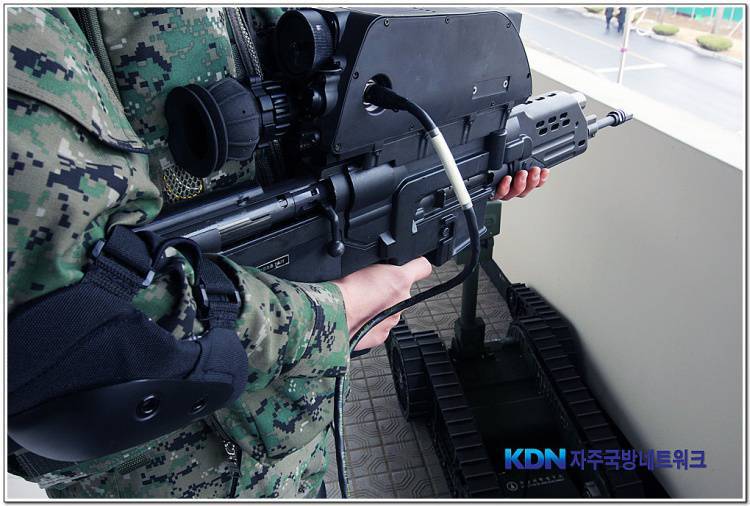 What do we know about the South Korean company Daewoo? Cars "Matiz" and "Nexia", microwaves, washing machines, well, and ... everything seems. And the fact that this company also produces
weapon
... very good small arms - this is somehow not advertised. Although…
It was the army "double barrel" Daewoo K11 and fueled interest in this side of the production company Daewoo.
So, Daewoo K11 - two-caliber small arms under the standard NATO cartridge 5.56x45 mm and 20 mm army grenade air blast. Separate optical sights for shooting a bullet or a grenade. "On-board computer" for accurate aiming with a grenade.
And why is all this necessary?
But why? During large-scale military operations of the Second World War, the effective tactics of urban combat were determined — the firing point was struck by a grenade, then the survivors sought from small arms. The under-barrel grenade launcher is currently the standard kit of any army assault rifle. However, in order to accurately get a grenade to the desired point, you just need to be an ace!
The flight path of a heavy grenade is more complex than the flat trajectory of a rifle bullet. Therefore, modern grenades for grenade launchers make for the so-called "air explosion", the grenade explodes in the air as it approaches the target. However, the defeat radius of a modern 20 mm grenade of the entire 3-7 m, they are used at a distance of up to 300 m, and at such distances it is very difficult to get a grenade even into a circle with a diameter of 3 m. This is achieved only by long trainings, but in combat, where there are many distractors factors and the counting of time for aiming sometimes goes on for a split second, it is not always possible to aim correctly.
Another nuance. The length of the barrel of an under-barrel grenade launcher is always less than the length of the barrel for bullet shooting, and a heavy grenade begins to "fall" much earlier than a light bullet flying at a higher speed. Therefore, for a more flat grenade flight trajectory, it would be advisable to do the opposite: make the length of the grenade launcher barrel longer than for firing a bullet. This increases the effectiveness of hitting targets behind cover at large distances that are inaccessible for a shot from a short-barreled grenade launcher. Therefore, in the composition of each modern assault unit there is a separate fighter armed with an automatic long-barreled grenade launcher for precise destruction of distant targets. However ... In close combat, shooting back from such a grenade launcher is more expensive. Splinters of a grenade will not spare anyone ...
Solve this problem in different ways. The European-American, NATO, approach to this matter was expressed in the creation of a modular design, the XM-29 OICW rifle-grenade complex of the German firm Heckler-Koch. The long-barreled automatic grenade launcher "sits down" on top of the Heckler-Koch G.36 assault rifle, and not from below, like a grenade launcher. Above the rocket launcher - special aiming optics with a rangefinder and a computer for accurate calculation of the flight of a grenade.
The disadvantages of such a bulky design are complete: it is difficult, inconvenient, and accurate shooting with a bullet can be simply forgotten, optics for bullet shooting are combined with a "grenade", but preference is given to shooting with a grenade. However, despite all these shortcomings, leisure-time Americans calculated that the effectiveness of hitting hidden targets behind the obstacles of an infantryman armed with such a "double-barreled gun" would increase 16 times by comparison with the M203 rifle / under-barrel grenade launcher M5.
But the South Korean gunsmiths solved this problem somewhat differently, in an oriental way wisely and in a South Korean manner technologically. They combined a long-barreled grenade launcher, located above the bullet barrel, in one shooting "combine". Called this "mutant" Daewoo K11. The bullet assault rifle is made according to the classical scheme: the store is in front, the firing handle is at the rear. But the store for grenades is located behind the pistol grip. And these are not modules, but monolithic, non-folding double-barreled two-caliber weapons. The shooting is controlled by a special lever with a single trigger. The optics are separate for the bullet and for the grenade, which allows you to very accurately fire both the bullet and the grenade. To reduce the weight of such a "combine", the trunks are made of titanium, the receiver is made of light but durable alloy.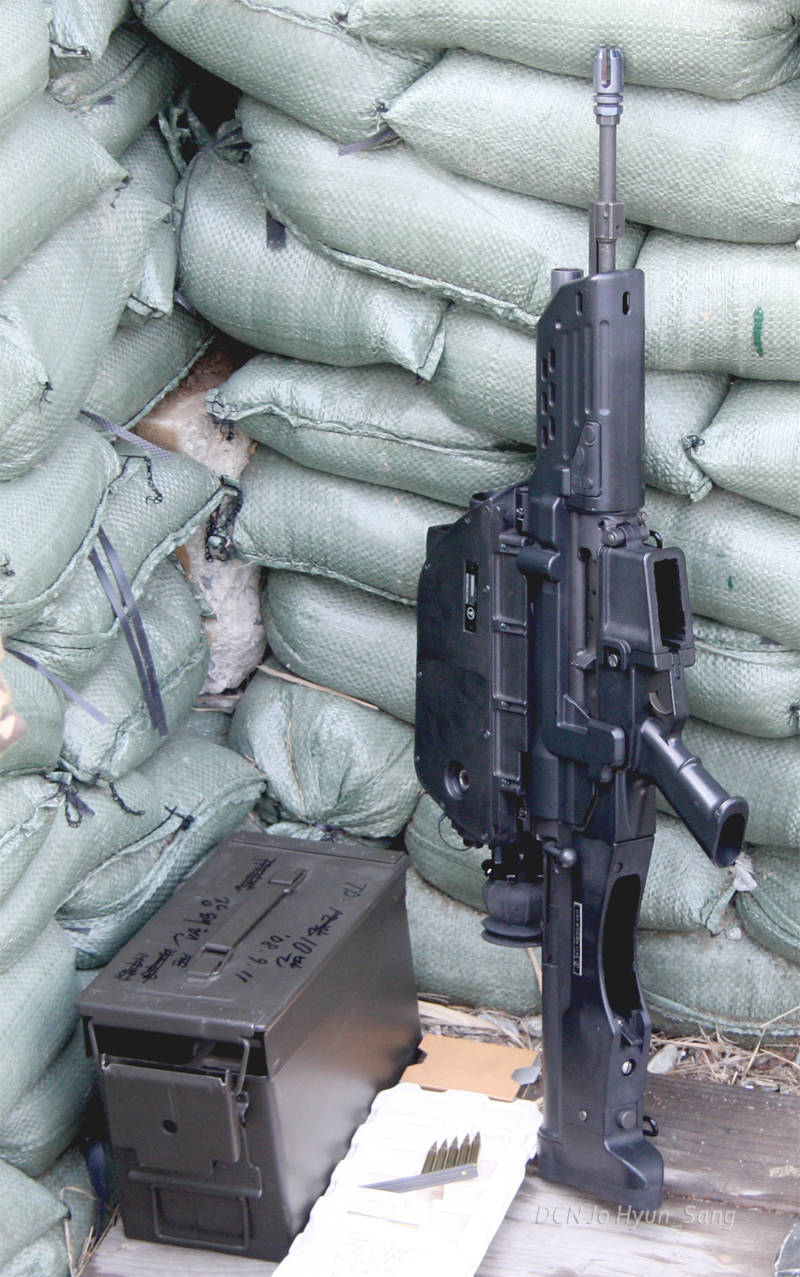 Technical performance characteristics of Daewoo K11:
Caliber: NATO 5.56x45mm + 20x30 mm grenade.
Overall length: 860 mm.
Barrel length: 310 mm (bullet 5,56 mm); 405 mm (20 grenade mm).
Weight: 6,1 kg (with optics, shops and battery power rangefinder and computer, but without ammunition).
Maximum effective firing range: 300 m bullet (NATO 5,56 mm); up to 500 m grenade (20 mm).
Magazine capacity: 30 mm caliber 5,56 cartridges and 5 grenade caliber 20 mm.
For firing grenades, three main types of ammunition are used - a high-explosive fragmentation grenade with a programmable fuse, a cumulative grenade for hitting lightly armored vehicles and a training grenade with a passive warhead.
The electronic fire control unit includes a laser range finder, a wind sensor, a ballistic microprocessor computer for flight trajectory, a day (optical) and night (infrared) mode switch, and a power battery built into the butt.
This complex began to be supplied to elite units of the South Korean army as early as 2010. The military department gave its field trials a year ago. If these tests are successful, it is supposed to introduce the KHNUMX as standard armament of a South Korean infantryman.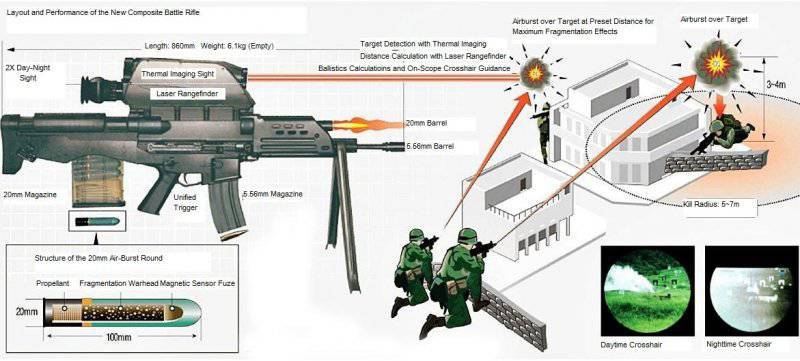 For comprehensive tests, this army "double-barreled gun" was purchased by the Ministry of Defense of the United Arab Emirates, paying for each such rifle about 14000 US dollars. For comparison, the export price of the latest modification of the American assault rifle M16 does not exceed 600 dollars.
What else to say? The South Korean army is currently considered one of the most combat-ready in the world. Most likely, with such a modern weapon it will be such for a very long time.
PS All materials for this article are taken from open sources.