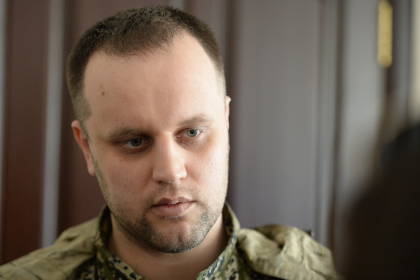 Pavel Gubarev gave a detailed interview in which he spoke about what is really happening in the region today, about the Minsk agreement and betrayal, Russian nationalism, the reasons that caused Strelkov to refuse to continue the struggle, and many other things. "
- What is happening in the Donbas?
- PG: A humanitarian catastrophe occurs. The truce of the Ukrainian side is not respected. To my great regret, because a peaceful resolution of the issue is always better than war.
- How do you rate the Minsk Agreement?
- PG: The implementation of the peace plan was to begin with a cease-fire. We see the signed agreement - you can criticize it, you can treat it differently, but even it is not respected. This time. The second. People of Donbass proclaimed independence. The people of Donbass in the referendum supported the declaration of sovereignty. People Donbass took in their hands
weapon
and protect their land. Shed their blood. And in the agreement it is written about Lugansk and Donetsk region, some budget preferences, local elections. This is all not relevant. If we are talking about negotiations, then, in my deep conviction, they should be equal, and they should start with the recognition of the independent status of the territories of the DPR and the LPR. But in principle, I have always been in favor of resolving the conflict peacefully.
- The agreement was signed at the time of the successful offensive of the militia. How correct was it at that moment?
- PG: People in social networks call this a betrayal. People can understand. They both feel and write. I say: many points of the Minsk Agreement are irrelevant. His signing was untimely. It is clear that Ukraine considers the Donbass its territory. But she does not control this territory. And the people do not defend the region - they protect the people's republics proclaimed and confirmed in referendums. Therefore, the point of recognition of the independence of these republics should be the starting point of negotiations.
- Do you know who was behind this agreement?
- PG: No.
- You met Strelkov. What did they talk about? What impression did he make on you?
- PG: First - no comment. I have one impression of Strelkov. This is a very ideological person, a true patriot of Russia, Novorossia, a big Russia and, more broadly, the Russian world. I have only a positive attitude towards him.
- Why did Strelkov leave Donetsk? Was it a decision or an order? What kind of forces acted against him?
- PG: Some forces acted. I am not a supporter of conspiracy. But from the point of view of logic, everything is extremely simple. Therefore, I will not comment. To what Strelkov himself said, I have nothing to add.
- Is it true that during his visit to Donetsk, Kurginyan received a face from someone from the militia?
- PG: No, nobody beat him. This is a lie. Moreover, the Vostok battalion ensured its security. On the other hand, nothing threatened him there. And there was no such task before us. If it's about me, I'm an intelligent person. We are all polite people.
- How do you feel about the new leadership of the DNI?
- PG: Prime Minister Alexander Zakharchenko from the first days of the revolution led the battalion "Oplot". Fighters respect him. Vladimir Petrovich Kononov (Minister of Defense) - brigade leader. Although he is not a military man, he possesses an excellent military sense and, as his colleagues say, a "military farce". He has a good reputation as a military leader.
- Personally, there are a lot of rumors about you too. For example, that you were in RNE Barkashov. It's true?
- PG: I have several times visited military-patriotic camps that were organized including with the assistance of this organization. This was the case in 1999, I was only 17 years old. I have never had any formal membership in RNU.
- Where were these camps located?
- PG: On the Ukrainian and Russian territory. These were military-patriotic gatherings, with military instructors, drill, tactical training, training. We do not teach anything in the army. Therefore, this knowledge needed to be obtained somewhere. And they are now useful.
- So you already in 17 years planned to participate in some kind of armed struggle?
- PG: Every man should be a warrior. His holy duty is to protect his land. Military skills are required. I am an adherent of urgent service. A man only becomes a real man when he served in the army. Every man should serve. In addition, he should be brought up as a man. A man should be manly, and a woman should be feminine. Therefore, young men should devote to military training. In 16 – 18 years this is necessary.
- Did you serve in the army?
- PG: No.
- Почему?
—P.G .: They do not teach anything in the army. In those years when I was supposed to be drafted into the Ukrainian army, I studied at the university. Students then in the army did not take. And the desire was absent. Because in our army, soldiers build generals for dachas, and do not learn to fight. In the military-patriotic camps, I gained more knowledge and skills.
- What is your attitude to the ideology of the RNE?
- PG: In 17 years, I didn't understand much about ideology. Although in general I can be called a Russian nationalist. However, with a caveat: my understanding of Russian nationalism is the same as in Dostoevsky, for example. This is not ethnic nationalism.
- When did you start politics?
- PG: Pretty early. In 23, I was already elected a member of the district council from the Natalia Vitrenko bloc. Started to work. But soon he resigned deputy powers. Because it was impossible to look at the power that was then. I couldn't do anything to change the situation. In 2008, I stopped politics. Then I had one son, a second, a daughter was born, I went to business. You had to make money.
- What was your business?
- PG: Advertising.
- They say that you still protected the monuments to Soviet soldiers as a child?
- PG: My grandfather and I once walked along the Walk of Fame. I was a schoolboy then, I don't remember how old I was. I saw that a number of surnames had been cleared from the monument to the soldiers of the Great Patriotic War. The letters were copper. Grandpa explained to me that the marauders did this in order to sell these letters like non-ferrous metal. We made the missing letters of foam, painted and glued. Then they reported the problem to the executive committee.
- How did you become a national governor?
- PG: In the situation after Maidan in Donetsk, I decided to take on such responsibility. I thwarted the plans of the oligarchs, who wanted to straddle the popular protest and "merge" it. People after the coup had very strong protest moods. People began to gather in groups. I monitored these groups in order to identify the most promising people, the real ones, who are ready to go into confrontation with the security forces. Then we still had the police, special services, oligarchs. Representatives of Akhmetov ran around and wanted to buy everyone. Akhmetov paid money, instead of shouting "Russia! Russia! "Whispered" federalization "," fiscal autonomy "and so on. Akhmetov himself has already seen the governor. His goal was to protect his business, remove Taruta and take his place himself. Then they came up with a plan "people's governor Levchenko." Levchenko is Akhmetov's six. This plan we thwarted March 1. (1 March 2014 of the year at a rally of pro-Russian citizens in Donetsk Gubarev was elected "people's governor". - Author.)
- Did Moscow somehow finance these movements or were they spontaneous? Has this protest been financed by Akhmetov, the son of Yanukovich or someone else?
- PG: The protest was really spontaneous. Akhmetov financed only those forces that opposed us. He gave money and said: "Do not make noise!" They took the money and did not make noise. I managed to pull out those who did not take the money, and said: "No, we will make noise". We united, became the people's militia of Donbass and did what we did. Yes, Akhmetov financed, but he paid for the fact that people were inactive.
- What purpose did you and your associates initially set for themselves? Reunion with Russia?
- PG: Independence from Ukraine. In any form. But first of all we set the task to hold a referendum. Because the people must choose for themselves: independence, accession to Russia, a federation or confederation with Ukraine. But there were no counter-offers from Kiev. They are still talking about a united Ukraine. Even the word "federalization" is not pronounced. In the same place, elections are on the nose, it's not fashionable to talk about federalization ...
- Now they offer a special status for individual areas of Donetsk and Lugansk regions.
- PG: Nonsense. It does not suit us. I read the documents. There are very vague wording. But in the end, everything will be dictated by a parliamentary majority, which will never be pro-Russian. Everything will be decided by the government in Kiev. Ukraine will either be divided and weakened, or it will be the enemy of Russia and all Russian. Including the residents of the temporarily occupied regions of New Russia.
- Do you think that united Ukraine will always be the enemy of Russia?
- PG: Yes. Therefore, it will not. A single pro-Russian Ukraine is impossible because of the impossibility of winning the elections of the pro-Russian forces. They are not in Ukraine. And those who could compose them all sit in prisons or killed. Or there will be a single Ukraine - a strong enemy of Russia, or a pro-Russian New Russia and the rest of Ukraine, hostile to Russia, but impoverished and weak. Ukraine without a big Novorossia will never fight with Russia.