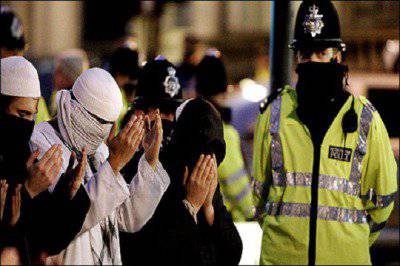 While Barack Obama and his NATO partners are bombing, as they think, the ISIS army, radical Islam is growing uncontrollably within the United States and European countries. Sharia patrols do what is considered right on the streets of European capitals.
The incredible myopia of Obama, Merkel, Cameron and Hollande will lead to the fact that now, joining efforts to destroy the regime of Bashar al-Assad in Syria under the pretext of war with radical Islam and ISIL, they only warm up self-hatred from the Islamic world. From day to day, European leaders themselves will be forced to wear hijabs tolerantly and pray to Allah in the middle of Paris and London at least five times a day for prayer at least five times a day.
How many years ago would information about Sharia patrols in Germany sound crazy? It seems more recently. But today - this is a completely established phenomenon, which no one is even surprised. Ponder - orthodox patrol in the center of Europe. But this was only a consequence, not a cause. And even the emergence of mosques in the heart of Christian Europe is also a consequence of the collapse of European Christian morality and the imposition of a cult of tolerance. However, in Europe tolerance is understood very one-sidedly. For them, this is not the tolerance of everyone towards everyone, but the need to endure everything from savages who flooded European countries and do not want to live by the laws of Europe.
The ideology of Africans, Arabs, Turks, Albanians, Gypsies is very simple - "we consume what you produce." And if the crowds of idlers in Europe did not need indigenous people who produced wealth, they would have just been cut for a long time. However, everything goes to the fact that sooner or later this is exactly what will happen.
While there is not cutting off the hands and not stoning to death with stones, as in Saudi Arabia, for example. But as soon as the European cozy streets, sweetly adored by Russian liberals, darkness descends, a radical Islamic patrol takes to the streets.
A group of burly people of no benign kind stops passersby in order to read the notation to someone who, for example, drinks beer. Well, or a little not so dressed. For example, in a short skirt. Or, according to the patrol, too brightly made up. At the same time, the Sharia warriors not only do it openly, but in every possible way emphasize both their origin and their intentions. They wear orange capes like police officers, but with the inscription Shariah Police.
Posing in the photographs is the German leader of the patrolmen Abu Adam, aka Sven Lau, a convert Muslim-Salafit. Lau was a firefighter, then he felt the need for a new spirituality, which he found in 1999 for some reason in the exotic and for Germany, and for most of the Muslims living in her religious movement. Some time later, Abu Adam became the head of a mosque and a branch of the Salafi organization with the eloquent title "Invitation to Paradise" in the town of Mönchengladbach (North Rhine-Westphalia), not far from Wuppertal. In December, 2010, the police had already searched the premises associated with Inviting to Paradise and another radical Islamic group, the Center for Islamic Culture in Bremen, accusing them of "seeking to create an Islamic theocracy in Germany."
Representatives of Salafism advocate a return to those times and the "purification" of Islam from all subsequent "pagan" layers. Salafis - from Kazakhstan to Tunisia - destroy the gravestones of famous Muslims (including the grave of the Prophet's mother in Saudi Arabia), considering the worship of such objects as idolatry. Denial of all
historical
and the national constituents of Islam, which have entered it for more than a thousand years, separates the Salafis from all other Muslims, turning them into a radical reserve of the "conservative revolution" striving to achieve the now non-existent state of the Islamic ummah.
The ranks of this movement in Germany consist largely of Germans, looking for an alternative to burgher life. In 1970, they would go into the ranks of leftist groups. Today, when there are no longer those, a niche for insurgents and non-conformists has been filled by Salafi Islam.
Many German Salafists in their rebellion against society go so far that they do not just create their own closed communities, but also leave to live in Islamic countries. According to the Federal Office for the Protection of the Constitution, only in the 2013 year there were about sixty such "religious immigrants".
But what is happening in London. For the first time, Sharia patrols appeared here in January 2013. Scotland Yard linked them to the activities of a banned Salafi organization known as Al-Muhajiroun and Islam4UK.
The leader of the organization, Anzhe Chaudhary, at one time publicly endorsed the September 11 attack on 2001 and called for the introduction of Sharia law throughout the United Kingdom, and is now positioning itself as a subject of "Caliph Ibrahim."
"When I spoke to him last week," Andrew Anton, a journalist for 6, wrote to The Guardian in September, "he denied all the accusations about the atrocities of the Islamic State militants, endorsed their use of crucifixion and recognized the Islamic State leader Abu Bakr Al-Baghdadi "caliph of all Muslims and the head of believers." But even in 2012, experts from the International Center for Radicalism and Political Violence noted: "Millat Ibrahim" has close ties with a group of British extremists, known as "Al-Muhajirun."
Shares of Chaudhary supporters, such as the December 13 march of 2013 in London's East End, demanding that alcohol be sold in local stores, despite their small number, appeal to very wide circles of fundamentalist-minded Muslim immigrants. As The Telegraph newspaper reported in 22 on December 2013, in a number of Marks and Spencer stores, Muslim sellers refuse to pork buyers and pork at the checkout, and that the network management even issued instructions that urge such zealous Shari'a admirers in such cases to be polite. form "ask buyers to go to another box office."