Azerbaijan launched mass production of AK-74M "Khazri"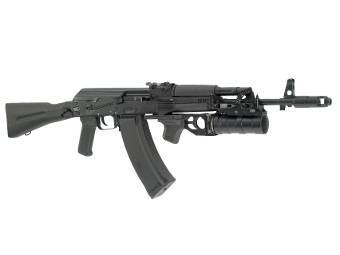 Azerbaijan, on the basis of a Russian license, has begun mass production of AK-74M assault rifles, as amended.
As transfers AZE.az, automatic machine called "Hazri" from
weapons
Russian production is distinguished by some qualitative characteristics. Unlike analogs, night vision equipment, laser guidance, a sight, a lighting system can be mounted on this weapon.
The appearance of the weapon produced under the license of the Izhmash plant has also been changed. The weight of the weapon has not changed.
According to the APA, according to the state defense order program, this year the Ministry of Defense Industry of Azerbaijan will produce and transfer to the Ministry of Defense 5 thousands of AK-74M "Khazri" assault rifles.
As representatives of the Izhmash concern reported earlier, contracts for the licensed production of Kalashnikov assault rifles were signed only with two countries.
In Venezuela, a plant for the production of AK-103 automatons is being built for the cartridge of the 7,62 caliber mm, and in Azerbaijan a licensed assembly of the AK-74М automatons for the cartridge of the 5,45 mm caliber is in progress.
The assembly of automata in Azerbaijan is carried out using component parts and components supplied from Russia. As the licensed production is mastered, the defense industry of Azerbaijan will master the production of some parts AK-74М. The full nomenclature of these parts includes 26 positions, including the trunk.
The Russian-Azerbaijani contract is for 10 years, during which it is planned to collect X-NUMX thousand AK-12M annually.
Under the terms of the contract, all automaton-made machines in Azerbaijan will be delivered only to the country's Ministry of Defense and national security forces.
Ctrl Enter
Noticed a mistake Highlight text and press. Ctrl + Enter