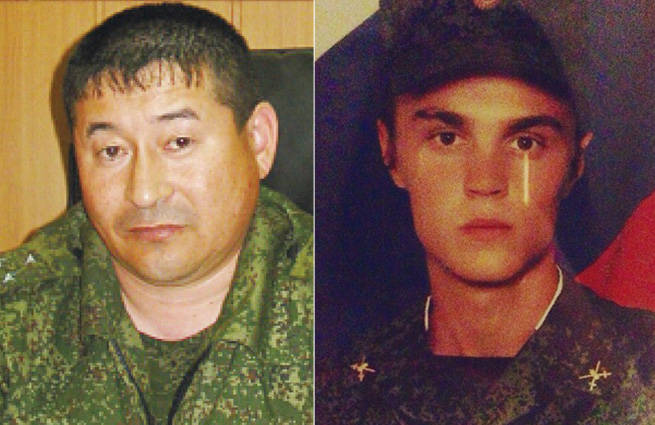 Greetings to you, dear members of the "Military Review"!
September September 25 published an article on our website.
Colonel rescued sergeant by closing grenades from an explosion
". Good article, correct, showing what should be an officer of the Russian Army. I fully agree that the man accomplished the feat by covering his body with a young soldier. I welcome the general approval of this act and join it myself.
It seems that everything is clear: the man committed the feat (I speak without sarcasm). What else can I write in this thread, besides expressing gratitude, I will not be afraid of this word, the hero?
But suddenly in this thread the discussion begins, who is this person: Russian Kazakh, Kazakh Russian or just Russian? And in the light of this question, I would like once again to raise this hackneyed politicians, political scientists, ethnographers, historians, etc., etc., the topic: who is Russian?
I will not go deep into
history
Russias and Slavs in general, all literate, we read various wise sources, and each of us has an opinion about where the Russians came from. Yes, the question is not that. The question is: who are the Russians? Nationality or state of mind?
Is it an ethnos? Yes. Is it the people? Of course yes! And now let's omit the notion of ethnicity and all other multi-wise words with which science burdens us.
Talk easy. Here, for example, me. I am Russian, although in my ancestors 50% are mixed with Slavs (Russians and Poles), Gypsies and, oddly enough, Japanese. I was born in the USSR, on the territory of modern Russia, in the passports of my parents it is written: Russian and Russian. Does this mean that I am already born Russian? To some extent, yes. And to some extent not.
But I feel Russian. How to define it? I think that this is primarily determined by upbringing and further perception of life through the prism of upbringing. I was raised Russian. That is, concepts and something else have been invested in me that makes me Russian. In short, Russian is a state of mind. And the soul is, it is still there, whatever the materialists say.
Or am I wrong? And Russian is a Slavic type of person, blue or green eyes, brown hair and height from a meter seventy five? Yes, I can cite a bunch of examples that such types have never been and will not be Russian. I have many relatives in Germany. They left in 90 on the general wave of "returnees", and only one of my aunt was German, who married my uncle (not German at all), my Russian mother, my father is Kazakh. She left and dragged behind her all the relatives from both her and ours. Everybody was leaving: the Germans, the Kazakhs, and the Russians. A dozen years have passed, and now all of them, Russians and Kazakhs, tell me that they are German, since they live in Germany.
So maybe the concept of Russian is determined by its territory of residence? Just like the Germans and the rest of Europeans? Maybe yes, maybe not. Why is it that Russians are immediately determined in the West, even if they are not even Slavs? No, not from the memory left by the "brothers" of 90's, who have seized upon big money and freebies, and not by the behavior of some of our "individuals" who believe that everything is allowed to them. No no and one more time no. After all, Belarusians and Ukrainians there are also generally called Russians. Sometimes a person is no different from a Western tourist, both European and Asian, but there is still something in him that indicates Russian origin.
I think this is a mentality and state of mind. Still, no matter how we try to absorb the Western way of life with our consumer morality, but still there is something in us that other nations do not have. It seems to me that the Russians are a community of peoples united by one territory, one goal and one history. Peoples who throughout their history assimilated with each other.
I apologize for the confusion, to be honest, the more I wrote, the more questions I had. In order not to drown in scientific terms, etc., I bring this issue up for discussion.
PS By the way, why are the names of all the nations of the world a noun, and Russian is the only one whose name is an adjective?