Kiev security officials exchanged for prisoners of war not only the militia, but also people gathered from the streets and never taken in hand
weapons
RIA reports
News
with reference to the newspaper "New York Times".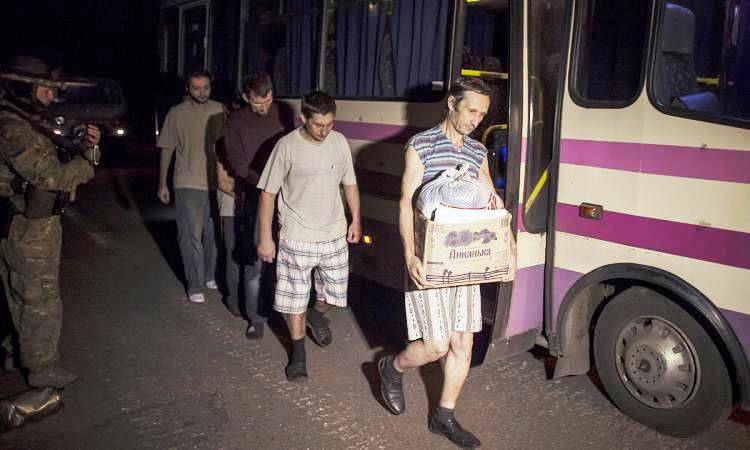 The newspaper publication states: "at first glance, the exchange of prisoners between the militias and Kiev was fair: under the attentive gaze of OSCE intermediaries, both sides freed 28 people, ex-prisoners, after which questions began to arise."
The militia, according to the publication, released the real military, captured during the fighting, but the Ukrainians brought for exchange "a group of men, women and teenagers dressed in tracksuits and dirty clothes, which were sent, as they say, from prisons from distant Kiev. " The newspaper writes that, most likely, this was done "due to the lack of prisoners to fulfill the conditions of the one-on-one exchange".
The publication emphasizes that the people released by Kiev then told the reporter that they had never fought and did not know why they had become participants in this event.
"I am a civilian and became a member only in order to collect the necessary number
, - said Nikita Podikov, 17-year-old, detained by Ukrainian soldiers two weeks ago in the city, near which the battles took place. -
I was accused of belonging to the militia, although I never participated in the battles and did not kill anyone. "
It turned out that only 7 people from 28-mi, released by Kiev, were in fact militia fighters.
"Some former prisoners were detained several months ago in different parts of Ukraine for participating in protests calling for autonomy in eastern Ukraine and for distributing campaign leaflets
"- writes the author of the publication.
Recall that an agreement on the exchange of prisoners of war was reached by the parties at the talks held in Minsk on September 5.