The OSCE Mission to Ukraine published a daily report, which states that some victims
mass slaughter near Donetsk
killed 27 August, reports
"Lenta.ru"
.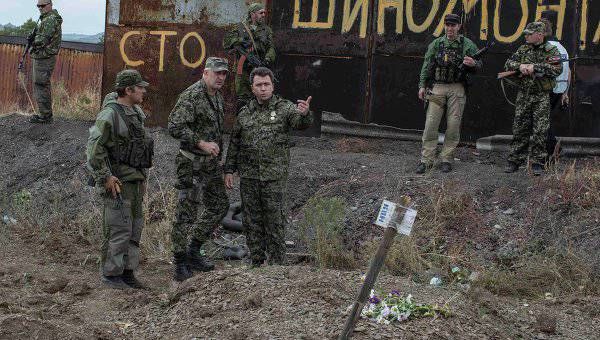 According to the staff of the international mission, in the place indicated by the DPR militia in the Kommunarskaya coal mine they found the 4 corpse. Next to the bodies, 8 cartridges from Makarov pistol cartridges were found, and on a plate near the grave it was indicated that people who died on August 27 were buried in it.
Meanwhile, the speaker of the National Security and Defense Council of Ukraine, Andrey Lysenko, said that the Ukrainian security forces were not involved in these killings, since the National Guard divisions were not in the area.
"We believe that this is a well-planned provocation ... There has never been a fighter of the National Guard. There were other Ukrainian units there, "the newspaper quotes him.
"Sight"
.
RIA
"News"
notes that representatives of the investigation team working at the burial site, denied the information that appeared in some media that the bodies lacked internal organs.
"The bodies have bullet wounds to the head, arms and legs, but the internal organs are in place," said a spokesman for the Makeyevka Interior Department.
It is worth noting that the famous Italian journalist Giulietto Chiesa said that Europe is likely to ignore the data on the mass graves of civilians in Donbass.
According to him, there is little hope that an international investigation will begin, although this information is "sensational in nature."
"Information about this discovery itself is now distributed only in Russian media, the European media are silent, the European public does not know anything about it, and I can say with 100-percent probability that, most likely, I won't find out. Even a question mark will not tell about the execution of civilians, "he said.