Americans are arming combat lasers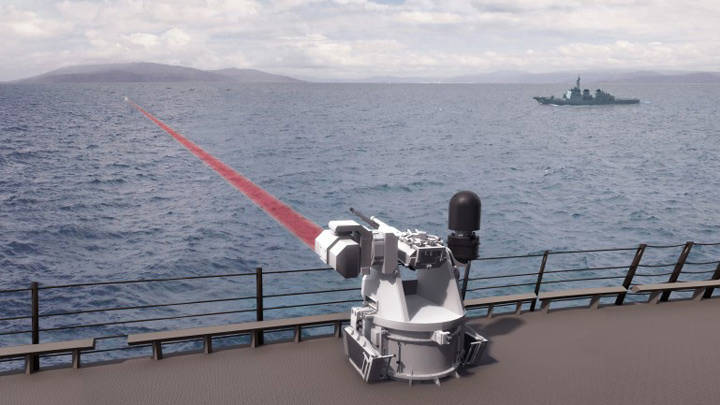 July of this year was rich in messages coming from the United States about the start of development.
weapons
future, which is based on the energy of laser systems.
First, the company General Atomics begins work on the development of high-energy combat laser HELLADS, which will be installed on US Air Force aircraft. All work will be carried out within the framework of the contract, which the General Atomics company concluded with the defense research agency DARPA.
The contract is the next step in the development of aviation laser, which is followed by successful field testing of auxiliary equipment. Based on the new contract, an 150-kW combat solid-state laser will be created, provided with liquid in-line cooling.
The weight of the aviation laser HELLADS, according to the designers, will not exceed 2 thousand kg, which will put it on different military platforms, in particular, fighters, patrol ships, reconnaissance aircraft, armored vehicles and, probably, even unmanned aerial vehicles. To date, General Atomics has successfully completed the development and field tests of a prototype power system, as well as a system for removing heat, thereby confirming that the auxiliary equipment of a completely new weapon is completely ready.
The first HELLADS test with an integrated 150-kW laser, fire control and cooling systems, and a power supply in the field is scheduled for 2013. and will be held at the range in the south of New Mexico - White Sands. After completing a number of operational as well as fire tests, the combat super-laser will be integrated as a separate B-1B bomber armament complex.
Combat laser HELLADS will allow to conduct high-precision fire from aircraft on a wide range of targets - from missiles to enemy personnel, while minimizing collateral damage in firing in densely populated areas.
Secondly, 25 July 2011g. The American corporation Boeing and the company BAE Systems, representing the UK, have signed an agreement on cooperation in creating an entirely new type of weapon designed for the US Navy.
The partners intend to introduce the tactical laser system developed today into the Mk 38 Mod 2 cannon system used in the fleet long ago with a fully automatic 25 caliber mm gun. M242 Bushmaster.
In March of this year, BAE received from the US fleet $ 2,8 million to build a demonstration example of such a combined system. As a result, a hybrid installation of the future should appear - the Mk 38 Mod 2 Tactical Laser System, which combines a conventional gun and a powerful solid-state laser mounted in one unit. Presumably, they will use a joint guidance system.
According to the authors of the idea, a similar combination of two types of weapons will provide increased flexibility as well as accuracy in confrontation with small surface and air targets, such as boats, boats and unmanned aerial vehicles.
Ctrl Enter
Noticed a mistake Highlight text and press. Ctrl + Enter