Neurosurgeon from Latvia Renar Putnins together with the President of the Society of Physicians Peteris Apinis visited Ukraine. They were not allowed into field hospitals, but what they were able to see in ordinary hospitals in Kiev and Dnepropetrovsk was enough, the agency reports
Ридус
with reference to "Delfi".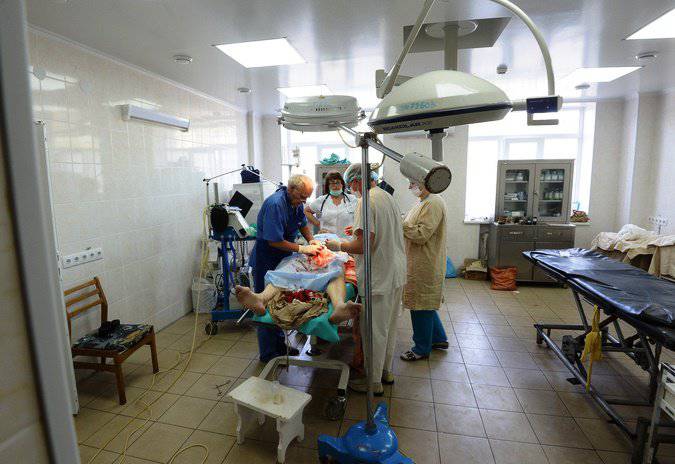 The Latvian doctors began a conversation with a journalist with the phrase that has become traditional in the Baltic states that "Ukraine is now fighting for our entire European civilization. It means they are fighting for us. " And therefore Ukraine (not the militia, in fact!) Should be helped. After the mandatory part of the "program" was completed, the doctors left the policy alone and went directly to what they saw.
"I think a lot is silenced. The medical system of Ukraine is in rather serious condition. Perhaps the Ukrainians did not want to show, "said Putnins, explaining that they were not allowed to enter the frontline territory.
"Everything is plundered, everywhere is complete chaos. Therefore, there are many dead. The law of the golden hour is not observed: if a person is injured, he needs to provide medical assistance within an hour. Unfortunately, this is not usually the case. Maybe a person is given primary, emergency care, stops the bleeding, is dragged off from the line of fire. There are field hospitals - more tents. So we were told. I admit that there is no this. Maybe we were not allowed to the front line so that we would not see a complete mess. Of course, they said that they are responsible for our lives. This can be understood. But we saw the condition of the military hospitals far from the front. You can imagine what is happening in the field ".
According to Putninsh, the medical budget in Ukraine is equal to 3,4 billion (what currency we are talking about, the agency does not specify). In terms of per capita - in 5 times less than in Latvia.
Continuing to share his impressions, the doctor said:
"Medicine is completely running. If they want to improve something, they need grand reforms. In Kiev, quietly, Independence cleaned, everything is clean. In Dnepropetrovsk, in 160 − 200 kilometers from the front line, too, nothing indicated the proximity of war. But as soon as you enter the hospital, everything changes. There is a completely different world. And in Kiev, and in Dnepropetrovsk. The smell of blood with antibiotics. In Dnepropetrovsk, one of the members of the government of Yanukovych privatized a military hospital and sold it to foreign investors. The hospital was plundered, 400 remained from 100 beds. Naturally, no new equipment was purchased. The staff was reduced, patients were treated with kind words. Over time, it was planned to rebuild the hospital into a shopping center. "
"Delfi" noted that Latvians were touched by signs of patriotism seen in Ukraine: "houses are painted in national colors, national flags are everywhere". Indeed, a nice little picture. And if someone suggested to the patriots not to waste money on paint, but to buy bandages or medicines for the wounded, let's say, ... I guess they wouldn't understand him. It is one thing - bandages that only the patient needs, and no one will see them except him. And quite another - the blue-yellow house, which simply screams patriotism to the whole world.