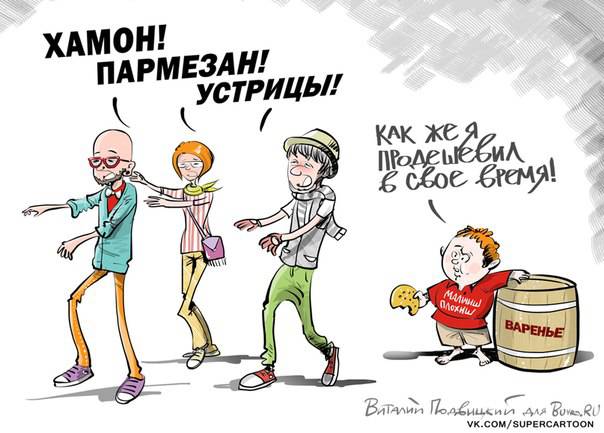 How would sound the resolution of the March of Peace from 21 of September, signed by the masters of intellectuals, translated from their Chaldean language into Russian
In their words: "We, citizens of Russia, patriots of our homeland, respecting democratic values ​​enshrined in our Constitution, consider unacceptable and destructive for our country and its people criminal aggression carried out by political leadership towards a neighboring sovereign state".
In Russian: "We, gentlemen with dual citizenship, patriots of our homelands - the United States and Israel, temporarily residing in your Rush, we consider unacceptable any of its disobedience to our bosses. And who has not signed with us, to deprive the second passport and not give any grants! "
In their words: "The very possibility of this aggression was the result of dishonest and unfree elections of 2011-2012, following which Putin and his entourage concentrated enormous uncontrolled power."
In Russian: "In 2011-12, we did not break off anything in the elections, so Putin is not a decree to us, but we saw his power in a coffin."
In their words: "The consequence of this illegal concentration of power was the total control of the power of the electoral system, the political and information space. In Russia, a fascist-type regime is being formed, which by all indications is similar to the Mussolini and Franco regimes. "
In Russian: "You have not shared power with us, we will be crap from the bottom: we will not reach, so we will call you! Say more thanks for comparing you only to Mussolini and Franco, not to Hitler! "
In their words: "We demand: 1. stop the aggressive adventure: withdraw Russian troops from the territory of Ukraine and stop propaganda and military support to the separatists in the South-East of Ukraine; "
In Russian: "To give Poroshenka to release the guts to all those who disagree with his self-proclaimed power named after Bandera and Shukhevych. And so what, that it cannibals? The States have ordered and paid for this bloody massacre, as in Syria and Libya, and the blood ordered by the USA is not blood! "
In their language: "2. conduct a criminal investigation into the facts of unlawful coercion by the Russian authorities of Russian servicemen to participate in hostilities in South-East Ukraine; "
In Russian: "Only the participation of the US military in any hostilities is legal! American mercenaries fighting in Ukraine - Russia, don't interfere! "
In their language: "3. stop the lies and propaganda hysteria on federal TV channels, defamation and persecution of those who condemn the aggression in Ukraine and the annexation of the Crimea, give them the opportunity to freely express and defend their point of view in the media; "
In Russian: "Only we, people with passports of the USA and Israel, have in your Rush an exclusive right to lie, defame those who are not with them, and condemn any actions of the power of the year of sharing with us in 2011-12. No surkovskoy propaganda! Propaganda psaki - yes! "
In their language: "4. to abolish the so-called anti-sanction measures, which caused a sharp rise in food prices, limited the rights of citizens to their consumer choice; "
In Russian: "Do not dare to insult our owners in the States and Europe by the production of the Russian product! Only Israeli potatoes and French pork place on the Russian shelves! We have lost the habit, thank God, of all the native things, there is nothing to get used to! "
In their language: "5. stop the gas war against Ukraine ".
In Russian: "And not to take money for gas from Ukraine. Our owners will milk this cow, the more so the percentage from that milking promised us! "
In their words: "We consider it necessary to conduct an international investigation of illegal actions to organize military support for separatists in Ukraine and the use of the armed forces of the Russian Federation on the territory of a neighboring sovereign state."
In Russian: "Putin's gang is on trial! Putin's gang on trial! "
In their words: "We are confident that all the organizers of the war in Ukraine must answer for their crimes both before the national and international courts".
In Russian: "Russia, hand over the gun!" Only the USA and Israel have the right to bomb foreign territories! "
In their language:
Lyudmila Alekseeva, human rights activist, head of the MHG
Harry Bardin, animation director
Valery Borschev, human rights activist, member of the MHG
Sergey Gandlevsky, poet
Mikhail Gelfand, bioinformatist, doctor of biological sciences, candidate of physico-mathematical sciences
Leonid Gozman, public figure, Foundation
historical
Prospects
Sergey Davidis, politician, Solidarity movement
Andrei Zubov, historian, religious studies and political scientist, doctor of historical sciences
Mikhail Kasyanov, politician, co-chairman of RPR-PARNAS
Evgeny Kiselev, journalist
Alexey Kondaurov, retired FSB Lieutenant-General, public figure
Tatyana Lazareva, actress
Arkady Lyubarev, political scientist
Vladimir Mirzoev, theater and film director, set designer
Boris Nemtsov, politician, co-chairman of RPR-PARNAS
Andrei Piontkovsky, publicist
Alexander Podrabinek, journalist, human rights activist
Lev Rubinstein, poet
Yuri Ryzhov, Academician of the Russian Academy of Sciences, public figure
Alexander Ryklin, journalist, member of the Solidarity movement
Zoya Svetova, journalist, human rights activist
Georgy Satarov, sociologist, head of the INDEM Foundation
Igor Kharichev, politician
Peter Tsarkov, politician
Ernst Black, a public figure
Igor Chubais, philosopher
Ilya Shablinsky, Ph.D., member of the Presidential Council for the Development of Civil Society and Human Rights
Sergey Sharov-Delone, member of the "Committee 6 May"
Victor Shenderovich, publicist
Mikhail Schneider, politician of RPR-PARNAS
Igor Yakovenko, journalist
In Russian:
Fifth column
Foreign Legion
And other rats on the ground at war with Russia countries