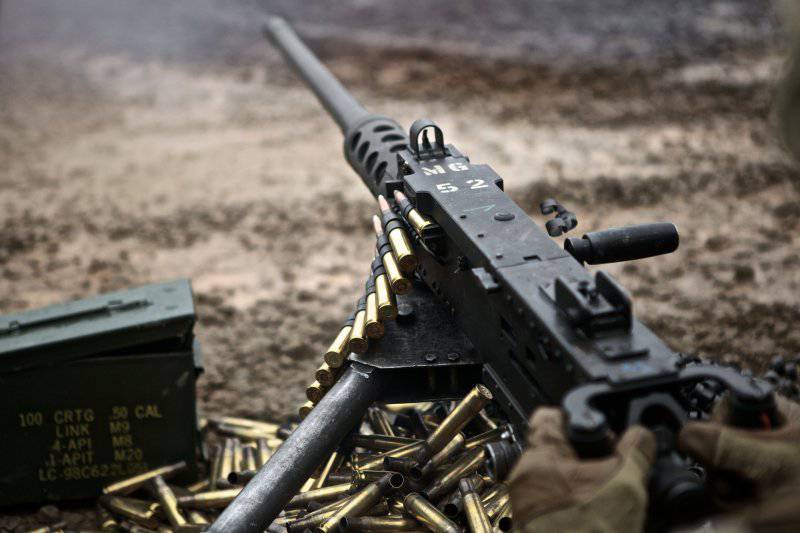 12,7-mm / .50 caliber cartridges are standard for most large-caliber machine guns, and the widespread use of this caliber means that it is subject to technological improvements
The development of ammunition from 12,7-mm ammunition to 20 / 30-mm cannon shells led to an increase in fire power and mortality in the entire spectrum of medium-caliber ammunition.
Changes in the requirements for medium-caliber ammunition in recent years have been evolutionary rather than revolutionary, but the achievement of better mortality has always been common. Improvements in this class of ammunition mean that smaller caliber weapons can be installed on light armored vehicles instead of the main gun of a larger caliber and, at the same time, they can achieve significant kinetic effects while maintaining high levels of mobility.
For example, British troops are eyeing the capabilities of 40-mm automatic grenade launchers with the aim of installing them on Jackal armored cars in Afghanistan, since the army was delighted with the characteristics of the system installed on a personal
weapon
infantrymen in the grenade configuration.
Parallel targets
For armored vehicles, mortality remains critical due to the rapid increase in the effectiveness of armor protection, therefore, the destructive power available to modern armored vehicles must also increase proportionately.
"What was once considered the main weapon
tank
, today you can see it on the BMP, "said Moritz Fischer, customer service manager at the Rheinmetall Defense ammunition manufacturing company.
"Due to the combination of the optimal combination of ammunition, modern infantry fighting vehicles can fight any threat on the battlefield and become a real factor in increasing combat readiness."
The company spends the so-called annual day of medium caliber to show its weapons systems and ammunition in this area. This time, the capabilities of the Mk 2013 automatic 30 cannon were demonstrated at the test site in Oksenboden, Switzerland in the middle of 32. An armored Boxer with an installed Rheinmetall Lance turret fired from this cannon with an air bomb under its corresponding target.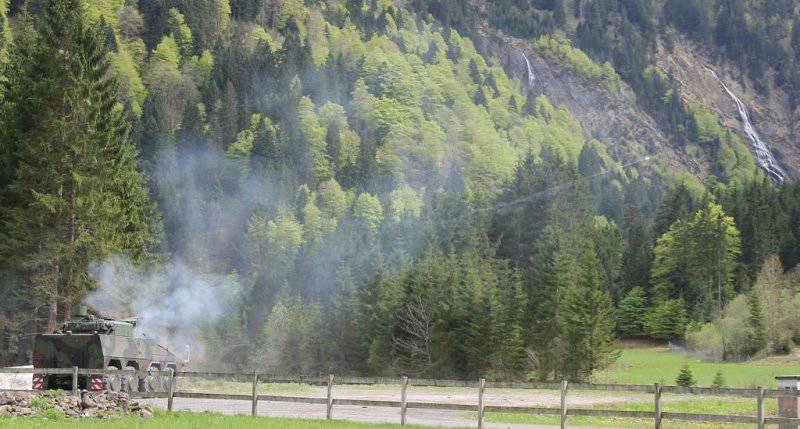 A BTR Boxer 8x8 with an installed Lancer turret fires MK30-2 ABM cannon with KETF X-ray armor-piercing 30-mm projectiles from Rheinmetall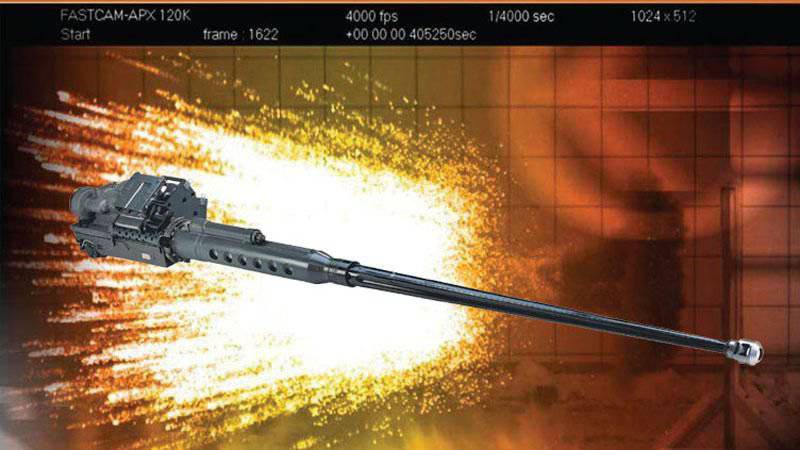 30-mm ATK air-blast projectile can hit air targets or targets behind cover.
Another manufacturer of ammunition, the US company ATK, also specializes in the development of this caliber. It produces ammunition calibers 20, 25, 30 mm, as well as "light" 30-mm projectiles.
ATK representative Nick Ranallo agreed with Fisher that increasing firepower is one of the main trends currently affecting ammunition design. The armed forces around the world are seeking to increase caliber guns on their terrestrial platforms. This is partly also due to the increase of efficiency of systems of protection of potential targets.
Advanced upgrades
In order to meet these requirements, ATK is expanding its range of larger calibers, while at the same time enhancing the characteristics of its current ammunition. It explores and modifies explosives to increase the speed, penetration and accuracy of the projectile, and also works on the design of the projectile to further improve the accuracy, deploy a more powerful combat charge and increase the levels of the impact, especially in terms of armor penetration.
Today we see that most of the BMP comes with medium-caliber guns, but "this was not the norm for 25 years ago," Fisher said.
He said that Rheinmetall chose medium-caliber kinetic shells. They set a goal - to develop low-sensitive ammunition that will not detonate, but burn or even not respond to external factors: fire, kinetic impact or other shock effects. This means that they are safe to handle, store and use even in rapidly changing operational space.
Another priority is the development of air blasting ammunition ABM. The French company Nexter Munitions views such ammunition as an "effective lever" for existing calibers. Thierry Brady, vice president of strategy for the company, said that ABM projectiles can be used to destroy targets both on the ground (especially shelters) and in the air.
Meanwhile, ATK is developing its capabilities in two priority areas: mechanical fuses with low drag, and ABM. Ranallo said the company will announce the first overseas order for its MK310 ABM projectile, which was developed for the MK44 Bushmaster automatic cannon. However, he did not dwell on this in detail, but confirmed that the order is really for ATK 30 mm ABM ammunition, which are intended for MK44 cannons mounted on Thales Bushmaster machines of one of the European countries. (Only the Netherlands and the UK are the operators of protected machines Vushmaster.)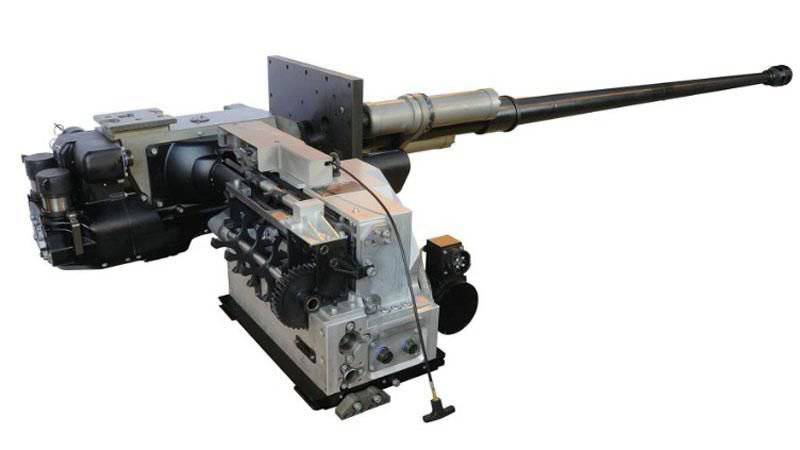 Installing such 40-mm guns as CTAS on armored vehicles, such as the Warrior BMP, will give you huge advantages, including significantly improved lethality
Limited job
The ABM air assault projectile enables the MK44 cannon to "destroy a huge number of targets with a higher lethality compared to conventional ammunition," Ranallo noted.
The first order for the MK310 provides for the supply of ammunition in quantities only for "initial deployment". The military will receive a programmable ammunition with three modes: point detonation, point detonation with a delay or air blasting.
Rheinmetall has developed AHEAD (Advanced Hit Efficiency and Destruction) air-blasting projectile to combat air targets and a KETF (Kinetic Energy Time Fuse) remote fuse kinetic projectile for ground-based purposes. The first is a shell with ready-made striking elements (tungsten cylinders), which affect the target with its kinetic energy.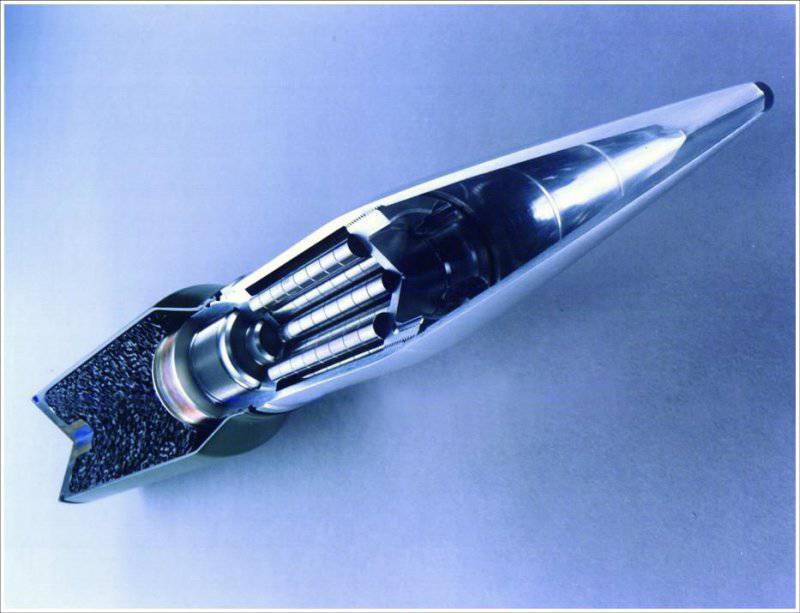 35-mm projectile air blasting from the company Rheinmetall AHEAD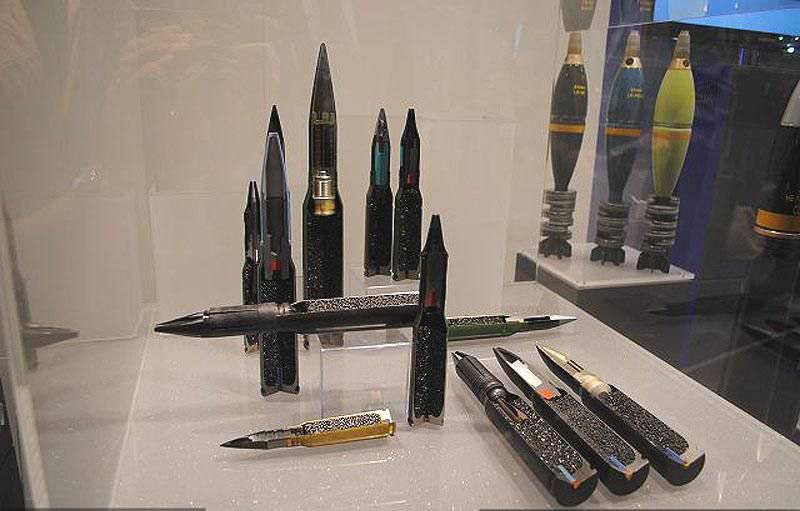 AHEAD Ammunition Family
Manufacturers are also keen to offer their customers ammunition with a wide range of effects that are suitable for different scenarios. These include not only kinetic, high-explosive shells or ABM projectiles, but also non-lethal options that can be fired as a warning or used as non-kinetic means.
Capabilities Directorate capabilities are interested in increasing non-lethal capabilities that can be realized from existing dismounted melee systems. These include, for example, weapons firing 40-mm rubber bullets, which is based on existing police systems available in the commercial market.
Urban environment
Other possible scenarios, such as military operations in urban areas, the number of which is also growing, also contributed to the fact that manufacturers now offer entire families of shells specifically designed for combat in built-up areas.
Ranallo said that the ammunition industry can work together to meet specific requirements that products manufactured by a separate company cannot meet. "We are developing partnerships around the world to fill our technological gaps and the gaps of our partners," he explained. "We can take and use each other's proposals either at the local or international level in order to shorten the response time to customer comments and the delivery time of already refined products."
The reliability and effectiveness of fuses, which are a necessary component of many projectiles, have also greatly increased in recent years.
Brady said that Nexter Munitions is developing micro-pyrotechnics using the technology of micro-electro-mechanical systems (MEMS). "The purpose of this is to increase the warhead of medium-caliber shells by miniaturizing the fuses while increasing their functionality," he said.
Low-impedance fuses from ATK, such as M758, offer an increased response time when meeting with a target at long distances, while meeting the increased requirements for impact fuses. This means that when the projectile hits the target even at a slight angle, the warhead will be initiated anyway. As a rule, a projectile that does not have a fuse with low frontal resistance is more likely to ricochet off the target.
Ricochet shells
They are designed to deal with new booking systems, which are currently better designed for ricocheting shells arriving at non-perpendicular angles.
"This is a very important opportunity when you look at the reliability of our semi-armor high-explosive incendiary projectiles [SAPHEI]," Ranallo said.

20-mm high-explosive incendiary projectile SAPHEI
Low drag resistance fuses can be used in a number of ATK projectiles, including the ZNXX-mm high-explosive incendiary ZAP, designed to hit unarmored and lightly armored targets and available in SAPHEI Super Quick and Delay configurations. Ranallo said that the ammunition ready for foreign markets.
Meanwhile, CTA (cased telescoped ammunition) telescopic munitions represent a more radical departure from tradition, potentially offering significant savings in mass and volume, which is very important for all armored vehicles.
Textron Systems from the United States has developed telescopic ammunition for small arms as part of the US Army program. However, at the forefront of developing mid-range ammunition is a joint venture between BAE Systems and Nexter CTA International (CTAI) from Europe.
The Cased Telescoped Armament System (CTAS) 40-mm telescopic ammunition system from CTAI has a significantly smaller mass compared to traditional systems of this caliber, but equal efficiency to them. It offers a high level of firepower for an armored vehicle, traditionally associated with medium-caliber weapons, in cases where, as a rule, there is space for a smaller caliber gun or a larger caliber gun, but with low characteristics.
The cannon uses a rotating breech to automatically feed various types of shells. The projectile is located inside the liner and is surrounded by a propelling charge.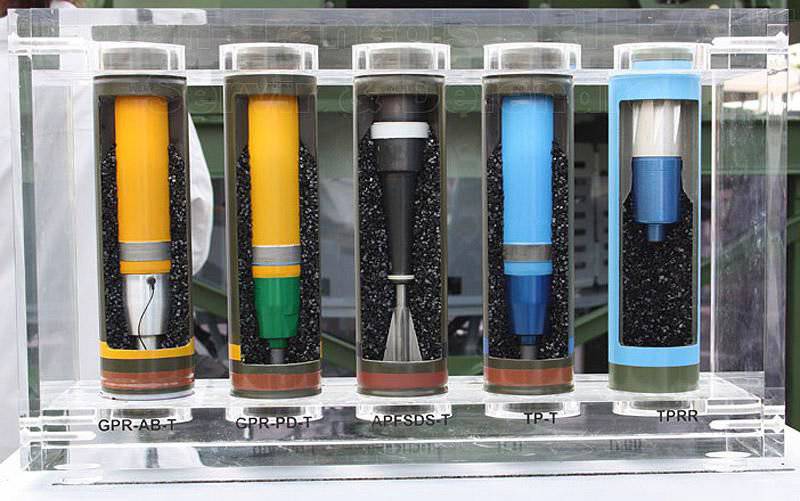 CTAS 40 family of shells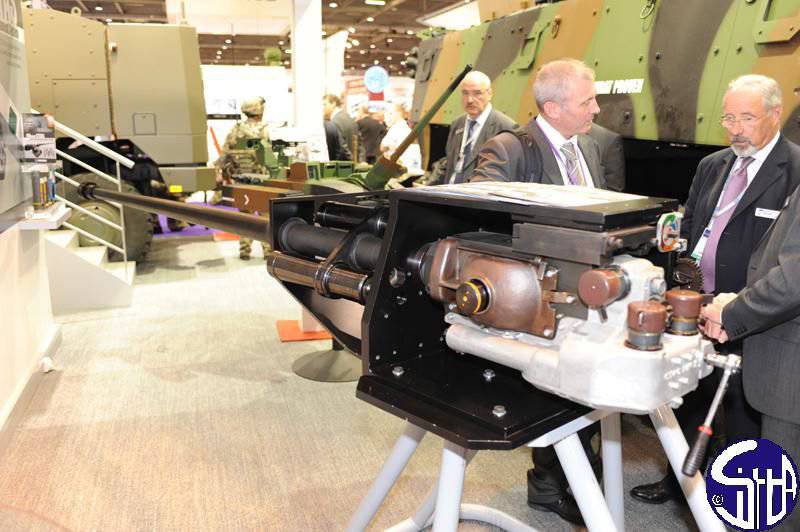 CTAS gun at Eurosatory 2014
All in the sleeve
Along with the British Ministry of Defense, the French Department of Defense Procurement strongly supports the CTAS project. CTAI began work on the original British authorization, while the final requirements were fully agreed by the British and French authorities.
CTAI has already completed the first stage of the qualification process for this weapon system. The gun itself and its armor-piercing and practical shells were approved by the French and British authorities. The same lengthy and complex qualification process is to go through a universal projectile detonation projectile and an air explosive ordnance.
CTAI has already delivered 16 cannons and some 25000 projectiles (13000 for qualification and 12000 for demonstration). Another 8000 - 85000 shells will be supplied by the company in 2014 - 2015 to the British Department of Defense for the integration process with the British Army Warrior and Scout machines.
Meanwhile, France has confirmed its intention to install this weapon system on its advanced EBRC armored wheeled vehicle.
French and British contracts mean that the CTAI order book is estimated at 137 million dollars.
David Kutri, head of international business at CTAI, said that CTA projectiles are more expensive than traditional projectiles, but their advantages far outweigh their disadvantages. "If you install the 40-mm cannon on an armored vehicle, similar to the Warrior, then this will allow you to get huge benefits, since the mortality of the BMP will increase significantly."
New Topics
Programmable ammunition, in particular the caliber 40 mm, is another interesting direction in this area. The British Department of Defense is exploring the possibilities of programmable ammunition in conjunction with improved sighting systems (digital optical sights), since the accuracy of delivery of a combat charge in this case is significantly increased, especially for targets in shelters.
In the USA, ATK and Heckler & Koch developed the XM25 CDTE (Counter Defilade Target Engagement) grenade launcher. Using an aiming system from L-3 Integrated Optical Systems, CDTE fires 25mm grenades that detonate in the air near the target. Using a laser rangefinder, the grenade launcher can choose the distance at which the grenade detonates.
The system was tested by the US Army and deployed in Afghanistan, but funding was discontinued in June 2013, with the result that full-scale production of CDTE grenades did not begin.
Other technological improvements relate to the possibility of electrical ignition in prospective 12,7 caliber cartridges mm and less, and switching to lead-free ammunition in order to reduce the environmental pollution of the spent cartridges.
Another area of ​​research concerns the increase in the range of so-called invisible radiation shells or infrared illumination shells (including tracer); these developments will allow tactical maneuvering in zero visibility conditions.
Practical ammunition
Developments are also underway in other areas, for example, in order to reduce the cost, new practical or training ammunition is being actively developed. The Swiss company RUAG invests a lot in research and development in the medium-caliber segment, focusing on practical melee cartridges.
The company offers a Short Range 12,7-mm cartridge for training bases that have limited areas. With a valid 800 range, the bullet has poor aerodynamic characteristics that quickly reduce the speed of the bullet. A version of this cartridge with a tracer is also available.
A representative from RUAG said that the HC SX Browning's 12,7-mm cartridge, consisting of a hardened steel core with a brass strap, is "the most accurate armor-piercing ranged cartridge". However, the SX 12.7mm Browning practical cartridge of this company, identical in shape to the HC SX live cartridge, has an aluminum-zinc alloy core that reduces barrel wear, and this is very important for shooting ranges.
Fisher said that there are good prospects for medium-caliber ammunition since "they have tremendous fire power and strength. Medium-caliber ammunition more than any other type of ammunition (smaller or larger) allows you to get the optimal balance between the entire weapon system, the mass of the projectile and its rate of fire. "
Materials used:
www.shephardmedia.com
www.rheinmetall-defence.com
www.atk.com
www.cta-international.com
www.ruag.com