Pacific Coast Forces
fleet
during the Vostok-2014 exercises, they began to carry out tasks to repel a sea landing and organize coastal defense, the press service reports
Ministry of Defense of the Russian Federation
.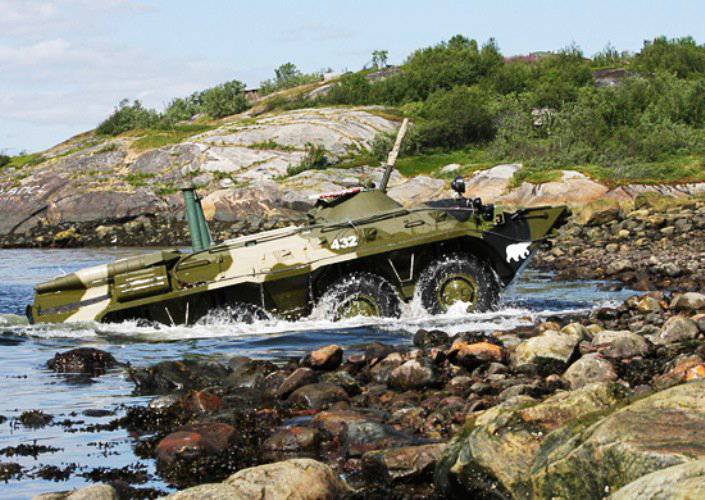 "The missile and artillery formations of the coastal forces of the Pacific Fleet occupied positional areas to carry out tactical episodes of firing exercises on ship assault groups (KUG) and airborne troops of the conditional enemy at sea," the military department said.
Marines supported
aviation
"They are working on the actions of company tactical groups to combat the conditional enemy's landing," intelligence units are busy working out "elements of reconnaissance in the areas of airborne defense," the press release said.
It is reported that coastal troops involved "more than 3000 military personnel, up to 30 ships and support vessels, more than 50 units of military equipment, about 20 aircraft and helicopters".
Engineering troops perform tasks on the equipment positions in the organization of the fight with the landing of the enemy.
"To create an environment as close as possible to the combat, military engineers carried out a set of works on the installation of engineering barriers and simulation fields at the test sites. Before the start of practical actions of the troops, training fields of minefields, wire obstacles, anti-tank ditches, as well as a number of other engineering structures have been created to test the knowledge and skills of servicemen to overcome obstacles created by the enemy and natural obstacles, "the message says.
According to the ministry, "in total during the Vostok-2014 exercise, more than 1,5 thousand trenches and 1000 shelters for combat and other equipment were equipped, more than 10 km of trenches and communication lines, 4 km of non-explosive obstacles were arranged, and also prepared up to 300 km of ways advancement and maneuver of troops ". In addition, the engineering units are equipped with more than 30 observation posts and dozens of landing sites for airborne troops.
As part of the maneuvers, a parachute assault in the number of 100 troops of an air assault compound and a brigade of marines was landed on Wrangel Island at night, and during the training battle the enemy's sabotage group was destroyed.
According to the press service, now the paratroopers "under the guidance of experienced specialists, are undergoing a course of survival in the conditions of polar tundra." They will "practice in practice the questions of orientation in the terrain, the construction of temporary shelters, the raising of fire and the extraction of food in the harsh conditions of the Arctic"
All fighters of the Airborne Force compound are equipped with sun-protection masks with special light filters. "The mask with maximum protection from direct and reflected light reliably protects the paratrooper's vision from ultraviolet rays," the press service noted.