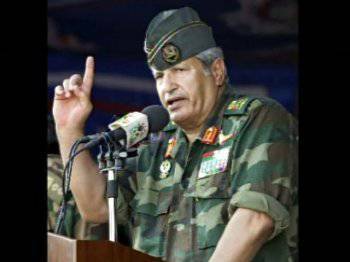 Abdel Fattah Younes, Chief of Staff of the military formations of the opposition Transitional National Council, and his two assistants were killed by armed men immediately upon arrival in Benghazi. There Younes was to speak before a judicial commission dealing with military matters. This was announced on Thursday by the head of PNS Mustafa Abdel Jalil, adding that the leader of the group of murderers was arrested.
Shortly after the murder in Benghazi, the hotel, where Mustafa Abdel Jalil's press conference was held, began shooting. According to the Al-Arabiya channel, in connection with the exacerbation of the situation, the PNS leadership was moved to a safe place.
Abdel Fattah Younes previously headed the Libyan Interior Ministry and was an associate of Muammar Gaddafi. In February of this year, he went over to the side of the rebels, ITAR-TASS reminds.