While on a visit to the United States, ukroprezident Peter Poroshenko told on the TV channel
CNN
sentimental
history
, which tells about the "feat" of his son - 29-year-old Alexei Poroshenko. According to the head of Ukraine, his eldest son went to the zone of the "ATO" (quote) to "resist the aggressor" voluntarily.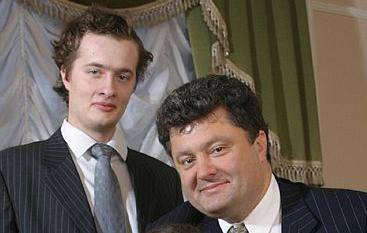 Poroshenko-father adds that Poroshenko-son not only participates in the "ATO", but also commands an artillery unit. At the same time, Poroshenko-son told his father how in his unit only in the last three weeks several soldiers were injured. And only by "lucky chance" the "commander" himself remained safe and sound.
The invulnerability of Aleksey Poroshenko, the "commander of artillery units", allows him to enter the list of candidates for deputies of the Verkhovna Rada from Blok Petro Poroshenko. This invulnerability gives reason to think about whether Alexey Petrovich is commanding his unit, for example, through the "iPhone-6"? ..