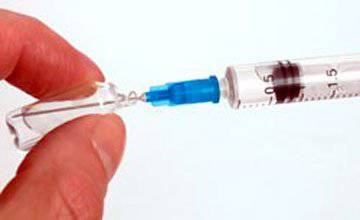 Ukrainian total insanity has reached the point that distrust of everything Russian overlaps across any borders. The Ministry of Health of Ukraine decided to temporarily abandon the vaccination of children against tuberculosis, since it sees something wrong in the BCG vaccine of Russian origin. For about half a year, tuberculosis vaccination of children in Ukraine is not carried out due to "suspicions" about the Russian vaccine, which lies in warehouses, but is not delivered to medical institutions. Reports the edition about it
Of Korrespondent.net
.
The source of the publication gives the following explanation about the situation:
The reason for this - the placement of the vaccine in quarantine. The government has placed a ban on her - not to use for little children, due to the fact that she, firstly, is Russian-made, and secondly, there was disagreement with the quality of the drug.
At the same time, the Ukrainian authorities are trying to completely replace the Russian vaccine with the Danish one, the cost of which is significantly higher. It is reported that the supply of vaccines from Denmark will begin no earlier than mid-October. That is, since the rejection of the anti-tuberculosis vaccination, 7 months will pass, although, according to all medical standards, the child must be given the vaccine no later than the second month of life. The health of tens of thousands of babies is thus endangered only because the government of Yatsenyuk, even in Russian medical preparations, sees the threat of "independence".