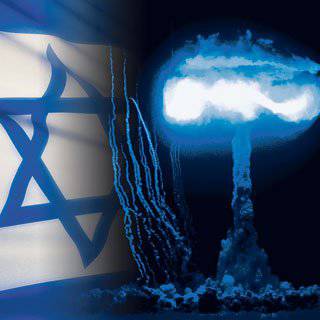 "If in the near future, the countries of the Middle East, in particular Iran, will develop nuclear technologies that Israel considers a threat, then Israel will have to partially disclose its nuclear capabilities as a deterrent."
This is one of the main recommendations of the "Daniel" project, launched by experts to assess the threat to Israel's national security created by the countries of the Middle East, and Iran in particular. At one time, this report was presented to Prime Minister Ariel Sharon, writes the information and analytical website i-HLS.
The "Daniel" project took as a basis the assumption that the security of Israel should be constantly enhanced in view of the threat from "irrational countries" and non-governmental terrorists armed with unconventional
weapons
. It is believed that this threat poses an immediate danger to the existence of Israel. Therefore, Israel must retain its first strike capabilities and develop them further in order to maintain its ability to initiate a preventive strike.
From the report of the project participants it becomes clear that the main threat to Israel comes from two sides. The first of these is a conventional war initiated by a coalition of Arab countries, regardless of the participation of Iran in it. The second threat is an unconventional attack using weapons of mass destruction (WMD) - atomic, biological or chemical, either in the framework of a first strike, or during an escalation of a conventional armed conflict.
After analyzing both types of threats, Daniel's project participants recommended the following:
1. Israel must do everything in its power to prevent the formation of a hostile coalition armed with weapons of mass destruction. One way to prevent such a coalition is to launch a preemptive strike against countries that are on the brink of weapons of weapons of mass destruction.
2. Israel must continue to adhere to its policy of nuclear uncertainty in order to prevent any future use of the argument by its enemies: "If Israel can possess nuclear weapons, then we can." However, in the future, Israel may have to change its policy to conceal its capabilities to a limited extent. Such a change can only happen if the enemies of Israel succeed in developing or acquiring nuclear weapons.
3. Israel will not be able to survive unless it continues to maintain a policy of trust that is crucial in nuclear deterrence, complete with missile defense systems capable of providing countermeasures against ballistic missiles. Such a policy can be used within the prerequisites of deterrence, and not after the first blow has already been dealt.
4. Israel must prioritize at least 15 strategic facilities in hostile countries in the Middle East.
When members of the Daniel project met with Prime Minister Sharon and presented their recommendations, they wanted to emphasize the extent of the Islamist threat to Israel and gave the following figures: the Arab world consists of 22 countries, the total population is 144.000.000. If a Palestinian state is created, it will become 23. The Islamist world, however, includes the country's 44 and more than one billion people. The total territory of these countries in 672 is more than the territory of Israel.
Team members argue that Israel's strategic future is based on the assumption that the threat of an attack for total annihilation against Israel stems from a "clash of civilizations" and not from strategic differences. Israel, as a stronghold of Western culture in the BV, is a threat to the Arab and Islamic Jihad, which is deeply rooted in their faith and religion. In addition, Israel, they believe, has no chance of achieving "peaceful coexistence" with the Palestinians, or "every settlement is akin to peace."
The findings of the Daniel Project report say: "We encounter" irrational "enemies, countries or terrorist organizations armed with nuclear or biological weapons and ready to use them. In this regard, we should not exclude that Israel may find itself in a "conflict situation" not only in relation to a clearly defined enemy country, but also against non-governmental organizations that will use "suicide bombers", which will serve as a "trigger" for war to "destroy the Zionists."
With this turn of events, Israel will not be able to use its nuclear capabilities against the enemy country, since no one can be appointed as a source of unconventional terrorist attack. For this reason, the team invites Israel to develop a practical and effective preventive strike policy.
The strategic future of Israel, experts say, greatly depends on the prosperity of the Israeli economy. Obviously, all the high defense spending will have a negative economic effect. The defense budget, which will exceed 7% of Israel's GNP, will seriously weaken the country's capabilities.
The team recognizes that Israel is facing increased isolation propaganda in the international community, so they believe that Israel will have to rely more on its own resources and capabilities than before.