Vitality and protection
MANTIS (Modular, Autonomous and Network-capable Targeting and Interception System - a modular, autonomous, network targeting and interception system) is being developed as a top-level defense system to protect field facilities (advanced bases) from various threats. Originally two systems were acquired. MANTIS is a highly accurate, automatic anti-aircraft complex, which can also counteract attacking projectiles before they strike field defenses requiring protection. The first system was deployed in a German field camp in 2011 year. At present, it is important to quickly adapt a number of systems so that all bases in the theater are protected depending on the type of threat.
The anti-aircraft capabilities of the German army must also be in the future in order to guarantee an effective level of protection against near and near-air threats. The prospective anti-aircraft complex that needs to be developed will be based on the MANTIS system and will include airborne reconnaissance functions (sensors), operational management / SLA (CCI and weapon control system), impact equipment (weapons) and platform. It is also necessary, among other things, to take into account joint aspects, network operations, mobility and protection. Anti-aircraft complex with its modular components and weapons combines a new generation of guns and guided missiles. It will be the unified system used by the Bundeswehr for ground-based near and super-close protection against air attack weapons. It will close the gaps in air defense capabilities at ranges up to 10 km and altitudes up to 5 km. The light and mobile components of the anti-aircraft complex should also ensure the protection of escort operations or temporary field camps.
The Future Infantry Project (IdZ), based on a modular system, is designed specifically to improve uniforms, protection and transportation components (transportation), command and control capabilities, mobility and combat stability of soldiers acting as infantrymen. The Extended System (IdZ-ES) is a completely new approach that combines newly developed and optimized subcomponents, taking into account the operational experience gained in the basic system in order to improve the protection of soldiers during operations. Soldier of the deployed system (Soldier on Deployment system) is purchased for those soldiers in the theater of operations who do not serve as infantrymen. Both systems will be complemented by improved modern shooting.
weapons
.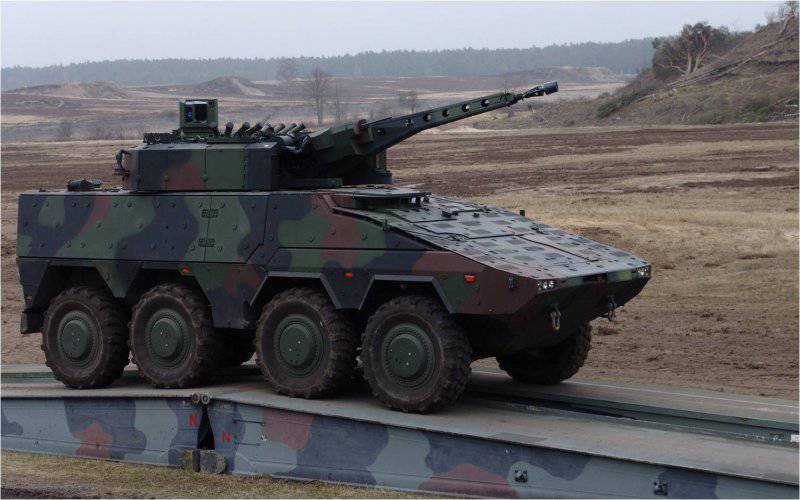 Universal armored vehicle BOXER has a very good level of protection against a wide range of threats.
Protection of the convoy is another area that has acquired great importance like the protection of bases and camps. Various jamming systems have already been procured and put into service in order to combat the ever-growing threat, in the form of remotely controlled IEDs in Afghanistan. A mobile and well-protected system for the exploration and disposal of unexploded ordnance and explosive objects (KARS) will be additionally designed to confirm, neutralize or clear explosive objects such as IEDs. The goal is to retain these capabilities, relying on the already developed components and subsystems simultaneously using the MRAV platform - the BOXER armored vehicle, and then start developing the necessary integration in 2011 and then put this system into the troops as soon as possible.
Basically, the asymmetric threat in the form of targeted use of small arms from shelters, shelters and ambush sites is directed directly against the Allied motorized and dismounted forces, as well as supply sites (trains, convoys, stationary and mobile locations). These types of threats are difficult to detect, identify, neutralize, or at least effectively impede their use.
Sixteen sniper identification systems were procured for ongoing operations, one has already entered the troops. These systems can automatically acoustically determine the snipers at a distance of up to 1500 meters after they shoot from their rifle. The mobile system is also installed in secure machines to meet operational needs.
Support, sustainability and mobility
During operations, the medium transport helicopter CH-53 is the workhorse of the army's air divisions and the main operational / tactical tool for a wide range of tasks, ranging from evacuating the wounded. Its operational readiness needs to be adapted to current and likely future requirements. The new T64-100 engine is of great importance in this adaptation. Its improved technical characteristics will be the key to the future utility of this helicopter.
The long-awaited introduction of NH-90 — a joint project of Germany, France, the Netherlands and Italy — will be a further step in creating the required tactical and operational deployment capabilities.
The presence of protected vehicles continues to be a high priority of the German army. The main goal is to ensure a uniformly high level of protection for all forces in the theater, wherever possible. A wide range of needs for secure machines can be optimally covered by various types of platforms (conveyors). For this, a number of vehicles were divided into two categories: "Protected control vehicles and combat vehicles" and "Protected transport vehicles" (GFF and GTF, respectively, German acronyms). Replacing fully unprotected 2-tonne vehicles, and unprotected or protected insufficiently small cars (WOLF 0,9 tons, etc.) and M-113 variants should be implemented by deploying protected command and combat vehicles. They will be divided into 4 class, based on the functionality, air transport, protection and tactical mobility required in each case. Thus, this indicates the need for machines of different classes.
The DINGO 2 is a Class 3 protected command and combat vehicle that has already been successfully tested in various operations. Protected command and combat vehicle Class 2 EAGLE IV is purchased and is already in service. Prototypes of the GFF Class 1 machine, which can be transported by the medium transport helicopter CH-53, and the GFF Class 4 machine with the highest payload. The baseline qualification for both classes was completed two years ago.
According to the German-Dutch project, BOXER MRAV was developed and qualified, whose special feature is a serious approach to individual requirements. BOXER has a very good level of protection for this class of wheeled vehicles. BTR BOXER has a high mobility and good dismounting characteristics, it will become the "basis" for the infantry forces equipped with the IdZ system. Tactical mobility and protection also allows the BOXER to be used in operations with mechanized forces, thereby greatly increasing the range of infantry combat missions. Since the delivery of the first production vehicle to the purchasing organization in the autumn of 2009, work began on putting the BOXER into service.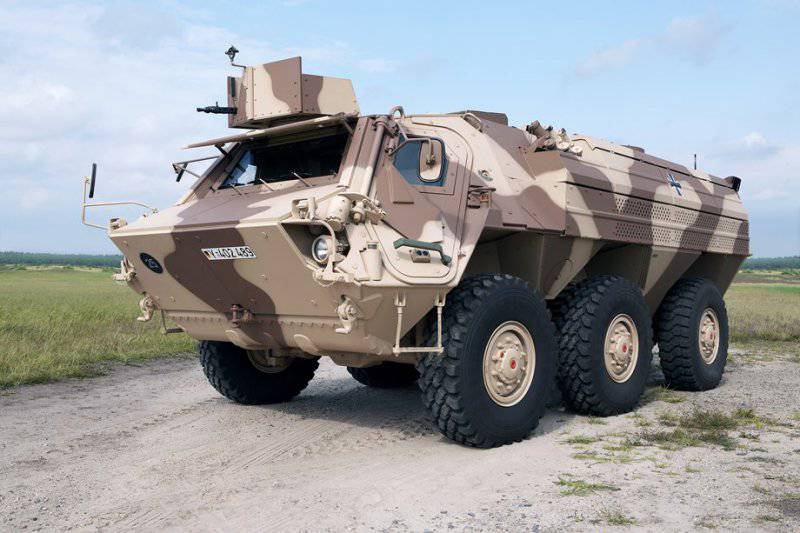 The protection level of the proven FUCHS armored transport vehicle is adapted to the new operational requirements as an option 1A8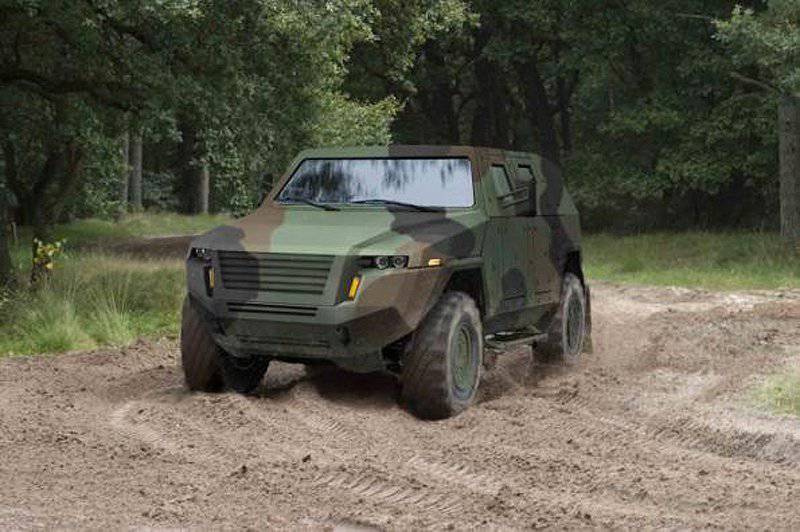 The Rheinmetall and KMW team is developing the AMPV family for the requirements of the GFF Class 1 and Class 2
The FUCHS armored vehicle, which has been used successfully for many years in daily service and combat operations, must be upgraded with regard to the level of protection and deployment capabilities. It is an interim solution for special requirements arising in due time due to the growing level of threats in Afghanistan. The FUCHS 1A8 version must have the option of installing a remote-controlled combat module (FLW 200) and a jamming system, as well as installing command and control systems described earlier. FUCHS 1A8 is an armored vehicle best suited for temporary replacement of the BOXER.
The GTF (Protected Transport Vehicle) project is closely related to improving the protection of wheeled vehicles. The goal of weapons planning in this project is to obtain a set of actually accessible armored transport vehicles that meet functional requirements and have protection appropriate to the combat mission and threats. There will be a reduction in operating costs due to increased use of universal basic machines and functional service kits.
Tactical mobility corresponding to a combat mission and protection corresponding to a threat are the characteristics that are necessary to carry out successful transport tasks in the theater of operations. Unlike the GFF series, the protection of GTF cars is limited to the cab of the car. The division into five classes was introduced on the basis of carrying capacity.
In order to improve tactical mobility on land, there are plans, perhaps jointly with the Netherlands, to develop a modern bridge guidance system that has an increased bearing capacity (at least, like that of the MLC 70, with potential for growth) and an increased span of the bridge. In order to reduce the risk in the design, ready-made military bridge guidance systems should be applied, which will be adapted to the LEOPARD 2 chassis.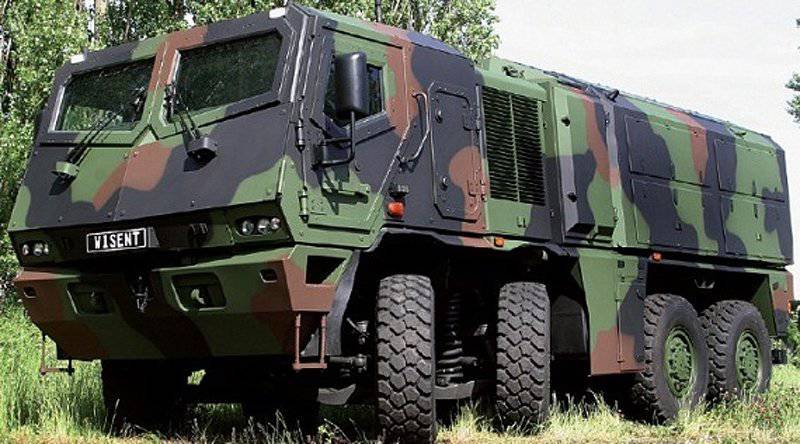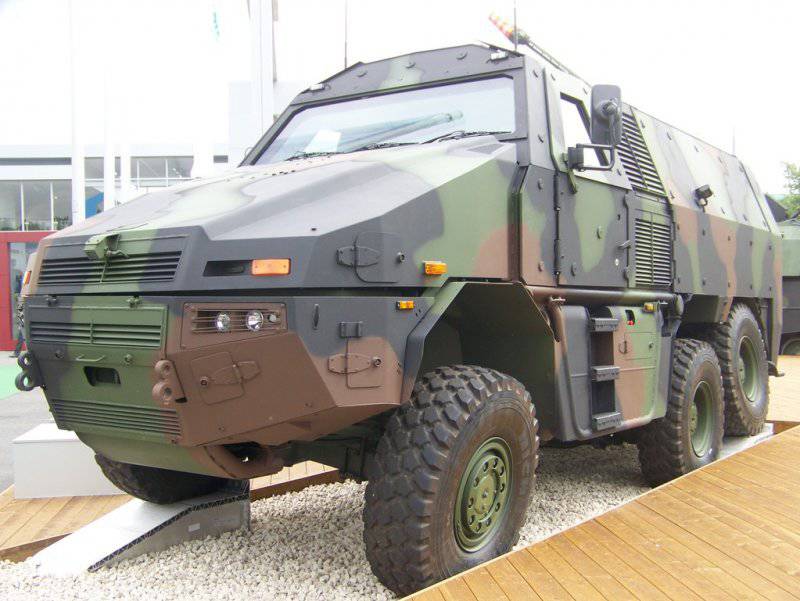 RLS WISENT (top) and KMW GFF 4 compete for victory in the GTF claim Class 4
Future projects and promising technologies
Potential long-term projects, such as the development of long-term diagnoses and the possibility of repairing, preserving and expanding the operational and tactical capabilities of air transport, the first steps in automatic robotization and discussion of future weapon systems, all this is part of the concept of preserving the German army to meet future requirements.
Remote maintenance, with an adequate allocation of resources and combining with predicative error detection in relation to ground systems, will create operational service capabilities. Teleservice (remote) will include the creation of an expanded knowledge base for terrestrial systems that has effective assistance functionality to support operations and day-to-day work, including deployment training and distance learning.
The introduction of a new, modern transport helicopter (Future Transport Helicopter) with a large payload for the armed forces will be inevitable in order to guarantee the capabilities necessary in the whole range of current and future hostilities. National and international work on the preparation of such a promising heavy transport helicopter is currently at the stage of analysis, they will be of particular importance for the long-term development of the air mobility of the German army. Helicopters CH-53 in the army will gradually be replaced with new ones starting from 2020.
The work associated with the development and promotion of unmanned ground and air autonomous vehicles, that is, robots, in the army are of particular interest. Unmanned systems can be used in particularly monotonous and tedious tasks, with unacceptably high risk for their personnel or the task that must be performed, exceeds the physical capabilities of a person. There is a huge potential for future development in all categories of capabilities. Ground-based unmanned systems can, in connection with their compact design and reduced signatures, carry out covertly reconnaissance operations, also at a great distance from their command and control points, in close proximity to the enemy or even in the territory of the latter and / or in its immediate sphere of influence.
Starting in 2010, the army plans to develop a partially autonomous mini-robot, equipped with various sensors. Such a mobile sensor system MoSeS (Mobile Sensor System) will be created to collect information mainly in an unknown area, partly in an urban environment, in close proximity to stationed forces. It will also be possible to equip unmanned systems with not yet developed sensors and weapons, which will enable them to work at a safe distance while identifying, marking and destroying booby traps or obstacles, thus avoiding not only the losses of their people, but also among civilians. population. In addition, in the future, unmanned transport systems will be able to supply troops individually or as part of a convoy around the clock or assist dismounted infantry units in the transport of heavy equipment.
Thanks to miniaturization in the field of unmanned systems, precision-guided munitions, sensory systems, it became possible to connect them with reconnaissance means, soldier systems or electronic components. The trend in developing "smaller, lighter, more efficient" facilities for military applications is increasing, and will have an increasing influence on the planning of material acquisition for the army.
A further field of activity related to technological developments in ground systems is the availability, storage and transformation of energy. Energy must be available in any quantities for military use. In this regard, the security of the supply of electricity and other forms of energy should be a top priority. Energy storage devices are needed for military tasks, especially when the supply of the required type of energy does not correspond to the time of the task. It is clear that new technologies will continue to improve the capabilities of mobile military applications. Fuel cells and innovative battery storage solutions for electricity will definitely play a role in developing new drive concepts for mobile platforms or using alternative energy sources.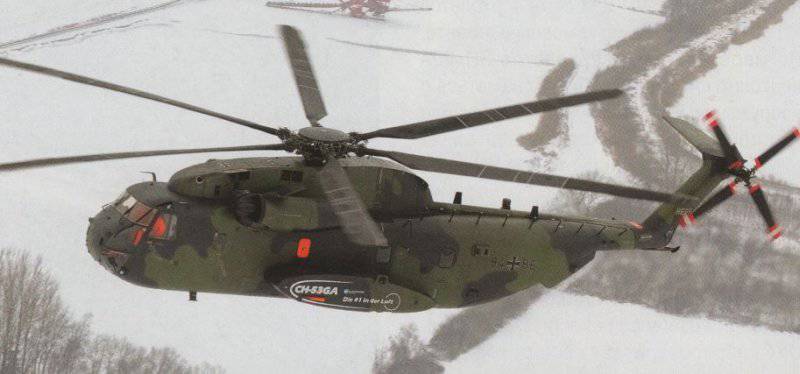 The contracting center for Eurocopter German helicopters in Donauworth will upgrade a total of CH-40G 53 helicopters to CG-53GA configurations so that they can participate in the widest range of national and international missions. These programs include: improved display and flight control systems through modern digital avionics; modern accurate navigation system and improved flight characteristics in accordance with the regulations of the international flight IFR; installation of an automatic flight control system (AFCS) with a four-axis autopilot and automatic hovering; installation of additional fuel tanks in the cabin to increase the flight distance to 1200 km; upgrading communications equipment for joint operations with TIGER and NH90 helicopters; installation of a modular kit including FLIR on-board infrared front-view system, satellite communication system (SatCom) and modern electronic battle control system (EWS) for self-defense and threat identification. In addition, the scope of work includes the repair of the hull in order to extend the service life and increase the number of helicopter flight hours from 6000 to 10000. Will be replaced by all the electrics, which is almost 35 years. Work on the CH-53GA was performed up to the 2013 year.
Conclusions and vision for the future
In current and probable operations, ground forces can successfully cope with the entire spectrum of combat missions and their intensity, having only an effective system network. Therefore, it is important to continue to develop existing capabilities in a system-oriented approach in a meaningful and sensible way, taking into account an integrated intelligence / command and control / influence system and to make modern technologies available in the quantities needed for operations and pre-deployment training. Only in this way will it be possible to achieve viable solutions for personnel during future operations, despite limited resources. Careful attention to operational requirements, the performance of a combat mission across the full range of intensity and types of hostilities and a special attitude to the protection of their forces remain prominent factors determining the planning for the acquisition of material resources in the German army.
These determining factors are taken into account when it is necessary to adapt the strategy of the material part of the Bundeswehr as a single whole against the influence that the global financial and economic crisis and the "debt breakdown" described in the German constitution have on public finances. Adaptability and flexibility are key terms that will also define the development and procurement of military materiel in the future. It will be necessary, due to the close cooperation of the Bundeswehr and industry, to develop new technologies in order to apply them as soon as possible and then acquire them for operational needs, which are not always foreseeable today. This requires innovative approaches, in which it is necessary to refrain from purchasing and storing the entire materiel in large quantities for every contingency. Neither the necessary investment funds, nor the operational and material maintenance facilities will be available for this in the future.
LEOPARD 2 MBT upgraded to Peace Support Operations for urban environments
An additional, promising opportunity to use limited resources is in fact to strengthen cooperation with international partners in the procurement and use of various products. This approach is equally true from the point of view of the operational-tactical vision of combat missions. German soldiers conducting a mission together with partners from allied and friendly countries could also use identical combat weapons, quite in the spirit of improved interaction capabilities. Most likely, efficiency lies in the preparation, procurement and cost of purchasing systems and spare parts at the expense of a specific set of requirements. Consequently, a greater amount of acquired tangible property also helps product manufacturers to obtain better reliability in planning capacity utilization and protecting the know-how of their development teams.
Joint studies on these areas of activity have been initiated at the ministerial level. Their funding will have an impact on the future planning for the acquisition of equipment for the German army. The German army brings its ideas to the ongoing process of further, conceptual, structural and material development. The participation of the army in full in this process will be associated with the type, volume, complexity of the task being performed.
Materials used:
www.monch.com
www.schiebel.net
www.army-technology.com
www.rheinmetall.com
www.kmweg.com
www.airbushelicopters.com
www.saabgroup.com