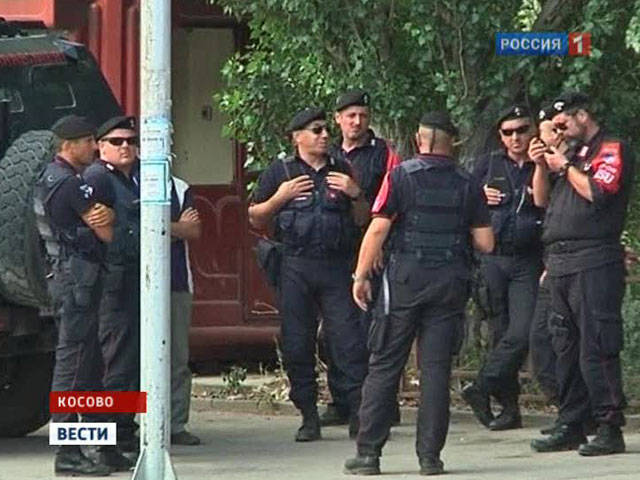 Last night, Albanian customs officers tried to storm the two checkpoints that the Serbs controlled. Fighting had to local residents. Not without wounded and dead. The actions of the Kosovo leadership have already condemned NATO and the European Union. The Russian Foreign Ministry also expressed concern about the situation.
From Pristina reported: the operation is completed, all checkpoints are under control. But what happens at the border, no one knows for sure. Serbian sources report that the post Yarine is still in blockade. It was him on the night of July 26 that Kosovo special forces did not manage to take by storm. When came
news
about the Brnjak station captured in the north, the Serbs managed to build barricades. Now, again, as before, the helicopters are in the air, the border is closed: Albanians are on the left, Serbs are on the right, KFOR is between them - the peacekeepers managed to enter some Serbian enclaves before the shootout began.
"There are about 100 Serbs here. We are waiting for the promise to remove the posts for the 8 watch," said Branko Minich, a representative of the Serbian population in the municipality of Leposavic.
The neighboring post, where an Albanian special forces soldier was killed on the night of capture and three Serbs were wounded, also under the control of international forces. There are negotiations. The Kosovo authorities believe the operation is completely legitimate - on July 20, the government banned the import of goods produced in Serbia, and the special forces simply accompanied the customs officers to fight smuggling. The northern regions of the province, where ethnic Serbs live compactly, Kosovo has long been trying to take control.
"Under no circumstances, the actions we have taken can be described as hasty and provocative. Their only goal is to restore law and order. We cannot tolerate a violation of Kosovo's sovereignty," said Hashim Thaci, Prime Minister of Kosovo.
The armed seizure of Prime Minister Hashim Tachi, it turns out, did not agree with anyone, which upset the European Union, NATO and even the United States, which called on the parties to a truce. In the West, the trade embargo was also condemned, from which it all began.
"We believe that the operation carried out last night in Kosovo was inexpedient. It was carried out without consulting the European Union and the international community. We do not approve of it. We believe that trade and dialogue between Pristina and Belgrade is the only solution to the problem. We are speaking for the resumption of free trade in all directions ", - said Maya Kosiyanchich, representative of the EU High Representative for International Affairs Catherine Ashton.
Roads between Serbia and Kosovo are still blocked - only one lane for ambulances is released. The Serbs refuse to dismantle the barricades and remove trucks from the highways until the Albanian special forces withdraw from the checkpoints captured at the border.