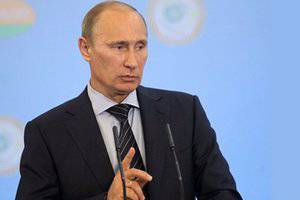 Russian Prime Minister Vladimir Putin ordered to conclude the remaining 30% of contracts as part of the state defense order as soon as possible and is waiting for a report until August 31. "According to the data that I have, more than 30% of the total state defense order have no contracts yet," the premier said at a meeting on the placement of the state defense order in 2011.
The volume of the state defense order in Russia this year will be 750 billion rubles, which is one and a half times more than the 2010 indicator of the year, the head of government also said. "In 2011, an unprecedented amount of money was allocated to the purchase and modernization of equipment and weapons, and R & D on defense topics. In modern Russia, such money has never been allocated to us so that 750 billion rubles would be for a year. This is one and a half times more than in 2010 year ", - quotes RIA"
News
»Putin's words.
The prime minister stressed that the priority in the procurement of equipment and weapons for the needs of the Ministry of Defense of the Russian Federation will be given to domestic producers, but products must be in demand, promising and affordable.
Earlier, Defense Minister Anatoly Serdyukov reported that his department failed to contract contracts for more than 2011 billion rubles in the 100 year due to a substantial increase in prices for military products. The defense ministry believes that the reason for the unreasonable price increase is a large number of subcontractors from leading enterprises. At a meeting on July 12 with Deputy Prime Minister Sergei Ivanov and Serdyukov, Russian President Dmitry Medvedev said that in case of over-pricing by military equipment manufacturers, the Ministry of Defense should place orders with other manufacturers or abroad.