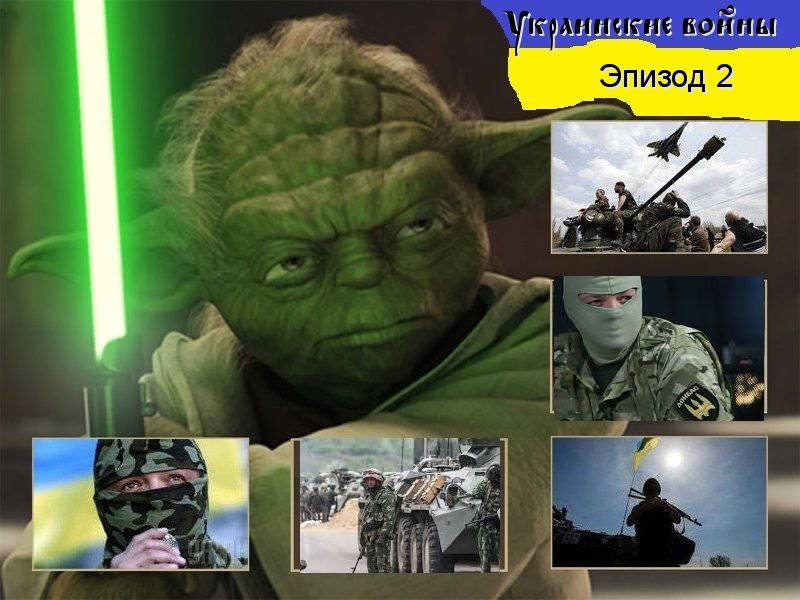 It seems that standing with an outstretched hand under the windows of the US State Department is a contagious occupation. Following Yatsenyuk and Poroshenko, the commander of the Donbass battalion, Semenchenko-Grishin, went to Washington to Washington.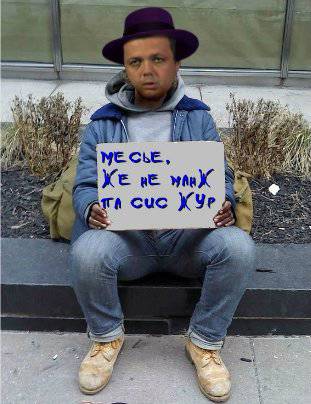 The unsuccessful director does not hide that he wants to unleash the Pentagon and the State Department on new weapons in the name of the continuation of the bloody blockbuster under the Ukrainianized name "ATO".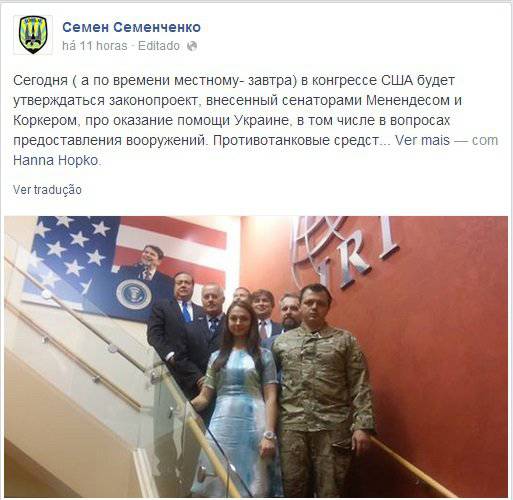 The champion of the war in the Donbas, who graduated from the once directing courses at VGIK, Semenchenko-Grishin, apparently, is now in the creative process. His filigree sketches and thoughts, sometimes animated by photographs, he puts, as is customary in a separatist environment, into pro-American Facebook. In messages from Washington to the readers in Ukraine, the unformatted hero dreams of a bright future for the square through the obligatory lengthy bloodshed.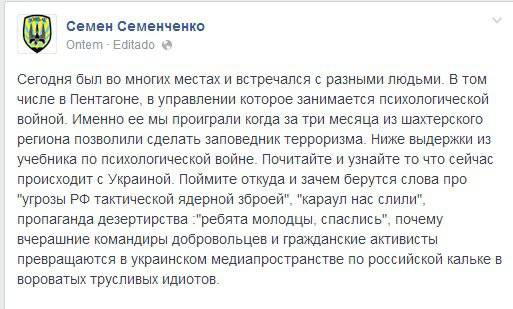 God knows exactly what scenic spectacles visit the imagination and Semenchenko's head, but one thing is clear - the newly-minted Ukrainian "Jedi" takes one of the central roles to himself, imagining himself a "warrior of light". About this:
Not only the Russian-language media, but also the foreign press became interested in Semenchenko-Grishin's unexpected tour to America. For example, that the head of the neo-Nazi battalion "Donbass" pricked up his skis in Washington in order to "receive further instructions," the French magazine openly stated on its pages
"La Plume a Gratter"
. And German
"Junge Welt"
wrote:
"Something really new happened on Monday on the Facebook page of the Ukrainian nationalist Semyon Semenchenko, commander of the Donbass battalion, consisting of neo-fascist volunteers. He is currently in Washington ... Semenchenko has three goals there: he wants to raise money for the Ukrainian diaspora, to talk with US politicians and conclude an agreement that members of his squad will be able to study at the US Military Academy at West Point ... If this information is confirmed, it will mean that the United States will continue its actions through direct support to Ukrainian fascists. "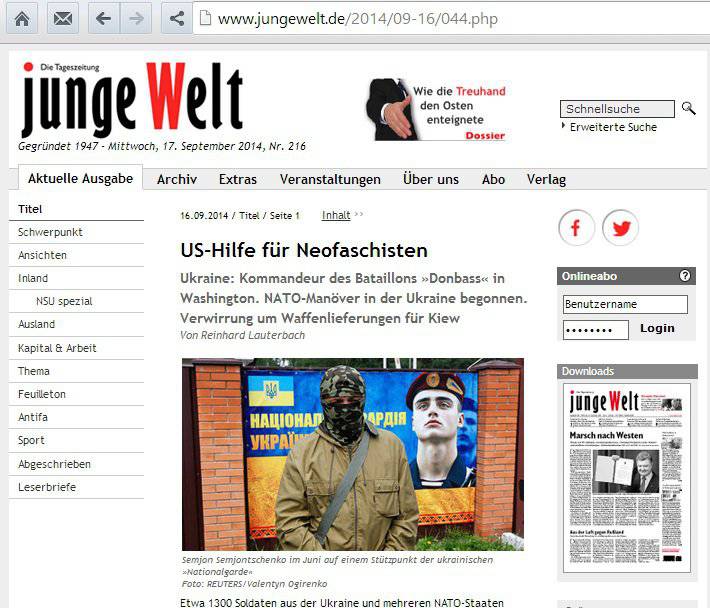 While the Batyana Kombat is scribbling essays on social networks with a touch of narcissism and the samurai's teachings, his men are pulling a strap at the front.
Not directing this thing - to shed blood in battle.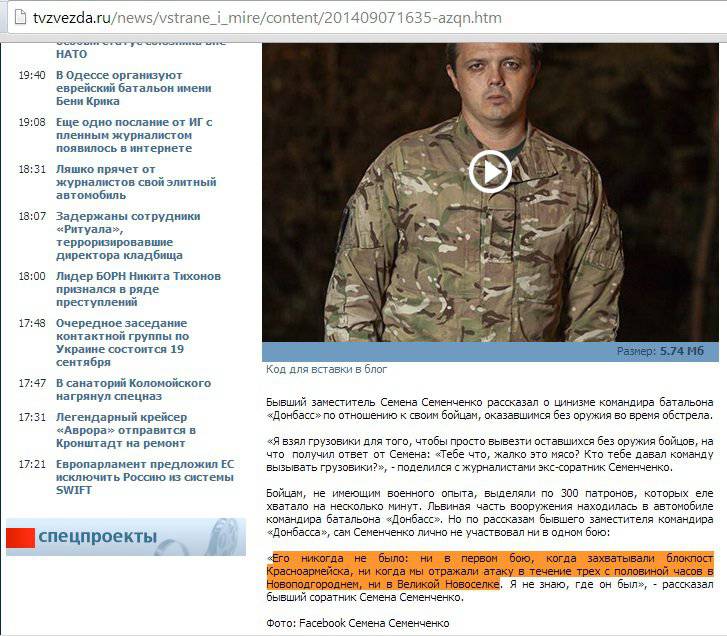 And Ukraine will have to shed blood oh how long! .. Decades. At least, Semenchenko-Grishin thinks so. In his thoughts, permeated with a predatory storyline, Ukraine simply desperately needs the combat experience of Israel. And, of course, the green banknotes and weapons of the "kingdom of good deeds" - the United States.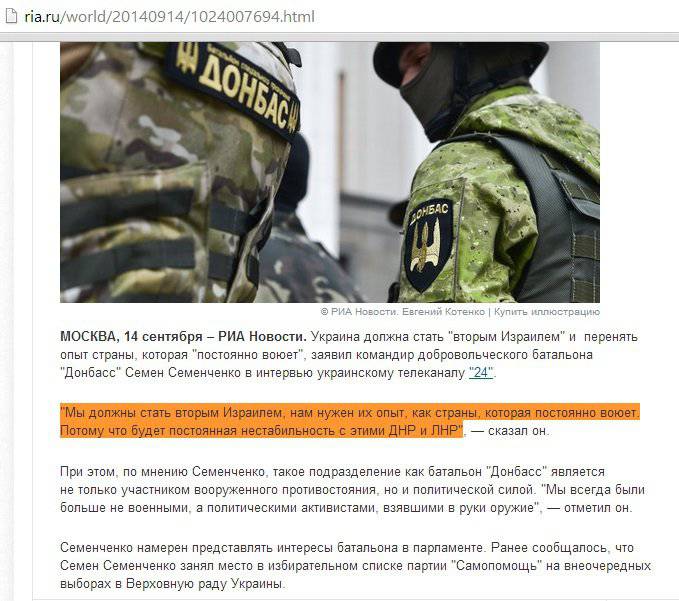 Hope for American benefactors there is the main "papika" of Ukraine - Poroshenko. He rushed to North America right after Semenchenko right after an important talkie bird from the State Department loudly and proudly told media representatives that the United States did not plan to negotiate with the head of the neo-Nazi battalion. But thanks to the same photo reports from the Semenchenko-Grishin page on Facebook, we know that it was said intentionally, so to speak, to divert our eyes. As always…