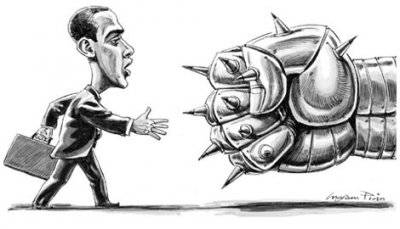 For many years I have been confronted with the grinding of an endless, painful topic: why do we Russians not know how to achieve our goals with the same political technologies as the Americans. What needs to be done to improve and improve?
I want to try to bring some clarity to this sore subject. I'll start with personal experience. It was spring 1998 of the year, preparation for one of the first "color" revolutions in Eastern Europe was under way in Slovakia, but nobody knew about that then. The US was preparing a big war in the Balkans, nobody knew about that either. America needed guarantees of passage through the airspace of Slovakia, where the authorities were stubborn and "pro-Russian" Prime Minister Vladimir Mechar, who enjoyed mass popular support. Mechar interfered, it was decided to change Mechar, and under the painfully familiar American slogan "we want change", the US ambassador to Slovakia collected and built up an anti-Metropolitan coalition in battle order.
At that time I was the editor-in-chief of a social political weekly. An American diplomat, the second or third person of the embassy, ​​suddenly turned to me with an unexpected offer.

- Why don't you create a non-governmental organization?

- And what is it? - I asked.

- How do you not know? - the American was surprised. - Everyone knows, but you do not!

I confessed my ignorance and listened to a quarter-hour lecture. Its essence: if I create a new nongovernmental organization that will be biased against Mechar one way or another, the US Embassy offers money.

I was surprised, but did not refuse immediately. I was at that time criticizing the Mecara openly and consistently — not for pro-Russianness, but for political utopianism. Moreover, as time has shown, the criticism was quite reasonable. But nobody ever offered me money for this kind of creativity. I myself was the publisher of my books, I remain to them to this day.

Two days later, an American appeared with a pile of papers weighing one and a half kilograms and with a proposal to fill them. Noticing that I was not inclined to do this, he said that his staff would help me. You just have to go to the embassy. After that, I put the paper in the bottom drawer of the table and forgot about it.

But not for long. At that time, no one perceived the anti-Khim campaign in Slovakia 1998 as a "color revolution". There were no Maidan, there was just a political campaign of all united against one popular Mechar. But behind it stood the USA with all its soft influence in the fist. And the chance of Mechar was not.
The essence of "Soft Power"
This is not soft power. And all the more not a soft power.
This is the American technology of taking power in a foreign country and its transfer to the people that are needed at the moment. Technology coups.
Nonviolent technology - and this is the main thing that distinguishes "Soft Power" from the revolution with the storming of the Winter Palace.
The "Soft Power" technology does not take power to hold it or, God forbid, something to reform. Although the word "reform" for many years was a sacred spell in all post-communist countries, Russia is not excluded.
"Soft Power" is used to take power for a short time, to take property for a long time, and even better forever. The word "rob" sounds indelicate, but accurately describes the essence of the process.
After the overthrow of the Mechar in 1998, which, although it won the election, was not allowed to form a government, all strategic enterprises of Slovakia that were interested in America were handed over to the United States in record time. First of all, the metallurgical plant VSV in Kosice, mixed cards in the game for European markets. Combine given concern US Steel.
In addition to weaning property, other results are achieved with the help of "Soft Power" - as a rule, of strategic importance. For example, a military base is needed - and in Central Asia they suddenly begin to fight for freedom; it is necessary to control the transit of oil and gas - and the Caucasus, then Turkey, then Greece will fight for freedom. Everyone will fight - "Soft Power" is able to attract the masses to the struggle for American values.
The mechanism of "Soft Power": the sequence of steps
First, "Soft Power" is looking for and finding agents of influence among the local elites. Not spies, not scouts, but guides of their will. This is the main and decisive step.
Without Gorbachev and Yeltsin, Russia's pro-American 1991 – 1999 could not have happened. If local elites are scarce, agents of influence are imported directly from the United States — all expatriates are good in America. And if suddenly a new president is urgently needed in Afghanistan or Latvia or a promising Ukrainian banker Yushchenko needs a proper wife, America can easily find the right personnel in her bins.
The next, and no less important step, is placed under the control of the media. In small countries, they simply buy and not only work on "Soft Power", but also generate income.
The loyal "Soft Power" journalistic pools are brought up in the media controlled. As a rule, very young people, almost children, are taken and teach them several simple tricks to serve the Soft Power media needs.
A network of non-governmental organizations and foundations is being created. Its main meaning is to prepare frames for "Soft Power".
The "Soft Power" mechanism: financing
America more than anyone knows how to advertise with great fanfare its financial generosity in matters of "Soft Power", but this is a brazen and very successful PR.
Once there was a clever slogan: "The work of saving drowning people is the work of the drowning people themselves."
As applied to "Soft Power", this slogan will sound like this: "The drowning of the floating is at the expense of the future drowning men themselves. With one hundred percent prepayment.
"Soft Power" is always and everywhere an insanely profitable enterprise. US influence agents, as a rule, are bought simply for promises or for pocket money. When "Soft Power" triumphs and the robbery is accomplished, agents of influence can again throw something at tea. Of course, a trifle is a relative concept. On the scale of Russia or even Ukraine, this trifle for pocket expenses of Yuschenka or Kasparovs to ordinary people does not seem like a trifle. But on the scale of US acquisitions, these are negligible costs. And often, for these meager spending, "Soft Power" finds some kind of fat bag who will come running with stolen money and ask for asylum. If the money bag brings a lot of money, he will get shelter, but he may still be asked: but help, support the shoots of freedom in distant Tibet, or at least in Mongolia.
The only thing that "Soft Power" never saved on was the scientific development of the technology of coups and their information and media support. To do this, thousands of institutions of various levels have been created in the USA, created decades ago, and new ones are constantly being created.
Why Russia does not have "Soft Power"
Therefore, why does not a mango tree bloom on Magadan? Other conditions.
Another reason is that "Soft Power" is not available to anyone in the world except the USA. This is an American invention, know-how, not as large-scale as the New York Stock Exchange, but also important.
Because the creation of "Soft Power" as a globally operating system of coups, at the behest of the United States, changing power where American strategists decide will take decades of intense mental and creative work by thousands of specialists. Which, and this needs to be emphasized once again, really happened in the USA - this is truly a civilization of emigrants, which, within the framework of Soft Power, effectively uses the advantages of its emigrant nature.
Another reason is that in "Soft Power" a purely trading approach is implemented, simple and accessible even to the most stupid, and therefore effective. Other peoples and civilizations, trying to influence their borders in their favor, mix up money, power, traditions, morals, emotions, prejudices. Interfere with the gift of God with scrambled eggs. But "Soft Power" is only scrambled eggs. And from the client's eggs, but so that the client did not notice.
And it turns out like in Ukraine, where Russia has reached the point that Ukraine seriously declares its aspiration to join NATO. Why did the Russian influence in Ukraine look so unsuccessful until recently, and so did the American "Soft Power" look victorious in the heyday of the "Orange Maidan"?
There are many reasons, but the main one is that the Ukrainian elites are completely disoriented towards Russia. Who is the pro-Russian politician in Ukraine today? The correct answer would be: yes, we are all pro-Russian! But there is no such answer at all. There is a ruling elite that fluctuates in the 50 hertz mode, which itself is hopelessly confused about the fact that for her, the elite, it is more profitable to be pro-Russian or pro-European. Or pro-American. Or navigate to mighty Georgia with its triumphant president.
Russia is a complex civilization, and "Soft Power" is a simple product for simple ones that works successfully, including in the harsh Russian conditions.
Historical Prospects for Soft Power
There is reason to suspect and hope that the era of "Soft Power" is heading for sunset. This does not mean that it will be better. But there may be something new and not necessarily of American origin.
"Soft Power" is a product of the world of money, which is also at dusk. If simplistic, "Soft Power", like many other American products, operates with money and on the basis of money.
Their money will not be soon. In the form in which we all know their money. This means there will be nothing to buy - neither agents of influence nor the media.
And yet it is more or less distant future.
And what to do with "Soft Power" today, while it is still there and a lot? What should Russia do?
Attempts to create their own "Soft Power" in Russia are and are intensifying. And in itself it is good. And some results are already visible in the post-Soviet space.
Therefore, Russia needs "Soft Power" to study, while the old woman is still alive and tells a lot. Choose something useful, important for yourself, for the future.
Russia and Russians know how to learn and invent. The "Soft Power" phenomenon is
weapon
the enemy, which is primarily a subject for study.
To imitate, repeat, create new. But not "Soft Power" "made in USA". Russia has other traditions, Russia is able and able to build long-term relations with the leaders of the many peoples inhabiting it. And while the democratic greed of the Russian elite remains a powerful factor, Russia does not need to buy the loyalty of its allies and vassals "for at least six months, in order to have enough time to privatize the gas pipeline."
Russia does not rob, Russia takes, relying on real power, and not on green zeros.
Russia and the Russians dominate and will dominate another question: "Man, tell me, who are you? Ours or not ours? "Who said that this is wrong?