The Verkhovna Rada of Ukraine, which was visited by President Petro Poroshenko, approved its bills, introducing a special status for some regions of the Donetsk and Lugansk regions and exempting militias from criminal responsibility. In addition, the deputies ratified the association agreement with the European Union. And although, as noted
"Vesti"
, its main part about the free trade zone has not yet entered into force - the parliament and the president did not hide their joy.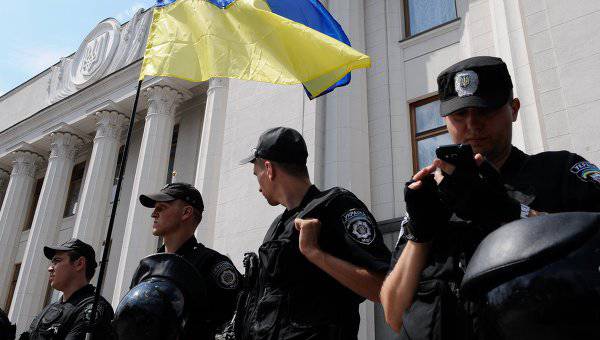 However, the Kiev radicals, who gathered in front of the parliament building with the banners of the Right Sector and Freedom, demonstrated a real commitment to European democratic values.
The adoption of new laws, they noted, breaking about ten meters of the fence. In addition, they threw smoke bombs at the parliament building and set fire to several dozen tires at the entrance, and fireworks flew into the sky.
Now the situation near the Verkhovna Rada building has returned to normal, and the police are on duty in the surrounding streets.
"Now the police have completely cordoned off the parliament building, not allowing the rally participants to enter the building, nor to leave the people's deputies. "Right Sector" lined up between law enforcement officers and protesters ", - leads the message of the TV channel
«112»
RIA
"News"
.
It is worth noting that the protesting activists said that the ratification of the association agreement with the European Union will not overshadow the need for a law on lustration.
In addition, MP Vitaly Zhuravsky, who was thrown into a trash can near the Verkhovna Rada building, suffered at the hands of the radicals. The participants in the scuffle did not allow the politician to get out for a long time, stating that "because of people like him, their brothers and friends are dying."