How Russian ballistic missiles became the property of South Korea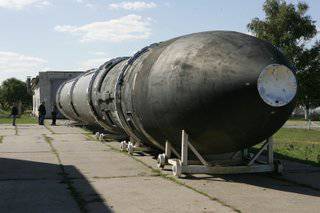 Fifteen years ago, in 1996, a certain businessman from South Korea, let's call him "Mr. K." through a front company in Sasebo, in Petropavlovsk-Kamchatsky, the profitable business of buying scrap metal for the South Korean Pohang Iron and Steel Company was actively pursuing. During the activities of the businessman has established close commercial relations with the Russian military. A year later, in 1997, unknown representatives of the Ministry of Defense of the Russian Federation came to him with a tempting offer to sell scrap metal from ballistic missiles, which were to be written off. This commercial proposal, in turn, showed interest in the foreign intelligence of South Korea - then called the National Security Planning Agency, today it is called the National Intelligence Service. Agency recruited businessman "Mr. K." for the implementation of a secret operation for the acquisition of fully combat-ready ballistic missiles under the cover of anything that does not mean scrap metal from Russia, or as an extreme variant of their elements - for the purpose of their further study and possible application in the development of their own South Korean missile programs. Businessman "Mr. K." He worked in close collaboration with APN agents in Vladivostok.
In order to export the most efficient missiles "Mr. K." he spread among his Russian partners in Kamchatka false information about the allegedly great interest of South Korean companies in acquiring high-quality "missile" scrap metal and about the willingness of these customers to pay for this "crazy" money. The Russian partners, in exchange for their own consent to sell such desired South Korean "iron", received impressive bribes and kickbacks. So, one senior "officer" - the head of one of the Far Eastern missile and technical base - was paid $ 700 thousand for assistance and "no extra questions". In the financial-criminal "share" there was also a number of personnel officers of lower rank.
The purchase of individual missile units was activated in 1998. Elements of ballistic missiles were removed from the territory of the rocket-technical base, to a specially prepared site in the city of Petropavlovsk-Kamchatsky, where they were carefully camouflaged among the scrap metal. Thus, two first-stage units with engines were taken out, as well as the required number of components, which made it possible to assemble an entire ICBM by June 1998, which was also disguised with considerable foresight in a pile of ordinary scrap metal. Transportation of separate parts was carried out only at night, in order to hide the cargo from the vigilant Russian and American reconnaissance satellites.
At the end of November 1998, everything was ready for shipment to South Korea and the acquisition, along with 5, of thousands of tons of scrap metal was loaded onto a Russian ship, which sailed from Petropavlovsk to Incheon. After arriving at a given point, the ship was unloaded for three days, and on December 2 1998, under cover of night, the Russian ballistic missile illegally removed from Kamchatka was transported by motor transport to the APN building without any problems. "It was the most unforgettable moment," recalls the businessman "Mr. K.", who 13 in March 1999 was awarded a state award - the medal "For Outstanding Contribution to State Security."
Later "Mr. K." I was able to crank two more similar abductions of Russian missiles. 2 December 2000 was sent several more ballistic missile nodes to South Korea from Kamchatka, including elements of the warheads (which was a triumph for a businessman), and November 10 2001 were three more first stages with engines.
However, all good things, as a rule, end sooner or later when, in 2007, "Mr. K." after the 6 summer break, he decided to visit his businesses in the Russian Far East, then, upon arrival in Vladivostok, he was detained right at the airport and expelled from the territory of the Russian Federation on suspicion of espionage. It is unclear whether the special services of Russia were aware of the events from the very initial stage of the removal of the missiles, or "came" to "Mr. K." after some time, and on his other dark affairs.
Mr. K turned for support in obtaining a Russian visa through the LDC intelligence service and the South Korean Foreign Ministry, but they refused to assist him for fear that their expansive persistence might be the reason for disclosing 1998-2001 operations. and the deterioration of relations with Russia. Abandoned and offended by his own government, to whom at one time he rendered an invaluable service, "Mr. K." in the end, in retaliation, he made a risky decision to tell himself about the abduction of Russian missiles - which he did to Chosun Ilbo correspondents.
Information sources:
http://www.atimes.com/atimes/Korea/MG12Dg01.html
http://news.chosun.com/site/data/html_dir/2011/06/24/2011062401222.html
Ctrl Enter
Noticed a mistake Highlight text and press. Ctrl + Enter