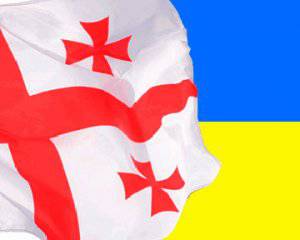 Georgia turned out to be smarter than Ukraine!
At one time the Americans offered them the following ... You Georgians have always been friends with Russia, and if you turn in our direction, we will help you in any way we can. Well, what was the Georgians to do? The roads are bad, corruption is everywhere, the rust has eaten up by the police ... And many other problems that they cannot solve themselves, and Russia, in our times, they are not hard for them - everything goes wrong for them. When the Soviet Union was there, Georgia was cherished, taken care of, subsidized, went to Georgian resorts, admired Georgian cities, invited Georgian singers, a lot of wonderful films were shot by Georgian directors ... There is nothing great to list! But Russia was impoverished in an instant, as soon as the Soviet Union was destroyed. Help wait for nowhere else. Only from America.
And the Georgians played a great game: they played up America, took their grandmothers, put their cities in order, coped with police corruption (this was impossible to expect from Georgia even in Soviet times!) And what roads are there in Georgia now? No worse than in Holland, they only wind between the most beautiful mountains. My friends went to Georgia as tourists, because Europe is fed up with many highly developed people. They appreciated today's Georgia. And the main thing that surprised them most of all was that they nowhere, in any Georgian village, encountered hatred towards the Russians. "Well, yes," they say, "there was a war, but no one fought. Russian troops stopped and left. It is not good, of course, that they took the toilet bowls from some houses and hotels unscrewed on the way with them, they also grabbed something else. But we understand the soldiers are poor. Where else will they take the toilet when they return home? "Some even like
stories
tell, smiling and without malice.
Fool Saakashvili was chosen specifically to play along with the Americans, and he sincerely believed that he would now decide the fate of the Georgian-Russian friendship and destroy it forever. However, the fact that he is a complexing jerk (or a scoundrel, whoever he wants, has the right to call him), was soon recognized even by the Gundos. But the Georgians were in the result in order. They set up their country, removed the fool-schizoid-neurasthenic and slowly began to make friends with those who saved Georgia from the invasion of the Turks back in the 19 century.
Notice, even Georgian wine appeared in Russian stores, mineral water ... And the first tourists went to Georgia!
Of course, Americans need to play along and sometimes support them "on paper" in their opposition to Russia, but I don't want to refuse Russian tourists either.
True, now Georgia has problems accepting it in the EU. But who cares much about Georgians?
More importantly, Georgia has flourished without the EU.
The Americans, too, have died down with regard to Georgia, and maybe they have forgotten about it at all ... What is the use of Georgia if it is impossible to place their missiles there? True, they will still insist on this matter.
From whom you need to learn to build your policy with the Americans - from the Georgians. Both Latvia, and Lithuania, and Ukraine could slightly shake both the EU and America, just playing along with them, but not taking all their rascals seriously.
I have a feeling that of all Georgians, only one splashes malice these days in relation to Russia - Saakashvili! True, he is not Georgian. He is a hybrid of several nationalities, and, from each, he had the most unfortunate chromosome.
And another Georgian secretly told me, warning me not to betray his surname: "It's not so bad that Abkhazia and Ossetia are not part of Georgia. Why do we need these dumbbells, these poor people? Have rioters near by? We are so good in the country now, calmly. And most importantly, even the police do not take bribes. "
But, unfortunately, the politicians of Ukraine decided not only to learn from the politicians of the Baltic countries, but also to surpass them in their servility to the West and to America.
Interestingly, do Obama and his ilk understand how Georgia used them? I think no. If they understood, they would say that all of Georgia and Saakashvili are a Putin project. After all, Americans with the right unfashionable sexual orientation seriously believe that Conchita Wust is Putin's provocation against the true peasants of Europe.
I do not understand how you can seriously believe that Americans will bring somewhere a happy life? First, in order to learn to live happily, you yourself need to be happy. And can be considered happy people, when each of them has a psychologist? So, complete devastation in the soul! They are no longer saved by Hollywood movies with a happy ending. Nor do these shots that have turned the teeth against any highly developed intelligent person when every American film is twitched by the American flag several times. At the same time always pretentious music sounds. Primitive at the level of the worst Soviet movies. The newspaper "Pravda" and "Izvestia" of the Khrushchev era.
How can amerikosov be idealized, when they have (in every movie) (they notice?) Men during a business conversation - by all means there is such a scene! - urinate in the toilet, and the characters brush their teeth diligently two or three times per film. And the paste is not spit out! But even worse - sometimes they do it in the morning, and then the spouses, after brushing their teeth, climb towards each other with the words: "Oh, my hunny!"
I understand why so many scenes in American cinema are filmed in the toilet. They have a toilet in the studio, which is rented fairly cheaply. This is a logical economy! Stanislavsky has such a concept - a physical device. In order for an actor to be organic - play as natural as possible - he needs a device, for example: he has to smoke, shake off ashes, make tea, look out the window, pry into the keyhole ... This is called a physical device. How primitive are Americans who cannot come up with any more interesting physical device than zipping up / unzipping their pants, eating a Big Mac and careful cleansing of teeth without rinsing what they clean? And then raising the flag to patriotic music. We still could not watch such films in Soviet times.
In my opinion, the war began in Ukraine due to the fact that the Westerners over-watched Hollywood films. And to watch them without a proper education is not recommended in the world to anyone. They excite the chromosomes and spermatozoa for no reason and still put on adrenaline dependence. They are dangerous, they are destructive ...
This is what a lack of adrenaline should be in order to start a war because of ... the language!
What could be simpler, given the current situation, to make two state languages? Or do Ukrainian politicians seriously believe that Ukrainian and Russian are different languages? By all linguistic concepts this language is ONE! And let someone prove to me that pronouncing the letter "g" with a breathy voice is the distinguishing feature of any language. And what, because of this "g" to start a war?
Hollywood is the most powerful tool to subjugate the peoples of the planet through the destruction of human souls! Only the spiritless can be inspired by the American idea of ​​democratization and "making happy" all who have something to profit.
One would like to ask the "Gundos" the question: "What do you do everywhere with your hypocritical democracy?" The struggle for justice? As a result of this "justice" in the world more people died than before it.
And now it is envious of you that in the Crimea, thanks to Russia, blood is not shed, as it happens in Ukraine because of your peacekeeping. Because you and the Crimean Tatars incite against Russia. And begin to finance them, if you have not yet begun. You need blood! You earn money on it, Americans Snuffles. And this is not speculation, this is statistics.
America today is a mold that eats away the spirituality of the planet! Vietnam, Korea, the countries of Africa, Asia, Yugoslavia ... Do not list all the places where this mold has climbed in recent years with its strangling.
And our liberals, the so-called ... there too! You look at these liberals? Who does not ask - an apartment for several million. At the same time they do not like to live in Russia. Business is being done, banks are being held, people are being robbed with all sorts of machinations ... Cottages on the southern coast of France ... They meet there or in England, as it was in the 19 century, and begin: "What a horror is happening in Russia! How the people live there terribly! "Look at yourself in the mirror, at least do not voice, how much your apartments are worth. You have a look, who is branding Russia on the Echo of Moscow? No, I do not think everything is wonderful in Russia. I myself criticize much of what is happening in Russia. But one thing - to criticize, and another - to banish. Criticized from the heart, and the trash ... for the grandmother! Take a closer look, take a closer look: all those who slander the Russians are those who were not allowed to cope with something. They didn't give the title, didn't promoted another one in the administration, etc. etc. Most have several passports. Friends, if you do not like us - leave !!! Nobody holds you. You disgust most people. The director builds a new theater at the expense of the state and compares Putin with Hitler. Is this a criticism? This is obscene.
I think that our president is really today, building a life in Russia is not always right. But it's not so easy to work out a solution in the current situation.
I recently asked a local citizen in one country, what was the name of their prime minister? He shrugged and said he did not know. Do you know when a country can be considered successful? When people living in it, do not know the name of the Prime Minister!
PS This post is the most correct thing to end with a phrase from my long-standing speech: "Those who hate the Jews are called anti-Semites (rightly!), Those who fight against blacks are racists (also fair!), But why those who hate Russians, called human rights activists, I do not understand! "
PPS Noticed what hockey match in the championship was the most peaceful, like a friendly meeting? Russia-Belarus! True non-aggressive Slavs played - not a single fight! North Americans should get out, and fights are inevitable! As, however, the European Vikings are always pugnacious and aggressive. So it is in the world of politics!