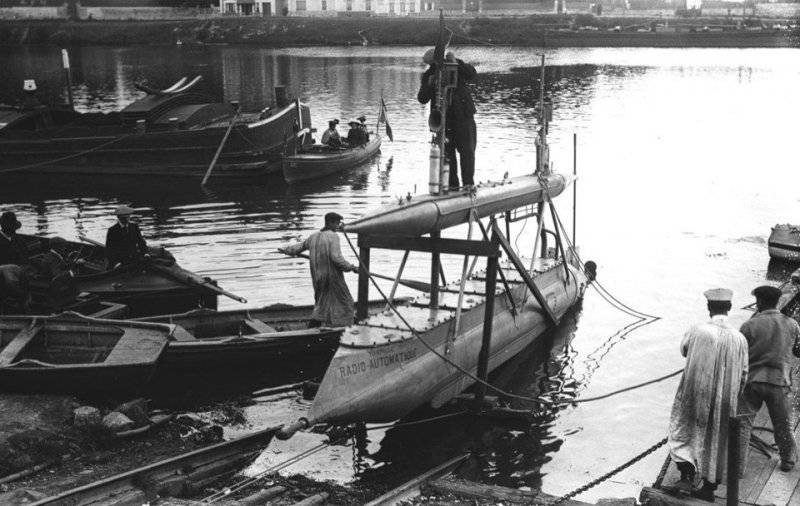 As you know, the human mind is designed so that almost any technical novelty, he immediately seeks to adapt for war and the destruction of their own kind. Radio communication was no exception - its appearance naturally prompted inventors to develop remote-controlled combat vehicles. The pioneer in this business was the French engineer Gustave Gabe, who designed, built and relatively successfully tested the world's first radio-controlled torpedo.
The tests took place in Chalons-sur-Saone in February 1909, in the presence of General de la Roche, who gave a high assessment to what he saw. According to his report, the torpedo clearly obeyed the radio commands transmitted from the coastal guidance station, made turns in both directions and could move in a spiral. However, it has not reached the speed declared by the inventor in 30 nodes.
Despite the favorable review, the French military was not interested in the invention, Gabe did not receive financial support, and his apparatus remained in a single copy, which was not preserved until our times.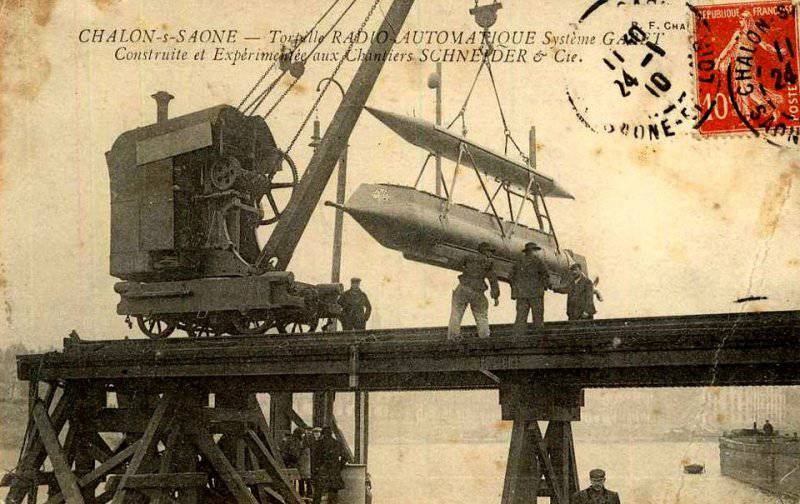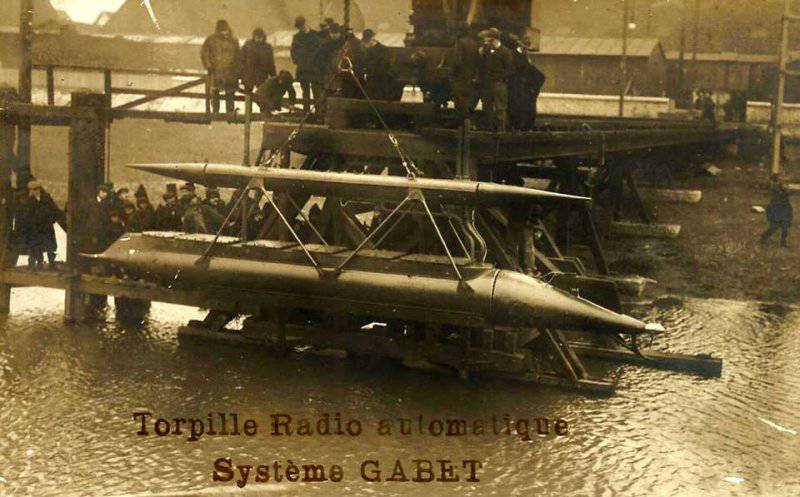 The torpedo Gabe was a semi-submerged iron double-hull vessel, driven by a water-cooled eight-cylinder gasoline engine. The lower hull with the engine, radio equipment, batteries and 90-kilogram warhead was completely under water at a depth of about two meters. The upper hull-float was located on the surface and served to install the antenna masts and the engine air intake. Flags were attached to the masts with the help of which the radio navigator tracked the torpedo movement.
Above, there is a French postcard and a photograph showing the launch of a radio-pedal with a rail-mounted steam crane.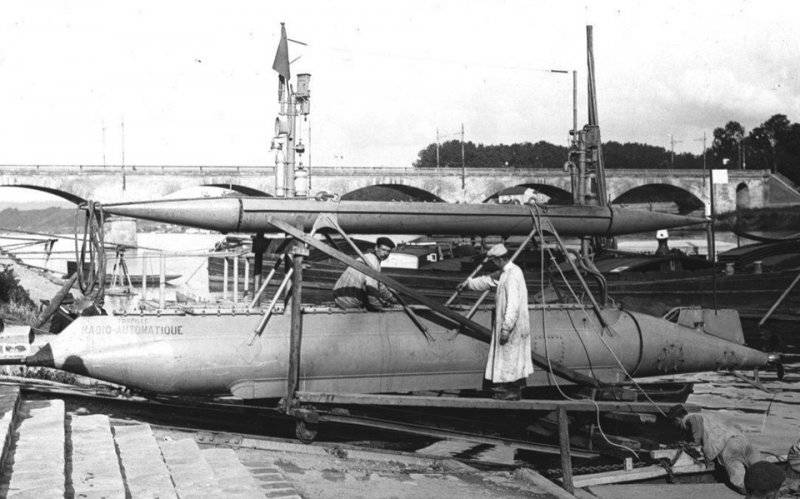 The float was very vulnerable to rifle-and-machine-gun fire, and the flags fluttering on the masts served as an excellent guide not only for the gunner, but also for enemy ship shooters. This was one of the main reasons for the refusal of the French Navy, and of all the other fleets, of Gabe, who was clearly ahead of his time. The second reason was the unreliability and small radius of the radio equipment, the third - the relatively low seaworthiness of the machine, and the fourth - the high price of the product.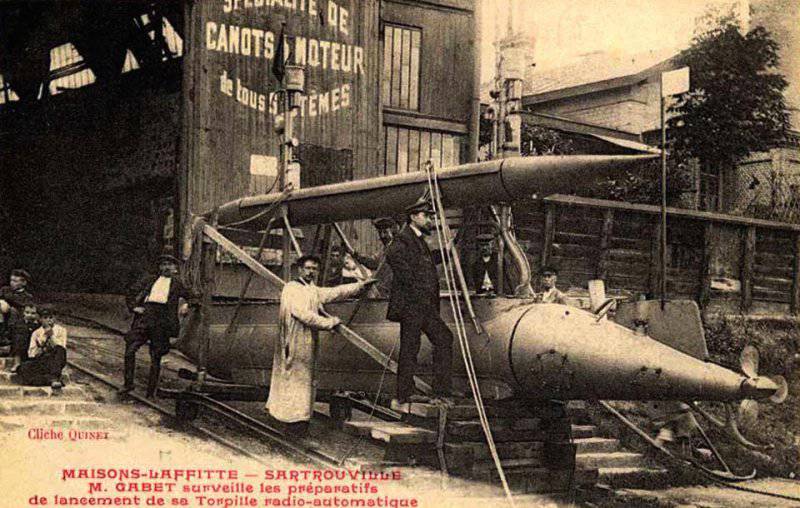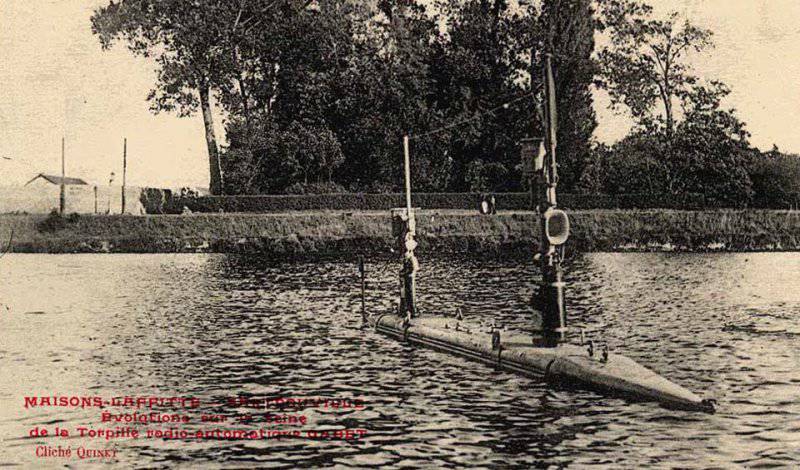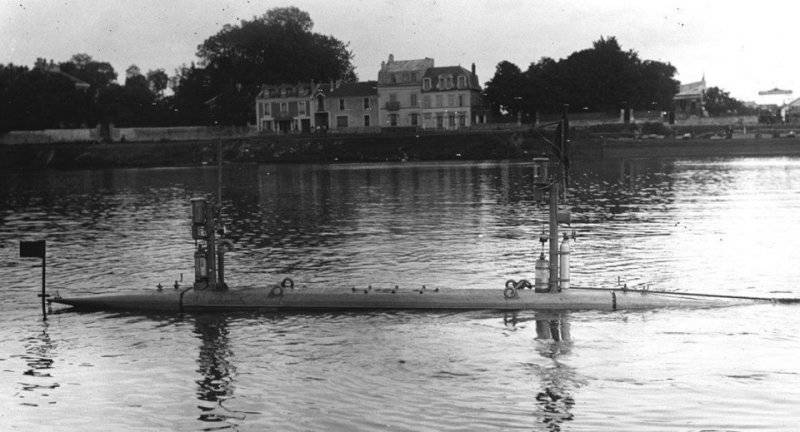 Radio treads afloat. The air intake socket on the front mast and the downwardly curved exhaust pipe in front of the rear are clearly visible. The purpose of the gas cylinder attached to the front mast is not entirely clear to me, especially since it is visible only in some pictures.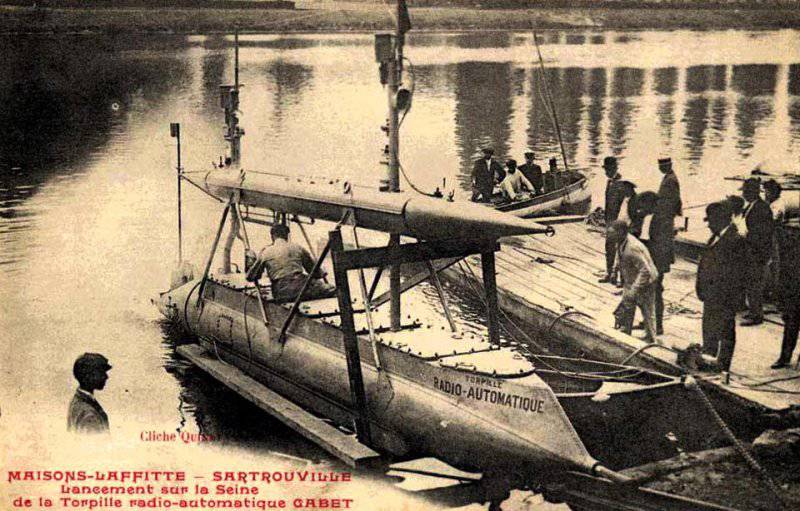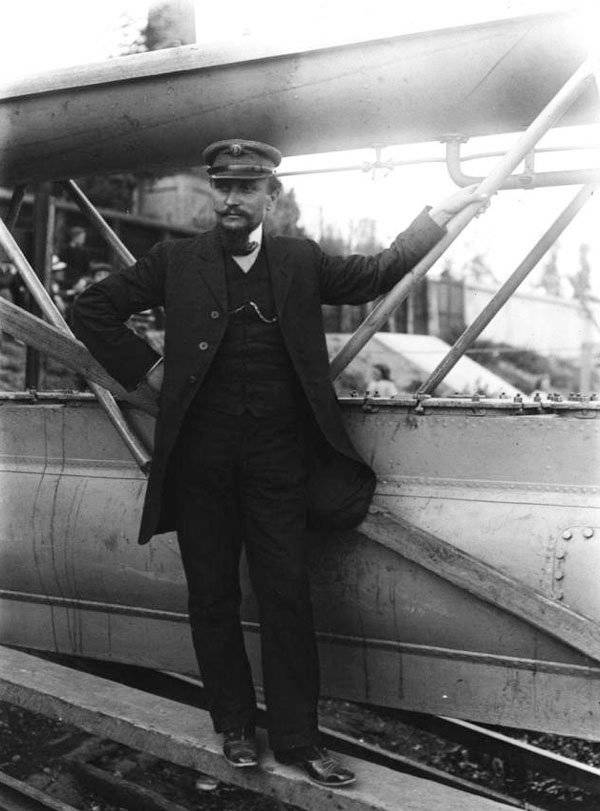 Gustave Gabe near his invention.