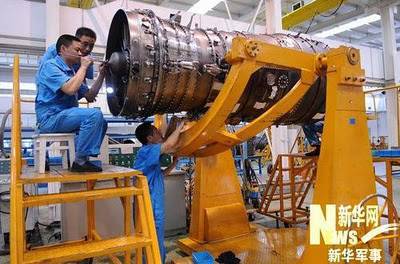 China can send a man into space and direct rockets into a lunar orbit, but, paradoxically, its defense-industrial complex cannot create modern engines for airplanes and helicopters,
tanks
and surface ships.
In fairness, it should be said that China's defense industry is capable of producing power plants for relatively simple military platforms — some types of transport aircraft, patrol boats, some samples of main battle tanks and armored personnel carriers. But the creation of engines for high-tech combat aircraft, destroyers and other systems faces serious difficulties. Only submarines are an exception to this rule, although it is not known for certain where the sources of these technologies come from.
The lag of China in the field of aircraft engines was once again confirmed by the purchase in Russia of 123 TRDDF AL-31FN with a total value of more than 500 million USD. Taking into account past deliveries (starting with 2001 of the year), the number of engines of this type purchased was 930 units.
AL-31FN engines are equipped with the J-10, J-11A / B fighter jets and the developed J-15 fighter jet. Russian engines RD-93 stand on fighters JF-17. The French engines are equipped with Z-11 helicopters, the American engines are civilian jet airliners ARJ-21.
Song type diesel-electric submarines are equipped with diesel engines produced by the German company MTU, Luhai class destroyers have Ukrainian gas turbines and German diesel engines. The eight-axle BMP ZBL-09 is equipped with the German engine Deutz, the main battle tank Type 99 has an engine developed on the basis of German technology.
The fact is that only a few companies in the world have truly mastered the engineering tasks of developing high-performance engines, and China's dependence on foreign suppliers deeply touches Beijing. But American researchers Gabe Collins and associate professor Andrew Erickson, in their extensive report published in the specialized website of China SignPost, write that China began to focus on the development of factories for the production of military engines. "The development of the Chinese aerospace industry is driven by four strategic imperatives, as it aims to produce as many high-performance aircraft engines as possible (1) to avoid dependence on foreign suppliers, 2) unwillingness to have Russian engines, 3) to achieve independence in export sales of aircraft, 4) to say goodbye with unsatisfactory Russian after-sales service for engines, "the authors argue.
According to researchers, China is faced with problems of quality control and reliability of turbine blades of aircraft engines, limited in the choice of materials, has not the most modern system for designing, integrating and managing the development and production of products.
Progress is uneven, the authors write. The dominant conglomerate of the Chinese aircraft industry - corporation
aviation
China Aviation Industry Corporation of China (AVIC) with 10 branches and 400 thousand employees - currently pays great attention to research and development of jet engines and intends to invest 10 billion yuan (1,5 billion US dollars) in this direction in the next five years )
This is especially important because Russia is increasingly reluctant to play the role of engine supplier, partly because of increased domestic demand and also because of China's increasing international competitiveness. Such a policy could seriously impede the modernization of the J-10, J-11, J-15 and J-20 fighter jets of the Chinese Air Force. The last of them is the fifth generation fighter and is in development, but Moscow does not seem to dare to supply the 117С engines for this aircraft, which are necessary for J-20, since they possess the required thrust.
American researchers believe that China needs another two or three years to master the production of modern engines, it will take another five to ten years to organize the mass production of "first-class turbofan engines for fifth-generation fighters." "If China can reach the level of the US 20-year-old and master the production of fourth-generation engines, this development will be vital for China as a regional military aviation power and deserves close attention from politicians," the authors write.
Collins and Erickson describe China's current inability to organize the mass production of advanced jet engines of the required quality as the Achilles' heel of its aerospace industry. Nevertheless, the revitalization of AVIC in this direction can be a success; the results of this work can be applied to the development of engines for land and naval systems.
weapons
.