Russian tank T-90 "Breakthrough" will now be equipped with a dynamic protection of modular type "Relic"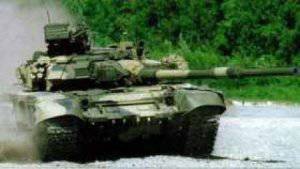 NII Steel, JSC equipped the T-90 Proryv T-8 tank with a universal modulus of dynamic protection (DZ) of modular type Relikt. The premiere of a modernized Russian tank with unique protection will be held at the international exhibition of weapons and military equipment in Nizhny Tagil from 12 to XNUMX September.
The basis of the complex is a new element of dynamic protection (EDS) 4С23, which continues the EDS line developed by the Research Institute Steel 4С20, 4С22, 4С24. In the new element DZ used a fundamentally new composition of explosives (BB), which effectively works against both modern and promising cumulative, including tandem ammunition, and against armor-piercing sub-projectile shells. Unlike the "Kontakt-5" series, the "Relic" works equally reliably with low-speed and high-velocity projectiles.
At present, the Relict complex has no analogues either abroad or in Russia. It can be installed on any tanks, both new and in service, increasing their anti-cumulative durability at least 2 times, anti-rigging - one and a half times. The mass of the complex 2,5 tons.
To protect lightly armored vehicles and onboard projections of tanks, the Research Institute of Steel offers a hinged dynamic protection system with EHR 4C24. The 4C24 element contains 2 times less explosive than the first-generation ELS 4C20, due to which the side effect of the DZ explosion on the protected machine and environment is minimal.
At the same time, as Valery Grigoryan, Academician of RARAN, noted the President of JSC "Scientific Research Institute of Steel": "For us, Relic is a past stage. On the approach are fundamentally new developments that do not use explosives. We use completely new energy compounds that are much more efficient and safer than explosives. "
NII Steel OJSC is the largest Russian developer and manufacturer of integrated protection systems: body armor, armor sets, armored helmets, stun guns, shields, explosion localizers, X-ray protection, fire protection equipment, integrated protection systems for heavy and light armored vehicles and stationary objects. Since 2010, it has been managed by the Concern Tractor Plants MCC (included in the Machinery & Industrial Group NV). Actively cooperates with OJSC Kurganmashzavod in the creation and modernization of protection for infantry fighting vehicles and BMD.
Ctrl Enter
Noticed a mistake Highlight text and press. Ctrl + Enter