Blog
bmpd
with reference to the web resource "aviaforum.ru" posted on his website a photo of a two-seat multi-functional fighter Su-30SM Marine
aviation
Russian Navy with tail number "35 blue", which is currently part of the 859th Training Center for Naval Aviation Pilots of the Russian Navy in Yeysk.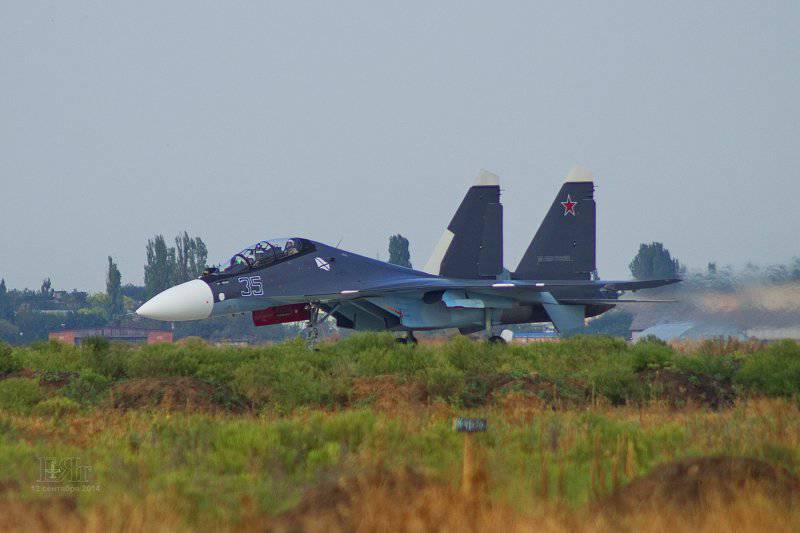 The blog reports that "this is one of the three first Su-30SM fighters built by the Irkutsk Aviation Plant OJSC" Irkut Corporation ", received by 19 July 2014 naval aircraft of the year (serial numbers 10МКХNUMX 5, 1102МКХNUMX 10 and 5МХXXXXUMX 1103 and 10XXXXXUMNXXXXX5 1104, XXUMXXX35 36 and 37XXXXXUMXXNUMX XNUMX and XNUMXXXXXNXX XNUMX, XNUMXMXXNUMX XNUMX and XNUMXXXXXNXX XNUMX and XNUMX numbers "XNUMX", "XNUMX" and "XNUMX") ".
These aircraft were built as part of the first contract concluded in 2013 between the Ministry of Defense and Irkut Corporation for the supply of X-NUMX Su-5CM aircraft to Naval Aviation. Three fighters from this series arrived in July of this year in Yeisk, where they are used to retrain flight crews for aircraft of this type. The remaining two cars must arrive at the Center before the end of the year.
According to the blog, "5 of September 2014 of the year JSC Irkut Corporation has entered into a contract worth about 13 billion rubles for the supply of Naval Aviation of the Russian Navy to seven more Su-30CM fighter jets", as well as property necessary to support the operation of these aircraft.