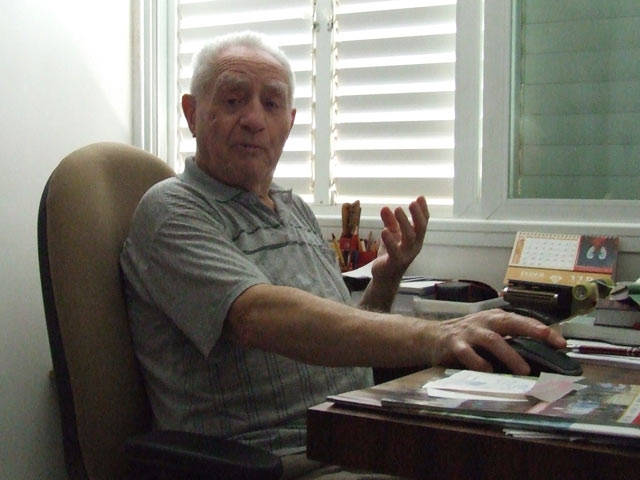 On the evening of September 9, at the memorial of the IDF armored forces in Latrun, the premiere of a film dedicated to Ion Degen - one of the best
tank
aces of the Red Army. On his combat account - 16 destroyed and one captured tank.
A native of Vinnytsia region went to the front in 16 years in June 1941. In January, 1945, during the East Prussian offensive, was seriously wounded. After recovery, he became an orthopedic doctor, defended his doctoral dissertation. In 1977, he repatriated to Israel.
Was twice presented to the title of Hero of the Soviet Union. The first submission was for the battle, during which its platoon destroyed 18 Panther, the second for the heroism shown during the battles on the outskirts of Koenigsberg. The star of the hero Degen never received.
The man who started the war in June 41-th, almost no chance of survival. At the front you had the nickname "Lucky." You are not afraid to tempt fate?
After the start of the war, I fought about a month. Then he was wounded, lay for five and a half months in the hospital - it means he did not fight. Then he waited another four months for his leg to get stronger. He began to fight again in the summer of the 42 year, October 15 was again wounded, lay again in the hospital. After this year he turned over to the school. So I did not fight. He began to fight in June 44-th year and fought another eight months with a little.
Losses were very many. In a tank brigade, especially - in a breakthrough tank brigade ... Usually in our brigade it was said this: the fate of the tankman was either "the people's health department" or "the people's commissar's land". After the second offensive, they already looked at me with surprise. To go through so many attacks and stay alive was incredible. Just lucky. And sometimes this luck was determined by the fact that I understood what to do.
Of course, I was scared, but even more I was afraid that someone would think that a Jew is a coward, that a Jew is afraid. Therefore, always climbed first ... Land mines incredibly afraid. It's funny, because what's the difference - to die from a multi-kilogram bomb, or from a nine-gram bullet ... It's hard to explain ... This is war ...
What was the worst fight for you?
Probably fighting in the Caucasus in the year 42 and the last battle. Then I decided that my shell exploded in my tank. And we just simultaneously shot at each other. I set it on fire, and he hit me.
It was scary when I went with my friend to the Dnieper, and I had to quit
weapon
to swim across to the left bank. After all, how can you part with a weapon? And when I came to the left bank and heard the German language, I started crying.
I thought that on the third day of the war I would be in Berlin, that the German proletarians would meet us with flowers. And here I am on the left bank of the Dnieper, without weapons, and here are the Germans. It was incredibly scary morally. After all, moral experiences are worse than physical pain.
Your share fell both heavy retreat of the Red Army - 1941 and 1942 of the year. Which one was harder?
The second. In the first retreat, I still did not understand, was a 16-year-old boy. And we fought, we did not retreat. My platoon all the time was surrounded, and I had to get out. There was no feeling that you are retreating. But I did not understand what was happening, I did not see the commanders.
And the second retreat is from Armavir almost to Beslan. It was incredibly scary. We departed and thought "where else" ... When I saw the signpost "To Rostov - 648 km". And how much more to Berlin? After all, I was sure that we would be in Berlin.
Where did you have this confidence that you will be in Berlin?
From kindergarten. My brain was washed out so that I dreamed that I would be 18 years old and I could join the party. When I was accepted to the party, I was happy. Now I am amused and even a little ashamed, but what to do if I was so.
How did the epiphany come?
Too late. The "Doctors' Case" shocked me. I was a doctor and realized that this could not be. I thought: how can my party make a mistake? And even earlier - the struggle against cosmopolitanism. I understood that certain people may be mistaken, but not the party.
And only in 69, my 15-year-old son came to me with a book in front of me and asked if I read the article "Party Organization and Party Literature". I answered that of course. He says to me: "Look, Lenin is the basis of fascism, that's where Mussolini drew his ideas from."
First, I cursed him so that I had to apologize, and then I reread it and grabbed my head. After that, I re-read "Materialism and Empirio-Criticism" - Christmas trees are green! After all, I read it all 18 years ago. So I stopped being a communist.
On your account 12 lined tanks, four self-propelled guns and one captured "Panther". 16 tanks are an outstanding result. But still, how did you manage to capture the "Panther"?
In that battle, we (three tanks) hit a Panther 18. The gunners of the 184 th rifle division who had returned to their positions seemed to have hit another six vehicles. The Germans fled, leaving the whole car. Infantry began to set fire to them. And then I rushed to my tank and climbed into the "Panther".
I was very interested to see what it is. I sat down to the place of the driver, started this "Panther" and began to prance on it. I also drove "beteshki", and "thirty-three", and the English "Valentine", and the American M3. They are all the same. And then the battalion commander took me by the collar: "You are an idiot, they will beat you!"
I really liked the optics in the "Panther". I was just in awe. And then they asked me: "How did you manage to bring it, it stalled, and the crew ran away." As it was possible - clicked on the starter, and it started up.
You talked about how the insight came to me, how I was transformed. In some matters, I have not changed. Everything related to war is holy for me. We honestly fought. I do not know how there are generals and marshals, this is not my business. I am not a historian, I have a very narrow field of view. And in this sight, everything that I see was right and fair.
We have already touched on the sacramental Jewish question. How important was the feeling of being a Jew to you, and how did you feel that you were a Jew, people around you at war?
No one ever let me know that I was somehow different. One case was. Our battalion commander was Guard Major Dorosh, a very good man. Somehow, before entering the battle, we drank, and he says: "You know, you are such a guy, not at all like a Jew." Then he asked for my forgiveness, but it was very difficult for me to restore normal relations with him.
Another case was. I had a shooting crew in the crew — I think that there was a unique one in the whole Red Army — Zakharya Zagiddullin told me: "You are a Jew? But they told me that Jews have horns." In addition to these two cases, there was nothing.
But for me, being a Jew was very important. I remember how in front of one of the battles, when the tanks were at the starting position, around the fire, everyone is scared. And one of the drivers of the first battalion, Weinstock, climbed onto the tower and began dancing the tap dance. Here is a guy!
Just like in the movie "In war as in war."
I did not watch ... In the first battalion there was a company commander - Abraham Cohen. Outstanding tankman. The brigade commander, Colonel Dukhovny, was also a Jew. Then I did not know it, then I did not pay attention to it. But the fact that I am a Jew, I knew very well. He knew that I had no right to give the slightest reason to doubt that the Jews are wonderful warriors.
You were twice presented with the title of Hero of the Soviet Union, but you still did not receive an award. Is it related to Jewish origin?
How do I know this? The three of us for that fight with the "Panthers" were presented for this award by Major General Gorodovikov. He promised, but we did not know for sure whether he presented or not. And only 20 of January, I and my slave, senior lieutenant Fedorov, saw behind the stable where our battalion was supposed to be, not only the brigade commander, but also the front commander General Chernyakhovsky with all the "Kahal" ...
I jumped off the tank, and I was slapped on the arm of a splinter. Next to Chernyakhovsky!
Then, when my wife and son came to say good-bye before leaving for Israel, I measured the distance from the self-propelled gun, which I hit, to the place where the front commander stood. 300 meters! This is just incredible.
In short, I saw him, confused, I say: "Comrade General of the Army, let me turn to Comrade Colonel-General." He says: "Report to me." I reported to him. And he says to some lieutenant colonel: "Write down: Degen - to the hero of the Soviet Union, both crews - to the Order of Lenin." And then they say to him: "Comrade Army General, he has already been represented once." So I found out that I was represented.
And for that fight against "Panther" I did not receive the Hero, but the medal "For Courage". Like this.
In February 22 hospital I found out that Chernyakhovsky was killed. And on February 23 I received the Order of the Red Banner. You know, such an order instead of the title of Hero is quite. So I decided that I received my reward.
Time passed, I am a student, and just September 8 of 1948, I come to classes and my friend Senka Resnik, who lives now in Yavne, tells me: "Listen, why didn't you say that you are a hero of the Soviet Union?" I, knowing that he always plays me, did not even pay attention. But he convinced me that they had reported it on the radio. Then my nephew also told me about it.
The next day, my friend Zunya Kogan, also a tanker, junior lieutenant, took me to the military enlistment office. A colonel came out, very handsome, and as it turned out later - the noblest man, by the way, the Hero of the Soviet Union. "I know, I know, they have already written a request to the Supreme Soviet," he said. Somewhere in a month I met him, he says: "Wait for the decree of the Presidium of the Supreme Soviet." I was terribly surprised, because I thought that I had already received an award.
The time passed, I graduated from the institute, moved to another city. And in May 1965, I was summoned to the military enlistment office, and the colonel, the head of the political department, an intelligent person, showed me the answer: "Given that Lieutenant Degen Ion Lazarevich's guards have a large number of awards, there is an opinion not to confer the title Hero." I laughed at the phrase "have an opinion," and the colonel felt uneasy - I saw it. He was more worried than me. And that was the end of it.
How did poetry come to your destiny?
I have no idea. I believed that my first poem - "Beginning". But the elder brother of my classmate came here and reminded me that I still wrote poetry at school. And I absolutely do not remember. There was one more thing: when I was caring for my future wife, I, ohmurya, read her the poem To the death of Stalin. I do not remember a single line. I remember now front poems, which, as I thought, had long been forgotten. And this poem, like everything I wrote before the war, disappeared. I do not remember anything.
My favorite poem was written in the Caucasus. After a hard day, a very hard fight, I leaned against the trunk of an olive tree. A shot rang out, and a branch fell on my tank tank. And when I read this poem now, I have the same skin frost that was then:
The air started.
Shot. Smoke.
On the old trees chopped off the branches.
And I'm still alive.
And I am safe.
Happening?

However, your poem became popular.
My companion, in death agony.
Do not call friends in vain.
Let me warm my palms better. I
Over your steaming blood.
Do not cry, do not groan, you're not small,
You're not hurt, you're just killed.
Let me take off your felt boots.
We still have to attack.
Why do you think it happened?
Who knows? But I receive letters ... I was written by one artist from Leningrad: "We fought with you, I am a year older than you, and what you conveyed in the poem is war." As you understand, I did not take off these boots with anyone, and no hands over the blood ... It turned out that something like Vereschagin's "Apotheosis". Such is the thing.
So this is a metaphor. And what was really?
In fact, I took off my boots from the deputy commander of the battalion for the captain Baranovsky's household unit - a very good man.
He survived after this stories?
He did not just survive, he turned out to be a decent person, and nowhere did he report that we did it in a drunken state. Although before I did this to him, he threatened to shoot me: "You will receive the highest measure, and I will shoot you myself."
How much has your military experience predetermined your postwar fate?
Fully. The fact is that in the hospital, seeing the work of the doctors, I decided that I myself would become a doctor. I used to work thoroughly. Now you see, the hand is no longer obeying. But I was an orthopedic surgeon, the first in world practice I sewed an amputated hand. This is not a matter of itself.
As a student, I learned to sew stitches on a pillow. Technician coached all the time. I studied the anatomy so that when I came here, the doctors were simply amazed by my knowledge of the subject. How else? Is it possible to become a doctor otherwise? Accuracy, perseverance, perseverance - all I have from the war.
Have you thought about how your fate would be if you were in Israel in 1947-48?
The fact is that at the beginning of December 1947, my friend Motya Tverskaya and I wrote a statement to the Central Committee of the CPSU (b) that we, two communists, two officers of the Red Army, ask to send us to Palestine to fight against British imperialism. Then we, like tzutsiki, trembled, but it remained without consequences.
After 30 years, I got out of the trolleybus and met my personal "angel" - the KGB major, adjutant of General Chursin, my patient and patron. He asked: "Decided to go?" and recalled this statement. I told him: "Have not you forgotten?" And he: "Yes that you, Ion Lazarevich, we do not forget anything."
But still, God does everything very well. I came here in the seventies, a doctor. At first, we were all greeted with caution, they say, the purchased diplomas ... But when they saw what level my colleagues were, what wonderful guys they were, the attitude immediately changed, and the doctors with "purchased diplomas" became favorite - department heads, district therapists.
I heard that in 70 the attitude in Israel to World War II veterans was not the warmest. Like, we have our own wars, our own heroes. Is it so?
I dont know. I can judge only by myself. Israeli tankers took me as a mother. We met Avigdor Kahalani in the bathhouse. Both of us are lovers of baths - not saunas, but real baths. I saw his scars ... We had a fight with him, like two drops of water, only he was 29 years old, and I was 19, and he had Jewish tank crews, and I had a collection of thieves and beggars. We made friends with him. General Haim Erez, Brigadier General Menashe Inbar are just my friends. When I was operated on, they constantly came to visit me at the hospital.
Today Zvi Kan-Tor called, asked if I needed anything on the day of the premiere. Yes, I do not do it at all, it's not my business. Zvi is a surprisingly delicate, intelligent person. They introduced me to another tanker, Zvi Gringold. An interesting guy, kibbutznik, and what a warrior! I have 16 tanks and one captured, and he has somewhere 60 tanks. From the "Centurion" line up T-55 and T-62, which are much better ... Amazing guys!
How do you feel about the initiative of Zvi Kan-Tora to create a museum of Jewish soldiers of the Second World War?
The only thing that strikes me in this matter is that the museum has not yet been built. No money. Shame, shame, shame! No money for what Zvi does! It will be a unique museum. And it is incomprehensible to me: there are Jewish millionaires, can they not donate some seven million dollars to complete this museum? Just a shame!
9 September in the memorial center of the armored forces in Latrun will premiere a documentary film about you. Do you feel like a movie hero?
Of course not. In my opinion, this is all unnecessary business. I relate to all this, so as not to offend the director, I will say this: indifferently. Now, if it was about my profession, there would be something to tell me.