"Reports from the militia of New Russia"
published a message from residents of the city of Kirov, which states that the National Guard of Ukraine and the Kolomoisky battalions declared the settlement "Dead Zone", putting a cross on it.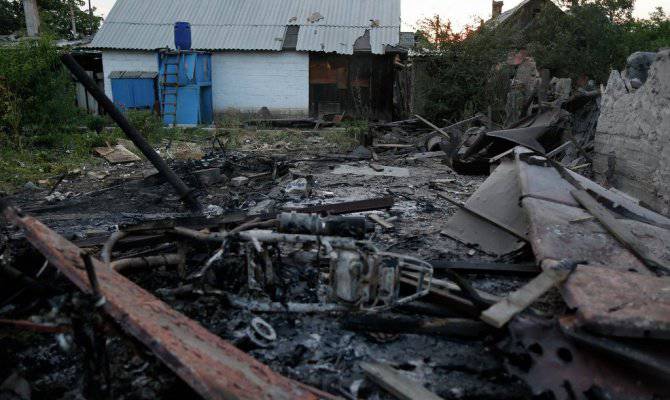 "After two weeks of continuous shelling of the city of Kirovskoe, the 30 women of the city went on foot to Zhdanovka to the National Guard. The women asked: "Stop bombing the city, there are a lot of people and refugees there. You are killing women, children, destroying the city. " The leadership of the National Guard and the Aydar battalion replied that the city of Kirovskoye was declared the "Dead Zone" and no one lives there. The women were shocked and began to explain to them that there are many people in the city, the National Guard is killing them, "said residents.
According to them, after that, the 12 Ukrainian military decided to "hang a white flag and leave the punitive operation," but "they were taken away and shot."
During 6 hours before the announcement of the truce, the Ukrainian security forces shelled the city, bombing the kindergarten "Cherry".
"There was a bomb shelter in the kindergarten, where children and women were hiding. I have no data on the number of victims of this explosion, God forbid that they should not exist. But the explosion blew smoke of such strength that it was visible in the area for many kilometers. The kindergarten was located in the center of a densely populated quarter, "said a local resident.
For three weeks in the city there is no light, food is not imported here.
"Humanitarian aid was from Akhmetov. Humanitarian aid from Russia was not. Only Akhmetov. Now the Red Cross is connected. When Akhmetov's humanitarian aid was being transported through Shakhtersk, the Nazy people began to bomb it. Truck drivers with humanitarian aid are just heroes. Natsyk may have thought it was from Russia. The wagons were white too. It was such packages that were found at the Donbass Arena that they were brought to the city and handed out! ", Said a resident of Kirovsky.
According to him, in each package there was a newspaper, Segodnya, printed in support of the National Guard.
"It is a pity that there is no media in the city, the city is in full view - it is clear that the mercenaries of Kolomoisky are doing. Poles are fighting, like the Swedes are still there, "he concluded.