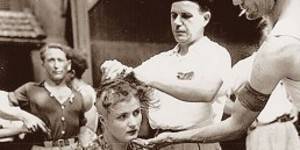 Official statistics do not exist. There are only assumptions - probably on the territory of the USSR in 1941 ‑ 1944. about 100 was born thousand (!) children, whose fathers were German invaders. How did their destinies further develop?
The door did not open for a long time. Finally, after the sixth ring, shuffling sounds and the clink of bottles were heard. Having surveyed me through the peephole, the man coughing hoarsely and asked:
- What do you want?
- I came from Moscow. Here is my ID ... I want to talk ... about your father.
The sounds behind the door ceased. Even breathing was gone:
- Get out of here. I had no father. Hear? DID NOT HAVE!
"To withdraw" nemchat "
This topic is heavy. 70 was silent about her for years, not even mentioning in a whisper. Actress Vera Glagoleva, who filmed "One War" in 2009 about women who had given birth to children from the Germans, said in an interview: "It's very difficult to look for an invoice. They do not want to speak out loud. I collected the stories bit by bit. No one came to the premiere of the film. Fear".
8 June 1942, the command of the Wehrmacht in the occupied regions of the USSR issued a "Memo on the behavior of the German soldier." I quote an excerpt from there: "It is urgently necessary to limit the contacts of soldiers with the female half of the civilian population - because of the threat of harm to the purity of the German race." Restrictions, apparently, did not help.
Already in March of 1943, the commandant of the city of Orel, Major General Adolf Gaman, decided: "Having given birth to a child from a German soldier, the Russian mother has the right to alimony." Having received confirmation from her father, the treasury paid 30 marks per month. How many such women were there? And, most importantly, how many children were born?
Consider the sad experience of other countries. In 5 years (1940 ‑ 1945), 12 thousand babies were born in tiny Norway: their fathers were SS and Wehrmacht soldiers. One of these children, Anni-Frid Lingstad, daughter of sergeant-major Alfred Haase, was taken to Sweden and later became the soloist of the cult band ABBA. In France, the result of "horizontal cooperation" (as the French themselves mockingly called it) with the Germans became 200 thousand (!) Newborns. And what about us? Nothing. This topic is taboo.
The archives have a letter to Joseph Stalin, academician Ivan Maisky, sent in April to 45: the pundit was interested in what to do with children born to Soviet women from German soldiers. In the letter, the academician suggested "to withdraw all these" nemchat "without exception, to change their names and send them to orphanages."
- According to my estimates, in Russia, the Baltic States, Belarus and Ukraine due to coexistence with the Germans in the 1941 ‑ 1944. was born from 50 to 100 thousand children, - says US historian Kurt Blaumeister. - In percentage terms, this is very little, because under occupation there were 73 million Soviet citizens, and 5 million German soldiers who served as occupiers were mostly young men.
What happened next? Around 2, thousands of women were exiled by the authorities to a settlement in the White Sea region. Their children were taken to the upbringing of state institutions. They hated such mothers, they were called "German litters," although in reality everything is not that simple. Someone slept with the enemy in order not to die of hunger and feed their children. Many girls were raped and, having become pregnant, did not want to have an abortion.
"Stoked like kittens"
64-year-old Kurt Blaumeister is also a child of war, just the opposite. His mother, a German from Berlin, took the child from a Soviet officer and subsequently moved to America in 1948. When the mother died, Blumaister spent a long time looking for his father, but he never found it. "Mother told, his name was Volodya," the researcher sighs. "The photo has not survived."
Now Kurt earns his living by performing expeditions on the orders of relatives of Wehrmacht soldiers killed in battles with the Red Army. He travels across the expanses of the ex-USSR and tries to find the remains of the dead. Examines the archives, takes evidence from witnesses. Over the past 5 years, other orders have been received three times by Blaumeister, as he himself says, "very unusual."
90-year-olds, who once came to our land with
weapons
in the hands, being dying, trying to find their children. Those who were born from them Russian and Ukrainian women.
"I managed to find only two," says Bleumaster. - Already older people, almost 70 years. I found one in Tikhvin, another in Vyborg. Both refused to talk to me - they do not want to have anything in common with biological fathers.
"I was more fortunate. Standing on the threshold, I talked for a quarter of an hour through the closed door, and the man let me into the apartment, although six months ago he didn't let Blaumeister go. his mother decided to reveal the truth to him. He is completely gray, he shows his post-war photos - a fair-haired boy with freckles plays the balalaika.
"When they were playing war games in the yard, I was teased by a" German ", he says. - I immediately climbed to fight. Funny, is not it?"
Ivan Sergeevich grew up in the belief that his father was a partisan executed by the Nazis. The reality was cruel. "Mom was left alone in Narva with a baby in my arms - my elder brother. The milk was gone, the brother fell ill, and all the corporal got to her from the cargo service. Dame, he says, and condensed milk, and bread, if you lie down with me. So she lay down ... But my brother is still dead. When I realized that I was pregnant, it was too late. See he wants me? He is not my father, but b ... fascist. He's like raping his mother. "
His mother explained: so did many. Even those who have a husband at the front. "On what only the woman will not go, so long as the children are not swollen from hunger. There is nothing to eat, potato peelings were eaten on holidays. There were, of course, whores, who walked with officers for perfumes and silk dresses. Fritz were raped too much - beautiful girls were smeared with soot, humped, walked in tatters, just not to climb. But they climbed all the same - healthy men, it's hard for them without women. In one of our courtyards, my mother said, in the 3 year, four "Germans" were born, like me, blondheads. When our army arrived, two mothers of children from Fritz, like kittens, were drowned in the river, and my mother ran away with me so that the neighbors would not inform, "says Ivan Sergeevich.
Swastika fathers
I tried to find a 93-year-old woman near Petersburg who gave birth to a child from a Wehrmacht officer in 1942, but did not find her - "the addressee was out." And what's the point? No one wants to remember the past. In addition to those who were sent to settle to the White Sea, in 1945 several thousand Soviet women (the exact number is unknown) received 10 years of camps under the article "Cooperation with the occupiers", although they collaborated exclusively in bed. There was enough neighborly denunciation - a child from Fritz, and the authorities did not understand who was right and who was to blame.
"Why bother with them? - Angry former partisan, 90-year-old Nina Fedorova. - We fought in the woods, frostbitten without food, and these creatures with the Germans were crimped in beds. Well, whom we were fighting with - no words, it's a different matter. "
However, all archival sources agree: 80% of women avoided repression. Their children — those who went to the orphanage, and those who stayed with their mothers (with rare exceptions) did not know who their fathers were.
When I conducted this investigation, I was asked: "And how do you feel about such women?"
Tough question
The heroine of the film "One War", bursting into tears, shouts to the officer of the NKVD: "They could not protect their wives, so learn how to regret it!"
It must be admitted: most cases of cohabitation with the Germans were not at all voluntary. In Norway, 150 is a member of the Union of the Children of War organization; in France, the Union of Hearts without Borders is 300. It seems that Russia would have accumulated much less. I managed to find only one person who admitted that his father was German. And then on the terms of complete anonymity. These children (already elderly people) either do not know about their origin, or prefer to remain silent - they are ashamed. If only the neighbors did not know that you are Fritz, and your mother is a litter. And this is later 70 years.
And here I would like to express my opinion.
The German government has already paid compensation to prisoners of concentration camps and those who were sent to penal servitude in the Third Reich. It seems that it's time to understand in Berlin: people whose mothers were raped or forced to cohabit with the occupants, also deserve compensation. Nobody considered these victims of the war, but the fathers with a swastika broke the lives of their children.
And in any case, be that as it may, the children themselves are not guilty of anything. They are not Germans. They are ours.
By the way
Worst of all, children born of German invaders had not in the Stalinist USSR, but in completely democratic Norway. 50 thousand Norwegian women (one in ten!) Entered into contact with the soldiers of the Wehrmacht. 14 thousand of them were arrested, and 5 thousand were imprisoned. The children, whom the Norwegians called tyskerunge ("German bastards") and naziyingel ("Nazi caviar"), were declared weak-minded - 90% of them landed in mental homes and stayed there ... until 60-ies! The Union of Children of War said that tyskerunge was used to experiment with medications.
In 2005, children from the Germans apologized and paid compensation in 30 thousand euros per person. In France in 1944-1945 for sex with enemy soldiers, 5, thousand French women were executed, 20, thousand, were shaved and sentenced to one year in prison, as well as deprivation of French citizenship. It was forbidden to the children of "boshey" to learn German and to wear German names.
In the Netherlands, after 5 in May, 1945 500 "traitor-whores", who were convicted of "horizontal collaboration", were collected in squares and drenched from hoses during street lynchings during street lynchings. Their children were transferred to the orphanage.