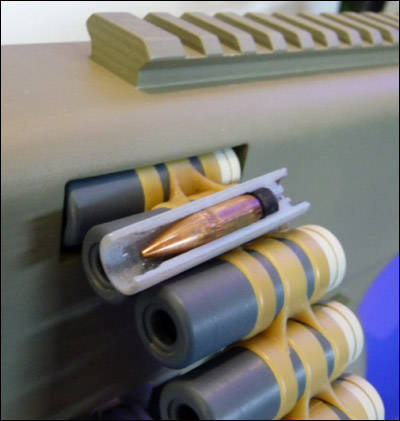 According cnews.ru. Every soldier knows how hard it is to carry a machine gun, and even with a full ammunition. American designers small
weapons
they plan to make life of their own soldiers much easier by supplying a new machine gun to the arsenal. A unique weapon developed using computer simulation for the sole purpose of minimizing weight. As ammunition in the new machine gun used telescopic cartridges with a plastic sleeve. The latest development of the US Army reduces the weight of ammunition intended for small arms by almost two times and represents a completely new machine gun, which on 4 kilogram is lighter than the modern machine gun M249.
A demonstration of a new weapon was recently held at the Marine Corps base in Quantico, Virginia. A small group of soldiers conducted a test of new items in combat shooting. The trained shooters did not notice absolutely any difference, both in accuracy and in the initial speed of the flight of new ammunition in comparison with traditional ones. At the same time, the reduction in the weight of the machine gun had a positive effect on the accuracy of firing, since the machine gunner gets tired much less when moving or when shooting with hands. The plastic sleeve also showed its advantages, because of the improved thermal insulation, the risk of spontaneous combustion of the powder charge in the chamber is reduced, and the probability of injury due to a prolonged shot is reduced, when after a misfire the cartridge is ejected and spontaneously explodes.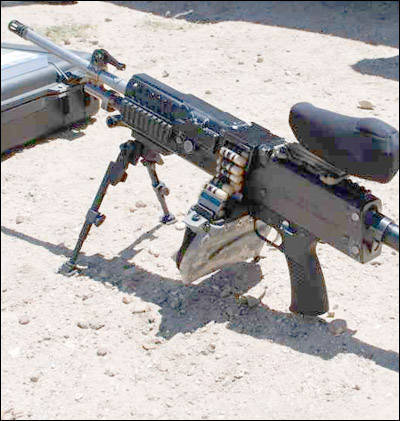 The effective weight reduction of the machine gun, which is the main light weapon of support, was achieved thanks to the creation of a completely new weapon and an unusual telescopic cartridge with a plastic sleeve. All work on the creation of unique weapons were carried out under the LSAT program.
The new system of small arms will seriously facilitate the execution of tasks for the machine gunner, who today has to carry a very large weight. Firstly, the machine gun M249, which, together with the cartridge box, designed for 200 shots, weighs more than 10 a kilogram, and additional ammunition with 10 weight and more kilograms. A simple mathematical calculation makes it possible to understand how large the weight of the machine gunner's necessary combat equipment is, which adversely affects not only his health, but also his combat effectiveness. LSAT with ammunition in 1000 cartridges has the weight of the entire 20,4 kilogram, which is much lighter than a traditional machine gun with ordinary cartridges with a brass sleeve.
The new LSAT LMG machine gun is not only a new unique weapon designed for the machine gunner, but the world's first experience of using a unique type of ammunition that can be used in various types of small arms, reducing the weight of wearable ammunition more than doubled. At the current time, four light machine guns have successfully shot over 12 thousand rounds of ammunition; during the final tests by the Pentagon, more than 100 thousand rounds are planned.