After the signing of the next contract with the Russian Navy for the supply of X-NUMX fighter jets Su-5CM, the total number of orders for the Su-7 MKI / MKI (A) / MKM / SM family produced by Irkut Corporation reached 30 units. This is reported by the blog.
bmpd
.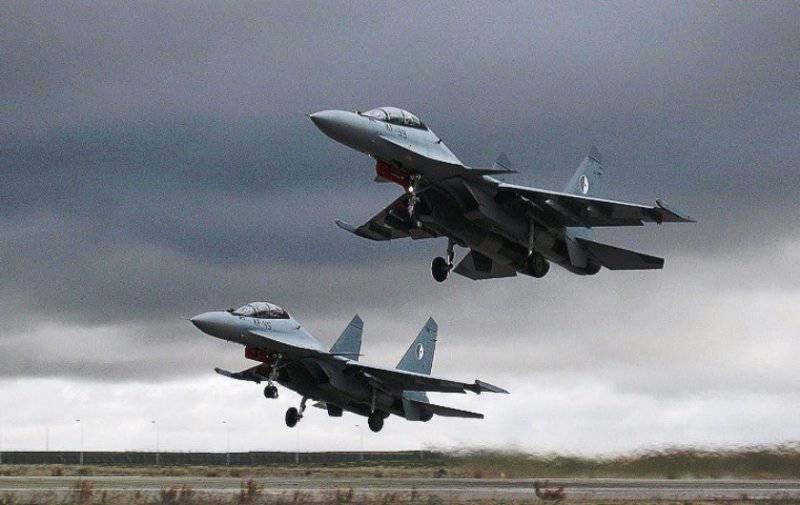 Su-30MKI (A) fighters of the Algerian Air Force.
According to the blog, "customers and operators of these machines are currently the Air Forces of India, Algeria, the Air Forces and the Russian Navy, and the Royal Malaysian Air Forces."
As for India, it concluded its first contract for the purchase of 32-x Su-30MKI and 8 Su-30K in November 1996. In 1998, the Indians bought another 10 Su-30K.
At the end of 2000, India organized a licensed issue of Su-30MKI in accordance with the agreement. Total was built 140 aircraft.
In 2007 and 2011 The Indian Air Force ordered the 40 and 42 Su-30MKI aircraft, respectively. Thus, her total order amounted to 272 machines. In 2007, India returned all Su-30K (18 units) previously delivered to it and received Su-30KI instead.
Algeria bought Su-30MKI (A) twice: in 2006 - 28 and in 2010 - 16 machines. That is all - 44 units.
Malaysia has signed a contract for the purchase of Su-30MKM only once: in 2003 on the 18 aircraft.
Starting from 2012, the Russian Ministry of Defense signed a contract with Irkut for the supply of a total of 72-x Su-30CM (for the BBC - 60 and for the Navy - 12 units).
Summing up, the authors of the article write: "Thus, to date, the number of orders received from 1996 for fighters of the Su-30MKI family has been: India - 272 units (67%), Ministry of Defense - 72 units (17,7%), Algeria - 44 (10,8%) and Malaysia - 18 (4,4%), that is, the total 406 machines. "