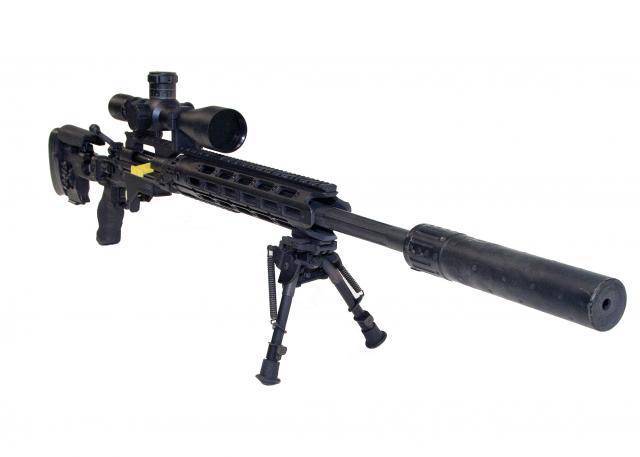 The improved HM2010 sniper rifle (formerly known as the M24X1) is a deep modernization of the M24 army sniper rifle, commissioned by the US military by Remington Arms. The goal of this upgrade was to improve both performance.
weapons
, and the increase in its combat data - first of all, the maximum effective firing range. From the original M24 rifle, only a receiver from the Remington model 700 rifle, historically designed for class Magnum cartridges, remained. Everything else - the bed, the trunk, the bolt group, the trigger mechanism, performed anew. The manufacturer claims that when using the Mk.248 Mod.1 ammunition in the US. Caliber .300 Winchester Magnum, an XM2010 sniper rifle will provide an effective range of order of 1200-1300 meters and accuracy at the level of 1 MOA or less. Currently (the end of 2010 of the year), US Army plans include reworking at least 2 500 М24 rifles into the ХМ2010 version for subsequent dispatch to active troops in Afghanistan and Iraq.
The XM2010 sniper rifle uses manual reloading with a longitudinally sliding butterfly valve having two lugs in the front. Powered by cartridges - from detachable box magazines with a capacity of 5 cartridges. The cantilever type lodge is made of aluminum alloy, the butt is fully adjustable, folding for storage and transportation. Aluminum handguard, on its upper part is an elongated guide type Picatinny rail, starting above the receiver. The Leupold Mark 4 6.5-20x50mm ER / T M5 telescope is mounted on this guide, to which the AN / PVS-29 Clip-on Sniper Night Sight can be used. The rifle is regularly completed with a quick-detachable silencer for the shot of the production of Advanced Armament Co, which is mounted on the barrel over the standard flame arrester.
Caliber 300 Win Mag (7,62x67)
Type Manual recharge, longitudinally sliding rotary bolt
Length 1135 mm
Barrel length 610 mm
Weight 7,95 kg in combat position
Capacity of 5 magazine cartridges