Yesterday, at a meeting of the Ukrainian government, Arseniy Yatsenyuk admitted that Moscow practically does not notice the sanctions imposed against it, reports
LifeNews
.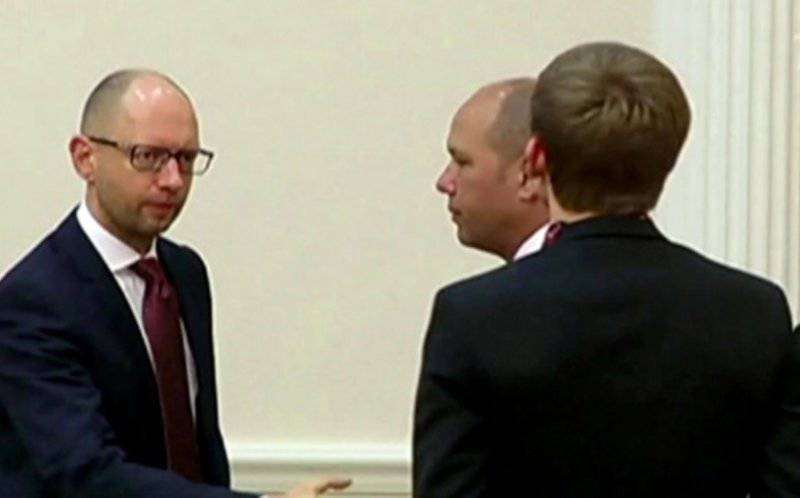 "All these sanctions to them are like dead poultices. They do not help "
- said the prime minister at the meeting.
The video got into the Internet by chance: one of the operators apparently "forgot" to turn off the camera, and recorded that it was not intended for the broadcast.
Yatsenyuk also expressed doubt that the APU will be able to resist the militia in the event of a resumption of hostilities. Moreover, there will be a serious risk of losing Mariupol located in the ring.
However, later, in an interview with the Ukrainian TV channel 1 + 1, the prime minister said that the West should not be in a hurry with the lifting of sanctions.
On Friday, 5 of September, Barack Obama told a press conference in Wales that the lifting of sanctions on the Russian Federation depended "on the full-scale implementation of plans for a peaceful settlement in Ukraine", referring to Putin's plan and the ceasefire reached at the Minsk meeting.
"The fact that the European Union will follow the path of sanctions is a sign that no one believes in Russia. What is a very big danger? In order not to happen so that there is a peace plan, they do not shoot, everything calms down, and the world returns to the form of "business as usual", that is, as always, everyone quietly forgot that somewhere there was Crimea, was Ukraine, forgotten how about other conflicts "
- quotes the words of Yatsenyuk RIA
News
.
"This cannot be allowed, the world cannot forget about the Russian aggression, Russia must pay the price - the goal of establishing peace, but we are for the one who broke this peace to pay the price for it - and (...) it is the Russian Federation"
- added the prime minister.