The leader of the Polish New Right Party, MEP Janusz Korvin-Mikke called on the authorities in Warsaw to officially recognize the entry of Crimea into the Russian Federation, reports
RIA News
.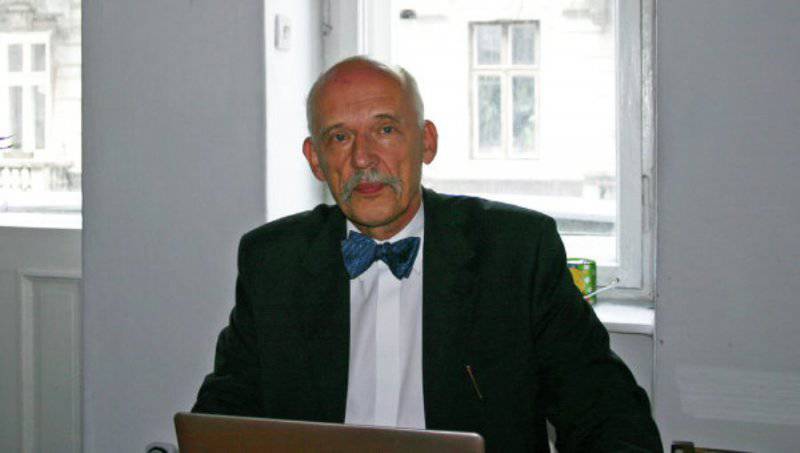 "Petro Poroshenko actually agreed with the loss of Donbass and signed a cease-fire agreement"
- he wrote in his official blog.
The deputy stressed that he "simply does not have enough words to condemn Polish policy towards Ukraine."
"At first, on a signal from Brussels and Washington, Poland destabilized the regime of Viktor Yanukovich, with whom all Polish politicians have recently kissed. Poland helped organize the massacre on Independence. Podzuzhivala Kiev against Moscow "
, - writes Korvin-Mikke.
"What should Poland do? Must immediately recognize the accession of the Crimea. It was an autonomous republic (like Kosovo, for example), its legal authorities decided to secede from Ukraine, and the Democrats could state the enormous support of the population and virtually zero resistance from the troops of the Ukrainian occupier. "
- explained the parliamentarian.
According to the agency, "in Poland in the last elections to the European Parliament, the New Right Janusz Korwin-Mikke party won 7,15% of the vote and became the fourth party on the Polish political scene."
In addition, rallies and demonstrations organized by the "Great Poland Camp" movement took place in a number of Polish cities. In the capital, the protesters demanded that the authorities recognize the independence of the DPR and LPR, stop blaming Russia for the Ukrainian crisis and stop the supporters of Bandera.
The leader of the "Great Poland Camp" Jacek Menzhytsky declared at the rally in defense of Novorossia:
"We cannot afford to let the Polish government drag us into the dirty affairs of the West, in particular the United States. They get us into some kind of scam. It all goes in a bad direction. Russia, of course, applied sanctions against Poland. We do not need far-fetched conflicts, because Russia in fact does not threaten us. They did nothing bad to us, we did not create any economic problems. "