On the eve of Pskov, solemn events dedicated to the 75 anniversary took place since the formation of the 76 airborne assault division. First Deputy Airborne Troops Commander Lieutenant-General Nikolai Ignatov, Acting Governor of Pskov Andrei Turchak, top officials of the city, command of the 76 Division, its personnel, military families, and veterans took part in the celebrations. This is the official
Defense website
and Pskov regional publications.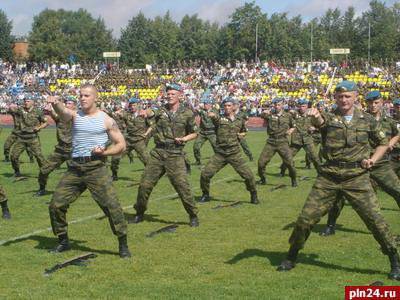 Nikolay Ignatov:
Throughout its
stories
The 76 Airborne Division has established itself as the most combat-ready unit of the Soviet Union and Russia. Thanks to loyalty to the traditions and dedication of soldiers and officers, this will remain so in the future.
During the celebration of the anniversary of the 76 Airborne Division, a parade ground was held, demonstration competitions in hand-to-hand combat among the fighters of the division. They demonstrated their mastery: engineer-sapper department, air defense units, howitzer artillery battery calculations, dog handlers. The spectators saw a spectacular precise landing of the winged infantry servicemen.
But how now to be the Ukrainian media and their domestic followers, who literally a week ago replicated "
news
»That literally the entire 76-I division of the Airborne Forces of the Armed Forces of the Russian Federation was destroyed by valiant Ukrainian troops? One of the materials, telling about the "complete liquidation" of the division in Ukraine, issued
"Pskov Province"
. But for some reason, the same newspaper is silent about celebrating the anniversary of the 76 division. Or does he think that instead of division personnel, pereboro in the paratroopers "biorobots" took part in the celebrations in Pskov?