The idea of ​​burrowing into the ground "in case of threat" was given to the whole country by the Ukrainian armed forces, which began fortification work near the city of Kharkov, in the area of ​​the Borovaya settlement. It is in this area that punitive sparingly digging trenches and setting up roadblocks, the website reports
tushenka.info
with reference to the Ukrainian media.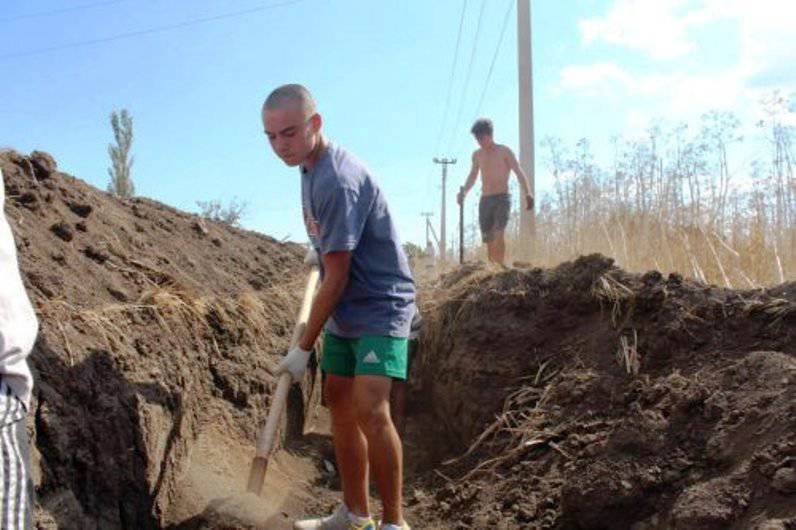 True, fortifications are installed for 30-40 km from the border with the LC. "Valiant" warriors do not come closer. Apparently fear that the militia can beat them again, and everything that was built-to break.
The initiative of the military enthusiastically picked up in Berdyansk (Zaporozhye region). The Ukrainian online edition of Gordon writes that students, deputies, businessmen, business leaders, everyone who can and wants to strengthen approaches to the city.
"The city authorities put all the bomb shelters in order. Citizens dig trenches, ditches and build dugouts in case of Russian aggression. We will not give the city to the Nazis and will never become part of the occupying country "
- said one of the activists of the "earth moving".
The publication reminds that Sumy region does not idle. "Sumy region is building a protective ditch on the border with the Russian Federation. Locals have already dug 60 km of moat with a width of 4 m and a depth of 2 m, "the site indicated.
The capital of the Zaporozhye region, the city of Zaporozhye, did not stay aside. Yesterday there (on Mayakovsky Square) a rally was held, at which the head of the region Valery Baranov solemnly announced to the people that on Saturday the residents, following the example of Berdyansk, should proceed to digging trenches.
According to the news portal "Z-City", "Citizens took this idea with applause."
The commander of the Zaporozhye defense battalion, Alexander Lobas, told local media that "on Saturday, at 8.00, near the Zaporizhzhya administration, everyone is going to help organize the installation of facilities on the way to the city, namely, digging trenches."
"As soon as the place where it will be held, consistent with the recruiting office and the service of the SBU, we will begin"
- added Lobas.