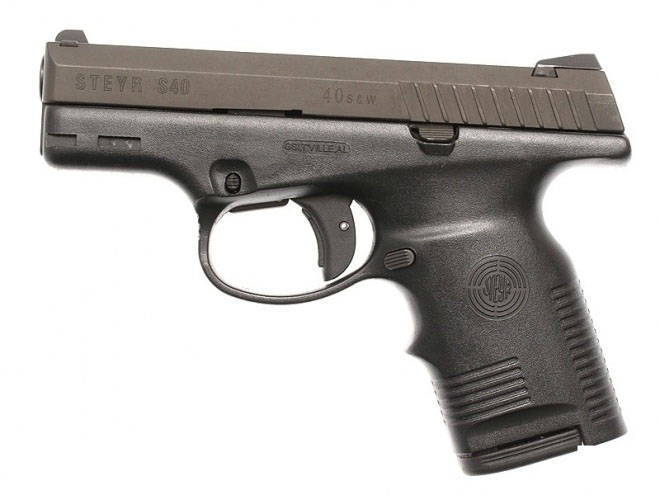 Modern
armory
development - a pistol of the company "Steyr-Mannliher" of the 40th caliber. Excellent condition, in a plastic branded case.
The weapon is deactivated, Russian permitting documents are attached.
The Steyr M pistol was developed by the famous Austrian company Steyr-Mannlicher in 1999. In parallel with the pistols Steyr M were produced and pistols Steyr S, characterized by a shortened barrel and handle.
However, at the end of 2003, the release of these pistols was discontinued, and since January 2004, a modified version of the pistol, the Steyr M-А1, went into production. The new gun differs from its predecessor in a slightly modified shape of the handle and frame, as well as a number of other minor improvements.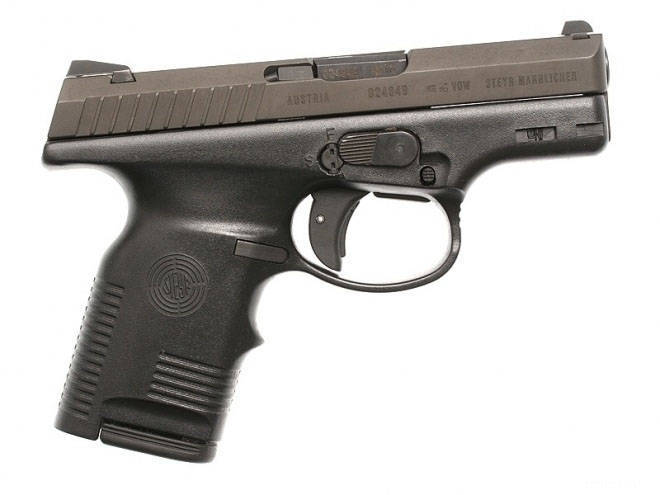 Pistols of a series Steyr M - one of the best on ergonomics in the class. A very well-designed handle has an ideal angle of inclination in 111 degrees, which, in combination with a low-mounted barrel, allows good control of the recoil of the weapon during high-speed shooting. Unusual sights and fuse require some getting used to. However, after becoming very comfortable, providing high accuracy and safety in handling.
Pistols Steyr M built on the basis of automation using the recoil energy in the short course of the barrel. For unlocking, the barrel is reduced by the interaction of the figure cut in the tide under the barrel with the elements of the frame. With the gate, the barrel engages with one massive protrusion entering the window for ejection of the sleeves on the gate.
The frame of the gun is made of impact-resistant plastic, under the barrel on the pistols Steyr M there is a branded guide for accessories, and on the pistols Steyr M-А1 there is a standard guide like Picatinny. Trigger mechanism - shock, double action.
The fuse system includes two automatic fuses - one on the trigger, the second - blocking the firing pin. In addition, there is a built-in lock, controlled by a separate key. When locking the lock, located on the frame on the right, above the trigger guard, the pistol is completely blocked.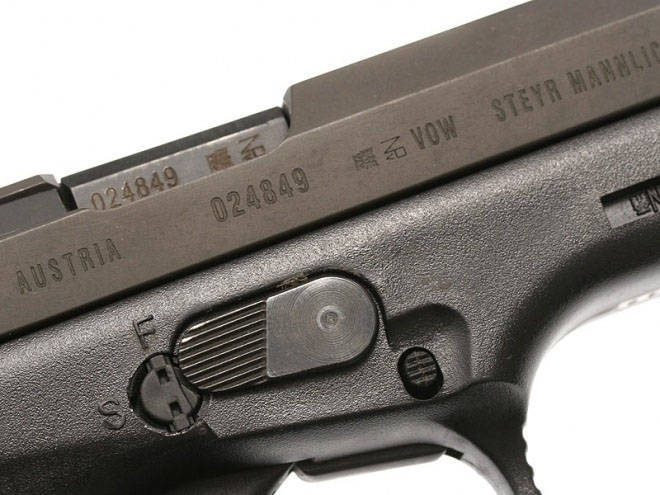 The manual fuse is activated by simultaneously pressing two buttons on both sides of the frame, above the trigger guard. At the same time in the opening of the trigger guard button appears off the fuse, and the trigger is locked.
To turn off the fuse when opening fire, you must use your index finger to push up the button located in front of the trigger. The standard sights have an unusual shape - the front sight has a triangular cross section, and the rear sight has a trapezoid cutout.
Since both the front sight and the rear sight are mounted on the bolt in the grooves of the "dovetail" type, it is possible to replace them with others, including traditional types of open sights.