In the evening of September 4, the sabotage groups of the Ukrainian security services once again bombarded Donetsk with mortars. Correspondent
LifeNews
reported that several high-rise apartment buildings were damaged.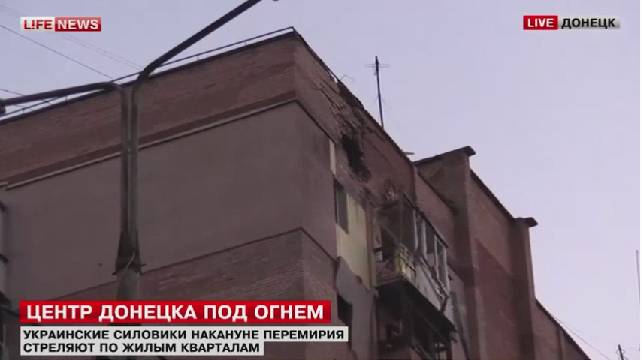 "The shelling began less than an hour ago. In the wall of the house there is a hole from the 120-mm projectile. The shelling of the outskirts of the city continues to fire every day, but today we witnessed a strike in the center of Donetsk ... One of the shells hit the premises of a grocery store - four people were killed inside, "he said.
The site of the Mayor and the City Council reported that in the second half of the day three Donetsk districts were fired upon, the fire brigade of the Emergencies Ministry arrived at the scene.
"Around 17.30 (18.30 MSK), the Petrovsky district, the neighborhoods of Gladkovka and Oktyabrsky underwent shelling. (...) As of 19.00 (20.00 Moscow time), the situation in the city is extremely tense, "RIA website reports
"News"
.
In turn, the militia report on the destruction of the missile complex "Tochka-U" in the settlements of Dmitrovka and Pobeda.
"As a result of artillery strikes on enemy positions in the areas of Pobeda and Dmitrovka, the tactical missile system" Tochka-U "was destroyed (...) The loss of manpower made up to 60 people wounded and killed," the militia headquarters reported.
Earlier in the same area, 12 trucks and 5 BTRs were destroyed.
It is reported that the Ukrainian security forces left three more settlements.
"After a fire defeat inflicted by artillery of the DPR army on Ukrainian troops in the Debaltseve area, the enemy, having suffered significant losses in manpower and equipment, began to withdraw in the north and north-west directions. Disabled 2
tank
, 9 armored personnel carriers, 3 infantry fighting vehicles, 2 mortars, 12 cars. Losses in manpower - 21 people, "the headquarters said.
Also during the fierce battles, the settlements of Krasny Yar and Zheltoye were occupied.
"Retreating, enemy sabotage and reconnaissance groups mined key infrastructure facilities and prepared them for demolition. Thanks to the swift and decisive actions of the militia, these plans did not materialize. Currently, objects are being demined, "the headquarters report says.