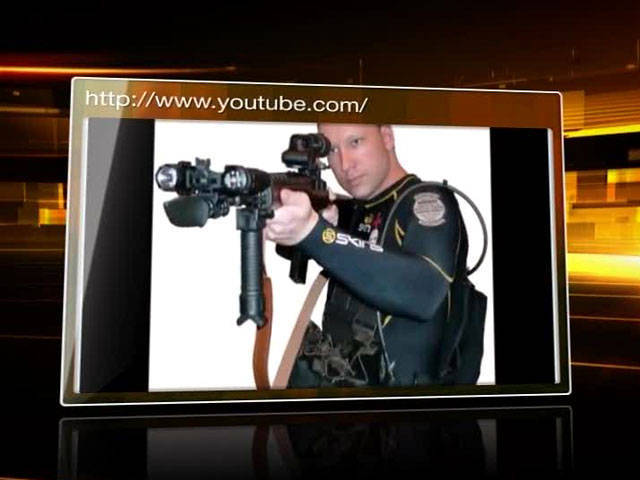 Currently, the investigation is now trying to find out whether it was Anders Breivik, who organized the Oslo bombing and massacre on the island of Uta, an accomplice. There is a version that there were at least two shooters, and one managed to escape.
There are new data on the identity of the detained terrorist. The police found out that Breivik lived with his mother in the prestigious Oslo neighborhood, served in the army, went to the shooting club and was good at various kinds
weapons
. He had no problems with the law, and several companies were registered in his name, including the so-called "one-day firms". In May of this year, Breivik made a large order - six tons of mineral fertilizers. Now the purpose of these substances is clear: according to the Norwegian police, the Oslo-based bomb was made on the basis of fertilizer — ammonium nitrate — and diesel fuel.
There is controversial information about the political views of Anders Breivik. According to the police, he was not a member of extremist organizations, but he was listed in the Oslo Masonic Lodge and often visited Internet forums where he left ultra-right-wing comments. The Swedish media quotes Breivik's acquaintances, who call him "a conservative, anti-fascist and fan of Winston Churchill, who also hates Islam and communism." He also had a Twitter account, where only one post was posted - a quote from John Stuart Mill: "One person with firm faith is equal in strength to one hundred thousand others who have only interests."
Anders Breivik's monstrous act largely explains the video clip that he posted on YouTube.com on July 22 — just before he went to kill. Over the course of 12 minutes, Anders Breivik expounds his beliefs, the essence of which briefly, is as follows: the great European
history
ruined by "multiculturalists" who weakened Europe by allowing Islamists into it. Also, Breivik condemns the Nazis, who, in his opinion, are fighting "not with the enemy." Toward the end of the video, his author calls himself a cultural conservative, calls on all those who think in the same way as he himself to wrestle and clean Europe of multiculturalists, Islamists and Nazis. At the end of the clip are three photos of Breivik, one of which he holds in his hands a machine gun, perhaps the same one from which he will then shoot at children and teenagers on the island of Utaya.
"Norwegian shooter" fancies himself superman
Volodymy FM learned from Olof Anderson, spokesman for the Union of Russian Societies in Sweden, about how a man was a Norwegian shooter in his youth.
"Vesti FM": Hello. Did you really know Mr. Breivik?
Andersen: Yes, we once worked with him in our youth, in our youth, and I had to communicate with him many times during work and in my free time.
Vesti FM: How can you characterize this person?
Andersen: He is, in principle, relatively calm, but a bit inadequate, I would say. Relatively noticeable of his features was - rather inflated self-conceit, especially in relation to girls. But the girls did not always take his own conceit.
Vesti FM: In his Twitter account, Anders Breivik made a very short note a few days before the tragedy, in which he talks about the faith and strength of a person. I will allow myself to quote this conclusion: "One person with faith is equal in strength to one hundred thousand who have only their own interests." Coim confirmed your version that he is a man who considered himself, apparently, superman. Do I get it right?
Andersen: Yes, you can say so. But, of course, in his youth it was still not so clearly visible. But he was a bit down on the girls and thought that they wanted to meet him with pleasure. We worked quite a lot of Pakistanis at work. And when, say, they chose not him as a pet, his reaction was even more inadequate. And, apparently, over the years, it just evolved and took this form.
Those who knew Breivik personally, were contacted by journalists from Vesti-FM radio station. Olaf Anderson, who personally knew the terrorist act accused of the terrorist act, said: "We worked with him at one time, in his youth. I had to communicate with him many times during work and at leisure. He is relatively calm, but a bit inadequate. One of his notable features There was an inflated self-esteem, especially in relation to girls. A couple of times I myself saw how he approached the girls a little bit and thought that they would be happy to meet with him. We had quite a lot of Pakistanis, and when we chose not him as a favorite, then he led with BOJ is even more inadequate. I think, over the years it has evolved and all accept such an extreme form. A certain religious beliefs he had been at that age. "
But what his former classmate Mizhael Tomala says about Anders Breivik: "He stood out with a good build and was bigger than other classmates, defended those who were teased. He even had a friend from the Middle East, they often spent time together and seemed to be considered friends. It seems that he has changed a lot since he graduated from school. I am amazed at the changes that have taken place in him. "
According to ITAR-TASS, friends and neighbors of Anders Bering Breivik speak of him as a polite and responsible young man, and former colleagues at work mark his performance. "He was always tuned to a working wave, never said anything bad about colleagues, so I'm shocked by what he was detained for and what ideas he expressed," he told Breivik's teammates during his work in the call center of the local operator mobile communications. Another colleague called him a "calm, quiet, shy and polite" person.
Such descriptions of the nature of the terrorist coincide with the opinions of residents of the apartment building where his mother lives, with whom he sometimes stayed. "She was always in a good mood and was very proud of her son," says a neighbor of Breivik's mother, who spoke with her an hour before the explosion. "No one could even suspect anything of the kind." According to another neighbor, he did not live at home all the time. "His mother said that he came to dinner every Sunday," she told reporters.
As it became known to the investigation that in 2005, Anders Breivik opened a company providing services in the field of computer technology, but in 2008, he was forced to close it. He was a member of the youth organization of the opposition Liberal Party of Progress and worked in its assets. This information was confirmed at the party's secretariat.
The fact that right-wing ideas have quite a few supporters in Norway is confirmed by the story of the escape of Russian Russians Vyacheslav Datsik to this country. As reported, the nationalist Redhead Tarzan about a year ago fled from a psychiatric hospital near St. Petersburg and soon showed up in Oslo. In Norway, he asked for political asylum, but the authorities refused him and deported him to Russia. It is noteworthy that in Norway they waited for Datsik. The police arrested several friends of the Russian nationalist, with whom, according to the investigation, he was planning to kill the staff of the Russian embassy and local Muslims. It was supposed that the friends would provide Datsik with weapons, a uniform and a fake ID of a Norwegian soldier.
As reported, the representative of the Norwegian police said that Anders Breivik admitted his guilt in organizing the shooting on the island of Uta. Lawyer Geir Lippestad, after visiting the General Directorate of Police on Saturday, where the accused Anders Breivik is detained, said that he fully admitted his guilt in organizing and committing an explosion in the government quarter of the capital, and the massacre at a gathering of social democratic youth on the island of Utaya. "He recognized all the factual circumstances of the case," the lawyer said. According to him, there will be no new interrogations on Saturday, and on Monday, Anders Breivik will appear before the Oslo District Court, which will formally decide on the need for preliminary detention.
The Norwegian media published the first shots taken at the time when the offender was stalking his victims on the island. Details of this tragedy managed to find out the American edition of The Time. According to him, Breivik took advantage of the fact that after the Oslo bombings, the counterterrorism unit and the nearby military and police were pulled together to the capital of Norway. The offender calmly drove to the ferry near the island of Uta. Dressed in a police uniform, he presented a fake ID to a police officer, and said that he had come to take care of the safety of the camp guests. On the island, Breivik saw a lot of people going to the main building, where there were several television sets. Everyone wanted to find out the latest
news
from the capital. The attacker persistently asked people to go inside the building for safety instructions and, when they entered last, he opened fire.