The Swedish government, immensely concerned with the "militarism of Russia," announced a significant increase in spending on its army. English Swedish portal
The Local
reports that official Stockholm plans to urgently allocate about $ 2 billion for the development of the army and
fleet
and increase the number of aircraft. The steps to increase funding in the Swedish government were explained by the fact that Russia is strengthening its Baltic fleet and this alone allegedly "threatens Sweden".
Against this backdrop, the Swedish ministers say that the situation is becoming very alarming. The government says that it is the "regular army of Russia" that is starting a new stage of the offensive against Ukraine. Swedish Prime Minister Fredrik Reinfeldt:
We are increasing our military presence around the Baltic Sea both in the fleet and in
aviation
. We are increasing the strength of our military personnel, including in the internal troops. Thus, the country's armed forces will be able to better respond to situations in Ukraine.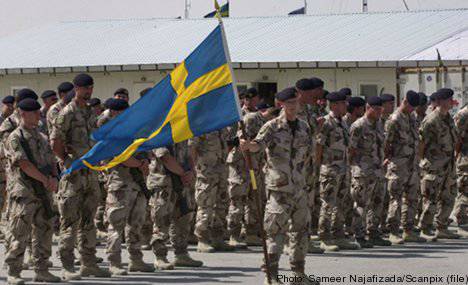 Are the Swedes going to strengthen their contingent not only "around the Baltic Sea", but also, for example, in the vicinity of Poltava - according to the old Swedish tradition? ..
Obviously, anti-Russian hysteria in Europe, bloated by Western media and interested politicians, plays into the hands of those who decided to warm their arms in arms supplies. Sweden is no exception. The prime minister is left to convince the overwhelming majority of Swedish citizens that Russia threatens each of them personally, and therefore the personnel of the army must be increased by at least 40%.
And it would be better for the Nazi Skylt to be watched in due time, otherwise he will return home and feel like the Swedish analogue of Breivik ...