By the end of 2015, the Kazakhstani Navy will receive a mine defense ship - the first of two 10750E raid minesweepers, which is being built at the Nevsky Shipbuilding Plant. Reports about it
Popular mechanics
.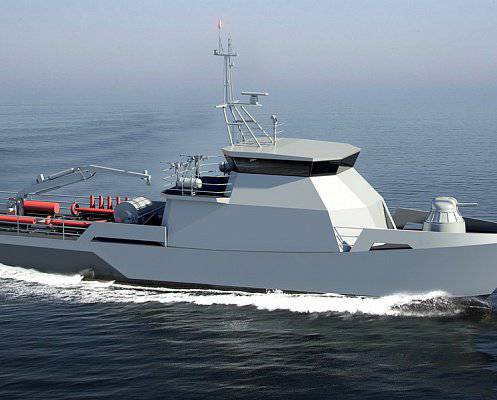 The ship was developed by JSC CMBI Almaz. Its main difference from the previous generation is the use of modern mine control systems, including the latest sonar mine search stations, autonomous and remote-controlled unmanned underwater vehicles.
In the manufacture of monolithic fiberglass hull minesweeper used a modern method of vacuum infusion. Its displacement is 165 tons. Length - 32 meters, width - 7 meters. The maximum speed is 12 knots, and the cruising range is 650 nautical miles.
The ship uses an automated anti-mine action system, which combines all its anti-mine assets into one complex. It is equipped with autonomous underwater vehicles of the "Alister 9" type, capable of operating at a depth of up to 100 meters, as well as remotely controlled unmanned underwater vehicles (TNPA) of the "K-Ster Inspector" with a working depth of immersion to 300 meters and TND-mine-killers "K-Ster" Mine Killer.
The minesweeper's 30-mm AK-306 artillery system, the KNOR machine-gun and the Igla man-portable air defense systems are part of the minesweeper's weapons.
The contract for the construction of the minesweeper was signed in 2013 year, and delivery to the customer is scheduled for 3 quarter 2015 of the year. This year, the Kazakh Navy submitted an application for the second minesweeper of the 10750 project to the Federal Service for Military-Technical Cooperation.