Although it is still far from October, but one can reflect on the topic, especially since the main persons are unlikely to change, unless Lyashko doesn't kill any Borka to death. We will proceed from the assumption that the elections will take place. Especially since all parties are interested in this.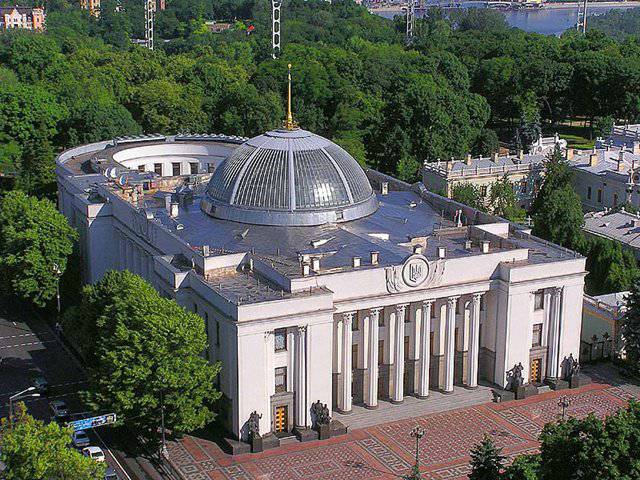 So, what is the balance of power now? There are several groups in the political arena of Ukraine.
1) President Poroshenko with pocket batches Blow, Solidarity, the pro-presidential part of Fatherland led by Yatsenyuk, Turchinov and Avakov. Of course, they are now non-partisan, but, I think, closer to the elections, we may well see their entry into the Poroshenko party, however, if the militia forces are not somewhere in the Khreshchatyk region, which is unlikely. All this fraternity is undoubtedly pro-American, and it expresses its moderate side. That is, these are people with whom, in general, it is possible to conduct a dialogue that is accepted in the world. All of them will go one coalition, which Poroshenko already claims and will certainly fight for the victory, and will try to get more 50%. And according to the Ukrainian tradition already in the first round, so that democracy was indisputable.
In my opinion, Europe is more interested in the victory of these forces than the United States, and first of all Germany. This leaves her with the possibility of diplomatic maneuvers to drag Ukraine under her influence. And this is the way to a peaceful settlement of the crisis in the east of the country, which entails the lifting of sanctions and the restoration of trade and economic ties with Russia, which Germany needs no less than the Russian Federation. In addition, let's not forget that it was these gentlemen who allocated the money, and, as you know, capitalists do not forget debts. This is not Putin, who forgave the debts of the fraternal peoples of North Korea and Cuba (and I fully support him in this decision).
The victory of this team is beneficial and the Russian Federation. It must be admitted that today in Ukraine there is not a single pro-Russian politician who has serious weight and authority among the population. Moreover, this very population is set up sharply negatively in relation to Russia. Therefore, we need to choose the lesser evil. Contacts have already been made with these people, and the dialogue, as we know, is very important. For the thin world is better than a good quarrel.
Thus, if events develop according to this scenario, that is, Poroshenko and his team will form a majority coalition in the Verkhovna Rada, this will be the best possible deal for Russia.
What good Poroshenko? And the fact that he is weak. He is a weak politician, a weak strategist, completely dependent on the opinions of others. But most importantly, he makes mistakes. And any mistakes are our chance to turn the tide in favor of Russia. In addition, the US is clearly draining it, and this is fraught with, because in this case he has nowhere to run and only Mazai (Putin) can save the chocolate hare. This may be a chance to pull Ukraine out of the influence of the West.
2) In second place I would put a person with non-traditional charisma - Lyashko. Now it is clear that this is a clear counterweight to Kolomoisky on the part of Firtash and a number of other oligarchs. Oddly enough, his popularity is off the scale. He has already overtaken Tymoshenko, and on all ratings takes a solid second place. The problem is that the situation in the country is developing in such a way that its support will only increase and increase. And not only due to the non-traditional community of Ukraine. I am afraid that he is quite capable of gaining 25-35% in the elections, being on the crest of a wave of populism. And this extremely shatters the already unstable political situation.
Lyashko - absolutely inconclusive. It is possible that an idiot. If he gets real power, it will become a very big problem for Russia. In other words, this will eliminate the possibility of a peaceful resolution of the crisis and lead to even greater casualties. Lyashko is also not beneficial to continental Europe. For the same reasons. But the United States and Great Britain are only on hand, since they are interested in the hot phase of the conflict going as long as possible. Do not forget also that Lyashko has the National Guard under the 2 battalion, which, however, has already been pretty worn out, unlike Benka's army.
3) Another character that should not be forgotten is Benya Kolomoisky. His support is the National Guard under battalions and the Right Sector. He leads his game, but, of course, under the strict guidance of the CIA. I cannot say now what his real popularity is among the people, but I am sure that if he sets the task, then in a short time he will overtake even Poroshenko, since all media resources are available for this. Already we can say that in military terms, he is able to compete with the regular army of Ukraine. And this can be very dangerous for Petrus. At the moment, Poroshenko has no leverage on Kolomoisky. Benny became a prince of his own in his land. With its own laws and rules. This is a problem for the authorities, which sooner or later will have to solve this problem. And again, only Putin can help our rabbit in this difficult task. Kolomoisky - manna from heaven for the USA and big problems for Europe and Russia. If he gets power, then the slaughter in the country is just guaranteed. We will see a purely totalitarian state with a dictatorship of money and
weapons
.
In my opinion, the above are the main contenders for the division of power in Ukraine. You can, of course, run through the rest - the Party of Regions, the Communists, Tymoshenko. But I believe that they are irretrievably thrown to the sidelines. Their time is gone, and you should not seriously put on these horses.
Summarize. Russia is at hand, if the same people remain in power as now. Because they are the least radical of all, which leaves a chance for a favorable development of events. Moreover, as professionals, they are extremely weak, which plays into our hands. A change of power, another Maidan coup and confuse all the cards. And yet it is not known how this all can end. But the United States will suit any alignment. Of course, they are interested in a change of power to a more anti-Russian and aggressive force. But if for some reason this does not succeed, then they will try to squeeze out all the juice from the lame mare.