We are pushing Pakistan into the arms of China ("The National Interest", USA)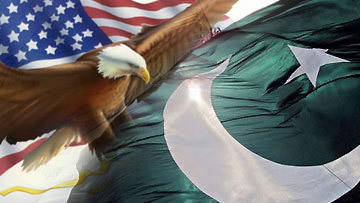 The Obama administration has just suspended 800 millions of dollars in shipping by the Pakistani military. However, by taking such "tough measures", it ignores the fact that the United States and its allies depend on Pakistan significantly more than Pakistan depends on them. Nuclear
weapon
Pakistan's possession poses a great danger to Washington and its allies. The fact is that the worst threat to the West right now is a combination of terrorism and WMD, and Pakistan is the most likely place where terrorists can acquire such weapons in one way or another. In the West, meanwhile, there is nothing that would pose a similar threat to Pakistan. At the same time, we categorically do not want the CIA agents and other American military personnel (many of whose members have already had to leave Pakistan) to be sent out of the country. They must be in place to look after the warheads and, as a last resort, be able to control them.
It should also be noted that if Pakistan, as it once did, will block supply routes leading to Afghanistan, American and allied forces will lose part of the key supplies. Other routes are much more expensive and unreliable. It makes sense for the United States to keep both supply routes - both southern, passing through Pakistan, and northern, passing through Russia and Central Asia.
Moreover, when Washington decided to stop helping Islamabad, Beijing demonstrated that it was ready to take the baton. Its investment in Pakistan, which was roughly 2007 billion dollars in 4, increased in 2010 year to 25 billion. Although China probably does not want to annoy the United States by directly giving money to the Pakistani military, it already supplies them with a fair amount of what they need. In May 2011, China announced the sale of 50 JF-17 fighters, jointly developed by Pakistan and China, to Islamabad. 70% Pakistani Chinese-made tanks. Beijing allowed Islamabad to test the first Pakistani nuclear bomb on Chinese territory and helped it with the transportation of missiles purchased from North Korea.
Daniel Markey from the Council on Foreign Relations noted that Pakistani officials have openly called China a "strategic alternative to the United States." Islamabad considers Beijing "a friend in any weather" (unlike Washington, which he often calls "a friend for good weather"). For China, an alliance with Pakistan can provide an alternative route for energy supply bypassing the narrow Malacca Strait in the Indian Ocean. Pakistan also proposed to allow China to build a base for the fleet at Gwadar and thus gain access to the Persian Gulf. Although this plan remained unfulfilled, its very existence indicates the readiness of Islamabad to strengthen ties with Beijing.
The United States should behave with Pakistan as is common in this part of the world. They should avoid public notations and intimidation attempts, which only arouse mass anti-American sentiment in this country. Intelligence needs to be shared, but only in cases where it is not to the detriment of our interests — even if it means that basically it will be about outdated information. In particular, after the raid in which Bin Laden was killed, the White House - instead of notifying the whole world that we do not trust our own ally - would have to announce that he had notified Pakistan, but a notification (which should was to be sent for real) in time did not reach the addressee. It was possible to refer to anything for weather, problems with decoding, wrong address. It is clear that such efforts to save faces are not able to deceive anyone, but in the Middle East (and almost all over the world) they are usually valued.
Will such diplomatic steps make Pakistan more actively fight the rebels, knock out terrorists from their shelters in Waziristan, or better guard their atomic bombs? Most likely, only to a small extent, but in any case, if the United States even more inclined them against itself, it will only get worse. It would be a mistake to think that Congress will be able to twist the arms of Pakistan, depriving it of these 800 millions of dollars. We need to understand that we are pushing the Pakistanis right into the arms of China, and that Pakistan can create many problems for us.
Ctrl Enter
Noticed a mistake Highlight text and press. Ctrl + Enter