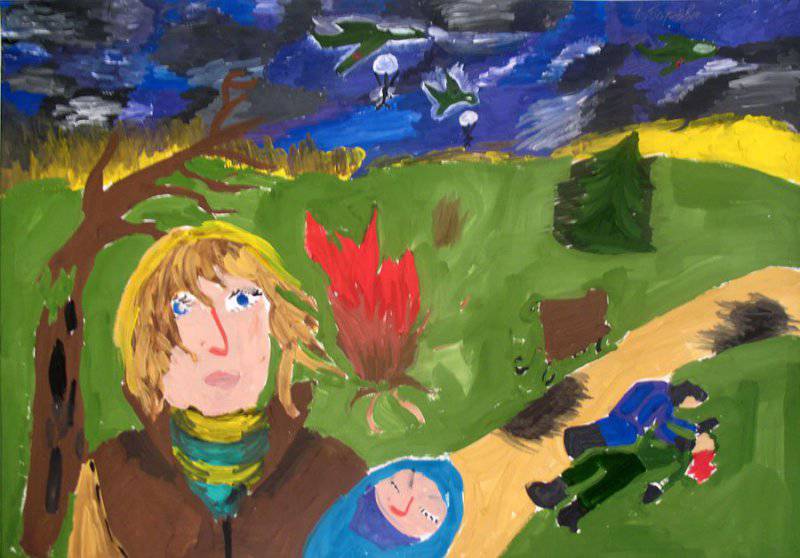 I began to prepare this material a long time ago, a business trip prevented me. Returning, I came across an article by Vladimir Lytkin (major071): http://topwar.ru/57243-razgovor-na-balkone.html.
So this stuff is like an addition. Extended.
Alas, I look at the world around me with my own eyes and perceive it with my brain. He is bad or good - another question. But on the stated question, I want to say what I saw with my own eyes and heard with my ears. This is about the problem of refugees.
The problem, unfortunately, is. And it was not created by us. We are forced to disentangle what is brewed by very different people. But this does not relieve responsibility either from us or from those who came to our country in search of ... Just in search.
I will not focus on those who read on those points, mostly negative ones, concerning ugly behavior of those who arrived. There were enough materials. I would venture to express my opinion.
Everything I saw and heard gives me the opportunity to divide those who came to our country into three categories.
The first. These are people who have lost everything. But it is first of all PEOPLE. Who want to start a new life, as they say, from scratch. I met with such people, good, at the border checkpoints I "hang out" systematically.
They are not going to sit on someone's neck. They have hands that grow from where it is necessary. I talked to a refugee in Donetsk. Victor Sergeevich from Pervomayki, near Lugansk. 62 of the year. He came with his son's family (daughter-in-law and grandson) and the remnants of his brother's family (14 boy of years and girlfriend of 10 years). The son stayed there, at the Brain.
I repent, quietly turned on the recorder, so I quote his short story verbatim.
"Why, come here ... There is no house, a shell hit right in the middle of the brother ... Though without torment, and then thank God. Tribes in my half were saved. Only their documents were burned, but something will come up.
Where to go? Yes, I do not care. At least to the nearest collective farm. I'm still strong, I know all the combines. And with bread all my life. So do not be gone.
I won't be back anymore, whatever it may be. Heavy. Sasha and I (twin brother. - Note) all my life together, even in the army. It's up to the son to decide where he will be when it's over. And I will stay here. "
And, fortunately, there are many such people. Simply, they are invisible, because they do not climb under the camera and reluctantly give interviews. Not for this go.
The second. There are fewer of these, but they are more noticeable - with their laments and sobs on the topic of how bad they are and how they are treated unfairly. It is those who believe that Russia simply owes them all, because they were forced to come here.
The best thing about this topic is the video from Sharia, whom I, as a blogger, respect very, very much.
Nothing to add. It's just strange that some people are going to live, while others are going to be filled up with material aid, fed and kept until the end of their days. And, most interestingly, they do not need citizenship. Do not want. They want to be refugees so that everything will be for free.
By the will of fate, I met with such a family. I was just asked to help take things, not to say where and to whom. The good man asked, there was no point in denying.
I arrived in this neighborhood beyond the city limits. New house. Rose with bags and bags, there was a lot of things. New, completely empty apartment. There, a lady of years 25 with two children, one chest, the second year of 4-5. I immediately realized what the matter was, where it came from. I was even indignant that they didn't say right away, I would also participate. But the further conversation turned my undertakings into 180 degrees.
It turns out that the head of the family is also present. Which works, guarding something. And citizenship does not interest them. They would have refugee status so that they could calmly sit out the conflict. Although she let slip that they were told that if they were granted citizenship they would be given this apartment in a preferential mortgage. The state will pay half, and they will pay half.
True, the issue with the apartment to them is also not very. Neighbors are bad, look askance. But there is why. A neighbor sold the house in the village, began to draw up a loan in order to relocate her daughter's family to the site. There are two grandchildren, and live on the other side of the city. I almost did not have time: you, a surprise ... There is nothing to not love your neighbor.
My humble opinion: this mortgage should be given to young families who live in rented apartments or in hostels. There are many of those. But in their place you can already populate anyone. So, in my humble opinion, and fair, and smarter. This practice will not cause aggression and discontent. And who does not like this situation - there is such a game that could be learned from the neighbors. "Suitcase, station, Ukraine" is called.
Third. These are generally not allowed on the threshold. These are those who really travels with the intention either to sit tight on the neck, or to snatch. I scandalous with two such little families. A journalistic certificate and the presence of such human qualities as the ability to "build" was very useful. Thanks to the Soviet Army.
These know exactly what they need. They are well aware of where and with which papers to go. And especially where to complain if anything happens. And enjoy it in full. And therefore it is not always that they receive the welcome they are given.
The first time I "pressed" such a little family in one of the clinics. I just heard a popper from the open window. And he decided to bring in his body and intervene. Because this woman screamed at the doctor, listing where she would complain if they didn't take them all. The list was impressive.
Well, I went to the entrance. And before the entrance stand with the Ukrainian numbers "Merc" ML and "Kruzak". Poor refugees ...
At the reception already smacked of surrender by staff. And here I am pinned. Immediately pulled ksivu and asked why the ora. This inflamed (kg on 140) refugee switched to me: "You have to write, they don't want to accept us, they arrange chaos, we are to Putin, we are Astakhov, we will call everyone !!!"
I calmly ask the doctor: why, actually? Why not accept if people have health problems? Although already understood that the case is unclean.
The doctor at the reception decided that I was on their side. And now add. And she began to explain to me in the second round that they didn't need urgent help, but ... a dentist and an ultrasound scan of something there. And they, of course, will accept, but not out of turn. If only because there people recorded a week. And these sufferers, except for dill passports, no longer have any documents. And as if the clinic has no right to serve them, but of course, will accept.
I repent, came off in full. I was later told that such concerts happen almost every day. But I gave, a week later remembered. He explained everything to them, what rights they had, where they should go on their jeeps and with "fork" passports, all dumped. I frankly felt a pity utterly muzzled by these medici, so I didn't choose a particular expression.
In general, I actually kicked them out. And the grandfather-guard wrote out in full - for the fact that lawlessness allowed. He left his number: like, if there are more like this, call, come.
He jumped out into the street, they still otpaivali this loud-voiced something, took a fotik and began to photograph all this gop. Then a peasant got out of a jeep, and to me, like, what happens and why I take them off "without permission." Well, I'm in the heat of the moment and I wrote him out.
The man was taken aback. And I also promised that I would dump the photos all over the country with the corresponding story about their heroism. And they will be happy to the fullest. Not really choosing the expression.
Penetrated. Very quickly they left. And then to me in the reception desk Svetlana said that they were from the city ... Cherkasy !!! According to passports. It's like, Mikhalych ...
And such, from areas of military operations (Exactly, Kiev, Sumy), felled by a shaft. Arrogant, requiring something forever. Refugees ... from whom and why? But here enlightened people enlightened.
It is no secret what crowds of Ukrainians worked in Russia, who are officially, who are not. And when the whole mess started, many simply decided to jerk into the country with milk rivers and milk and honey. And especially after relatives or friends here have settled in new apartments.
And all the rubbish to our shores suffered.
However, it is impossible to judge, by generalizing someone, projecting at all. Not all who came to us - boors and extortionists. Moreover, I am sure that boors are a minority. Simply, they are more noticeable. But to stigmatize at all is not our way.
In our opinion, give everyone according to his deeds. And look, look at everyone with eyes and mind. And render! To whom - to give an open helping hand and "welcome, brother," to whom - pointing finger and "suitcase, train station, Ukraine".
And nothing else.