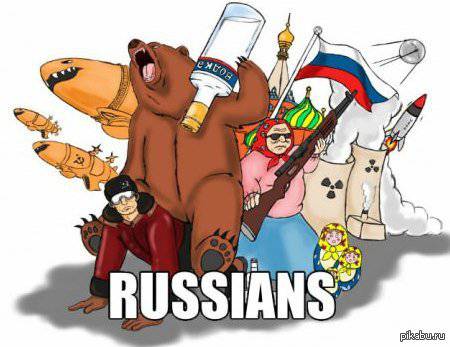 Stole a whole samovar of vodka. I had to share with the bear, otherwise he threatened to lay me down to his wife. We walked until the morning. In the morning my wife came and said that she was going to work in the Great and Light American Dream. I went and stole another samovar with vodka. Suffered three days, until the morning.
Time to work. Harnessed a bear. While driving, dodging meteorites and all sorts of satellites there, they fall on their heads like overripe pears. In front of the gates of the plant ruins I was greeted by hot Caucasian horsemen, danced a lezginka for them, they were with bats and very much asked for the keys to the apartment, car and personal safe. I got it in the face, because I don't have an apartment, a car, or a safe. At work they drank a few vodka samovars, played enough on the balalaika. We went to the cashier, they told us there would be a salary in five years, maybe.
Hooray. Glory to the great and bloody tyrant, he loves us. They used to say: WAIT.
When I left work, I met hot Caucasian guys, I was drunk, I filled my face, I thrust the bits into the darkest places. The police arrived in carts, they beat me badly. Began to understand. They called me gay. Strongly beat the police, their batons also stuck them in dark places.
Maybe they are right, I am attracted to their dark sides?
Riot police arrived, badly beat everyone for an unauthorized rally. Now I know for sure who is gay ... Right, Barack Obama.
All beaten offended and on the bears under the balalaika went to me. We drink three days.
They wanted to fry kebabs, went out of town. Burned three villages. Liked. They set fire to the peatlands, let them smoke, the whole city is in smoke, so stealing samovars with vodka is easier.
Putin did not like it, flew on an airplane and put it all out.
Stewed is not easy to walk, concussion and vodka are incompatible.
Recovered. He wanted to go to work, even harnessed a bear, but laziness. Went, stole vodka samovar.
It became somehow uncomfortable in the soul, and the bear grieved. Vodka does not help. On the fifth day of binge understood. War! You need to seize and rape someone. Kill, kill, kill!
When the bear saw how I took out the battle ax rusty from the blood of babies, I was so glad that I even danced the dance of the little ducks. But then my grandmother came out and told me not to fight until I had eaten borsch. She's right. Having eaten a barrel of borsch, I went to war ...
We powerfully walk along roads and forests, who are on what. On bears, on skis, on old cans and even on T-34. Although it does not have an engine, therefore it is carried by the imprisoned slaves of the Gulag.
We are raping everyone and everything. Yesterday I raped 100 Germans, then their mattresses, on which they lay, then all the windows and doors of their houses, all the hollows and holes in their forests, all the wells and sewers ... Happy and satisfied, I fell asleep, putting a bear-eaten under my head baby
We dirty lost, defeating all. Wherever our occupant foot steps. Everywhere we are mean, in the gut, we built factories, factories, hospitals and schools. They drove all the young people and children to the pioneer camps (listen to the camps) and kindergartens (listen to the garden), where they made you have fun through your teeth and rejoice in tears. Nothing stopped us. But only here America is Beautiful, Honest, Great, Powerful, the Stronghold of Light and Good - ka-a-a-ak democratically shout at us! .. We were frightened, ashamed, disbanded, then started off again. In general, quietly howling, with bears, crawled to their dugouts. Secretly coming up with a plan for another bloody revenge ...
PS Dear foreign citizens. We have bears in almost every home. Plush, we give them to our children. We love to gather with friends and drink under the kebab. We have an army that we respect and love. We have police, FSB and courts, and we are very annoyed when they do not work. Every time you climb us to teach, but maybe after all, first look at yourself from the outside.