US Navy tankers not serving a single day sent for scrap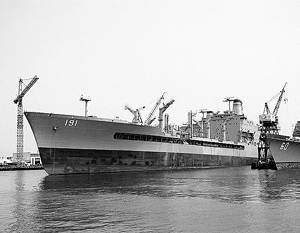 The United States closed "one of the saddest pages" in its shipbuilding industry, having written off two tankers of the country's naval forces for scrap metal, which spent more than 25 years in the outbuildings of the shipyards and in the fleet reserve, not a single day as part of the fleet-ready forces, Hampton writes on Wednesday Roads.
T-AO-191 Benjamin Isherwood and T-AO-192 Henry Eckford high-speed tankers were ordered in 1985 by the shipyards of Pennsylvania Shipbuilding Co and launched in 1988 and 1989 respectively. The tankers were designed to supply fuel, dry cargo and frozen food to the ships of the US Navy and were the fifth and sixth ships in a series of supply tankers such as Henry J. Kaiser, reports FLOT.com.
Due to the numerous difficulties encountered during construction, the contract with the company Pennsylvania Shipbuilding was canceled in August 1989. Unfinished vessels with a length of 206 meters and a displacement according to the 41 project, thousand 350 tons (deadweight - 31 thousand 200 tons) are towed to the naval shipyard in Philadelphia. A new contract for their completion was concluded in November 1989 of the year with the company Tampa Shipbuilding Company, after which the vessels were transferred to Tampa (Florida) for additional equipment and equipment. However, problems with their completion continued and resulted in the termination of the contract with this company in August 1993.
At the time of the cancellation of the contract, the readiness of the first vessel was 95,3%, the second - 84%, the cost overruns for their construction was estimated by millions of dollars. The US Navy came to the conclusion that it would not be expedient to complete the construction of these vessels as tankers. A proposal was made to convert them into ammunition transports, however, this was also considered ineffective. As a result, both vessels were towed to the mouth of the James River (Virginia) and put on reserve in the reserve fleet.
In 1997, the US Navy put both vessels up for sale due to budget cuts. The British company Able UK tried to put them back into operation and resell them in one of the NATO countries, but was forced to abandon the realization of this plan, and in return received 10 million dollars for their disposal. Both ships in July 2011, towed to the base of the company International Shipbreaking Limited in Brownsville, Texas, where they will be removed from the equipment and they will be cut into metal. The state will not receive any money from ship recycling, while the total construction cost of tankers is estimated at 300 million dollars.
The newspaper Hampton Roads quotes Joseph Keef, who said that writing off tankers for scrap "would close one of the saddest pages in American shipbuilding and, in a certain way, the stupidity of the federal government."
Ctrl Enter
Noticed a mistake Highlight text and press. Ctrl + Enter