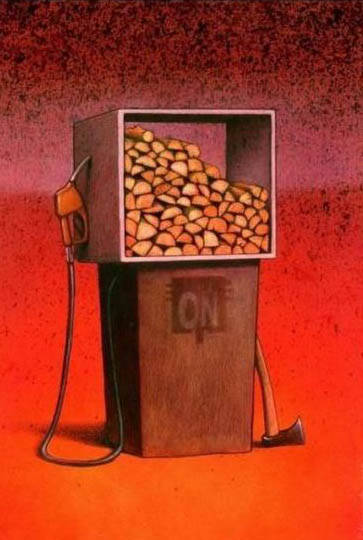 Arseniy Yatsenyuk decisively intensifies his work in the chair of the prime minister of what is left of Ukraine by this time. It intensifies (externally, at least) for the reason that it is autumn already in the yard, and in the autumn, although Kiev doesn't want this, winter will surely follow. Even if at the end of each news release, the ukrogidrometcentr tells Ukrainians that it will be "equatorially" hot in winter, it is unlikely to convince citizens that Ukraine will calmly survive this winter without gas and coal. But the fact is that it was Mr Yatsenyuk who, due to his congenial management of the economy, deprived Ukraine of the lion's share of energy resources, putting it on the verge of survival in the coming cold season. And this is not to mention how Ukrainian enterprises will operate without full supply of energy resources?
In order to fumigate his unintelligible work in the chair of the cabinet minister with smoke that hides the essence, Yatsenyuk in his usual manner in every convenient and uncomfortable case takes the arrows to Russia. One of the last pearls from Yatsenyuk before his departure to Slovakia for negotiations on reverse gas supplies is connected with the fact that Russia allegedly unleashed a big war in Europe. In this case, Europe (perhaps even not only in the geographical sense of the word) Yatsenyuk, of course, understands Ukraine. That is, Yatsenyuk once again tries to justify his failures on the post of prime minister by what prevents Russia from working. Like, if it were not for the Kremlin, if it were not for the "bloody paw" of Moscow, then it would have already made the "Square" the most successful state on the entire European continent. Such arguments of Yatsenyuk are similar to those of a bestowed alcoholic, who will argue that neighbors, former co-workers, and perhaps even Putin himself, who personally poured alcohol in his mouth or his policy "consciously" brought him to blame, are guilty in his alcoholism. "I'd quit a long time ago, brother, but only Moscow launched a war in Europe! How, after this, do not crush another bubble with grief! "
"Alcohol" for Yatsenyuk is Western loans, promises to help with reverse gas, or "non-lethal" military aid. If credits or at least assurances from Western "friends" Yatsenyuk are issued, then the ukber primer is good - he flops on his filthy political "couch" and probably experiences a feeling of euphoria. After all, he did not earn money, but shot at the "passers-by" ... That is, he quenched his "thirst" not on his own. This is a typical case management case. However, then there comes a hangover, and the prime minister rushes to get new loans, new assurances, reverse supplies and so on. What then pay? But does Yatsenyuk think about "later" ...
In a state of economic hangover rushed to Slovakia, which promised Ukraine to establish a gas reversal. There, the ukropremier visited the opening ceremony of the Voyany-Uzhgorod gas pipeline, which will help Yatsenyuk to dream about a fairy tale about real gas purchases in Europe for Ukraine and at a low price. Of course, Yatsenyuk is not such an idiot to believe in this tale on his own, but now he has a completely different task — to make the Ukrainians believe in the tale of "cheap European" gas.
So, 2 September 2014, the big Ukrainian dream began to come true ... Yatsenyuk in seventh heaven. Still would! Slovakia began to reverse the gas. More precisely, the reversal of gas from Slovakia to Ukraine took various European companies. About these companies below. While from official reports.
Representative of Eurostream, a European gas transmission company, quotes Vahram Chuguryan
RIA News
:
The official start of commercial gas supplies to Ukraine in the reverse mode via the Voyany-Uzhgorod pipeline was given in September 12.55 2. The volume of supply should be about 27 million cubic meters of gas per day and will be carried out in the control mode, since at the same time work will be carried out on the technical verification and fine-tuning of all system components to the required parameters. From 1 March 2015, the gas pipeline should operate in normal operation.
But will the government of Yatsenyuk reach 1 March 2015? - a separate question.
It is reported that at the initial stage, the price of the reverse gas for Ukraine will be 360-370 dollars per thousand cubic meters. Only this according to ukroSMI, and ukroSMI data can not be trusted, to put it mildly, not always. But the highlight of the reverse is not even in the price, which (if you still believe this data) is lower than the one at which Slovakia itself buys Russian gas. The highlight is that so far the same "Eurostream" does not name the companies that have decided to sell gas to Ukraine by the reverse method. It turns out that even at a loss. Somehow not European, agree.
The above-mentioned person with the European surname Chuguryan said that he could not name the companies participating in the reverse, citing a trade secret. He did not even name the exact number of such companies, saying that there would be from five to ten ... But even that was not all - representatives of the companies hit in the reverse did not attend the ceremony of launching the reverse in Slovakia - apparently, so as not to "shine" faces.
And if Ukraine is openly marching to Europe, and if there are transparent markets everywhere, then why all this conspiracy? Why do companies taking part in the reverse of Russian gas from the territory of Slovakia to Ukraine put on Venetian masks? One of the options, which fully explains the "secret reverse", is that the vast majority of European gas transmission and other industry-specific companies have long been in economic share with Gazprom. For example: in "Netherlands" Gazprom Finance BV, Gazprom has 100% of shares, Gazprom EP International BV -100%, in Latvian Latvijas Gāze, about 32%, in Polish EuRoPol Gaz - almost 50%, in Czech Vemex, sro - 50,1%, in Estonian Eesti Gaas AS - 37%, in Lithuanian SV - 30%, in the "Bulgarian" Topenergy 100%, in the British Interconnector (UK) Limited - 10%. Greece, Germany, Finland sit on the substantial investments of Gazprom, not to mention such "Europeans" as Moldova and, in fact, Ukraine.
So when it comes to the fact that some "secret" companies "secretly" organized gas reversal to Ukraine, it all resembles that very fairy tale for the Ukrainian electorate. They say that Yatsenyuk found support from Europeans ... Well, and no one tries to talk about the fact that behind these European companies there could be Russian Gazprom, which the Ukrainian fairy decided to play along to get money from Ukraine. They do not say that the Ukrainian Maidan public should not be disturbed. As they say, by hook or by crook. And in this show, Yatsenyuku has a special role - the main Ukrainian storyteller about cheap Euro-reverse. Oh, what will happen if the Maidan public learns that Yatsenyuk is trying to cheat her ...